One of the most basic things that you should own in a kitchen is a chopping board for quick and safe food slicing. A chopping board will not only make it easier for you to dice your vegetables, meat, etc. efficiently but will also ensure that you are able to do it quickly, without cutting yourself.
But which chopping board should you select for your kitchen? With so many options available in the market, it can be a little confusing to choose the right chopping for yourself.
In this guide, we will discuss in detail about the benefits of using a chopping board and how you can use it to safeguard your hands in the kitchen. Also, we have listed down the top chopping board in India that you can consider.
Why use a Chopping Board?
A chopping board is an essential kitchen commodity as it not only helps you cut food safely and perfectly but also ensures that your knives don't become blunt after prolonged use. How is this possible?
Well, a knife's edge is delicate and can become blunt or chipped if used on an incorrect surface. With the help of a good, soft, and non-abrasive cutting board, you can avoid damaging your knife and can easily prepare food.
Also, a chopping board is also easy to clean and disinfect so, you don't have to worry about the surface being unclean when you are cutting your vegetables, meat, etc. on it.
Also Read : 10 Best Refrigerators in India
There are different types of chopping boards available, depending on the size and the material used. Ideally, a bamboo and wood chopping board are easier to maintain and are eco-friendly as well. However, if you are going to be preparing raw meat then you should also own a plastic board to avoid cross-contamination. A plastic chopping board is easier to sanitize as well but is not a good choice for dicing or slicing food items.
So, you will need different chopping boards for different cooking steps which can make the overall process of cooking easier and more efficient.
10 Best Chopping Board in India
1. Piesome Large Non-Slip Wooden Bamboo Cutting Board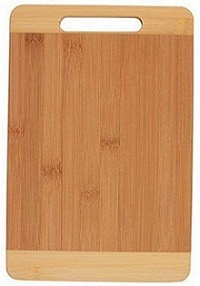 One of the best chopping boards in the market, Piesome Wooden Bamboo Cutting Board is made up of 100% organic bamboo which makes this chopping board eco-friendly.
This chopping board is durable and lightweight and is perfect for all your chopping and cutting requirements. Since bamboo is naturally bacteria-resistant and non-porous, you don't have to worry about cleaning and disinfecting this cutting board.
Also, this board won't absorb food odors or stains easily so the chances of this board warping, smelling, or cracking are minimal. Most importantly, this bamboo cutting board will last longer than most wooden boards as it is hard, scratch-resistant, and moisture-resistant while being soft enough to cause no damage to your knife.
---
Also Read: 10 Best Kitchen Chimney in India
2. Amazon Brand – Solimo Plastic Cutting/Chopping Board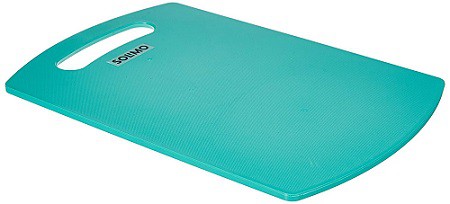 If you are looking for a good and reliable plastic chopping board them Amazon Brand Solimo Plastic Chopping Board is the perfect product for you. This chopping board is made out of high-quality, food-grade polypropylene plastic which is long-lasting and safe for regular use.
This heavy-grade plastic can easily manage the wear and tear in the kitchen and is quite lightweight too so it is easily accessible.
Also, it has a rugged texture on one side which provides an amazing grip for cutting and slicing fruits and vegetables. As a result, there is minimal pressure on your wrist while cutting up food items. Since it has a sleek design, it is easy to store as well and because it is dishwasher-safe, it can be cleaned easily too.
---
3. Swift International Extra Thickness 18″ x 12″ Plastic Chopping Board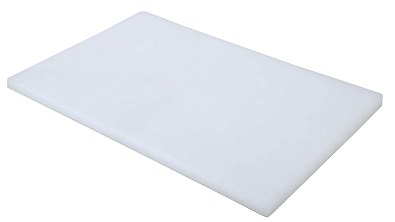 Another good plastic chopping board that is BPA-free and safe to use is the Swift International Plastic Chopping Board.
This plastic chopping board uses high-quality food-grade plastic that doesn't absorb liquid or food odors so, it doesn't crack or smell easily. Since this chopping board comes with extra thickness, it is strong and durable but easy to manage too.
Also, this chopping board is designed with a textured surface so you don't have to worry about skidding or slipping when chopping or slicing on it. This chopping board is also extremely easy to clean and maintain and is perfect for a variety of food preparation tasks.
---
Also Read : 10 Best Table Top Wet Grinders
4. HOKIPO® Large & Thick Bamboo Chopping Board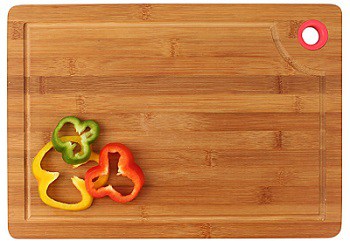 If you are looking for a high-quality bamboo chopping board for your daily chopping needs then Hokipo Bamboo Chopping Board is another great choice. This bamboo board is attractive, versatile, and ultra-strong since it is made up of high-quality bamboo.
That's not all, it is also durable and lightweight and won't damage your knife edges. Another great thing about this chopping board is that it is moisture-resistant so it won't warp or crack easily.
This bamboo chopping board features a drip groove that ensures that the running juices from the meat and other food products don't disrupt your work. And the rounded edges ensure that your hands are protected when chopping on the board.
You can use this chopping board as a serving tray as well and can easily clean it with water since it has anti-microbial properties so it won't absorb moisture in the wood. Plus, the finger hole makes it easier to carry it around and store when it is not in use.
---
Also Read : 10 Best Mixer Grinder in India
5. Amazon Brand – Solimo Chopping Board Set of 4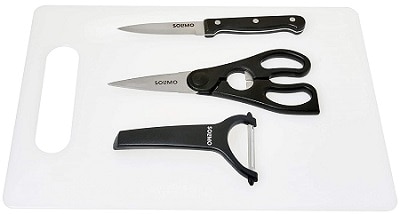 Another amazing product by Solimo, this chopping board set of 4 is perfect for both new and experienced chefs. With the large-sized chopping board, you have enough space to cut a good amount of vegetables every time without pausing to clear the board.
Also, the chopping board is made up of polypropylene which makes it strong and durable while the anti-skid surface ensures safety when cutting or chopping on it.
In this set, you also get a knife, scissor, and a peeler, all of which are made of stainless steel and have comfortable handles for a non-slip grip. The kitchen scissor features detachable sides and is perfect for peeling, cutting, cracking nuts, and so on.
---
Also Read : 10 Best Fruit & Vegetable Juicers
6. Flexible Cutting Board Mat Set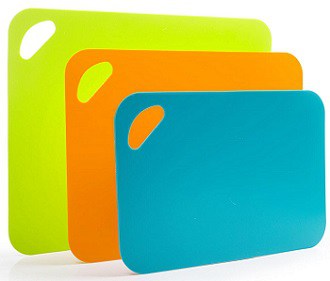 Are you looking for a high-quality plastic chopping board that doesn't slip a lot? If so, then this Flexible Cutting Board Mat Set by DeVeau Essentials is perfect for you.
This plastic cutting board set consists of 3 flexible cutting mats in different sizes and colors which are thick and durable. You can easily cut vegetables, fruits, etc. on this board and then transfer it directly to the pan or stove.
Since these cutting boards are made up of polypropylene material, they have an anti-bacterial property and are odor-resistant too. Plus, the extra thickness offers you great balance so that the knife doesn't slice through it but it is still bendable enough to pour the contents into the pot. With its hanging handle, you can easily store these boards after cleaning it in a dishwasher.
---
Also Read: 10 Best Sandwich Makers
7. EESOME Teak Wood Cutting Board with Hanging Hole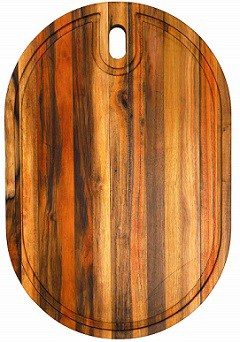 Made from pure teak wood, Eesome Teak Wood Cutting Board is durable and water-resistant and perfect for daily use. Since this cutting board uses seasoned wood, it won't mold or get warped easily. It also has a double-side use and an elegant design which will improve your kitchen's beauty.
The board also has a hanging hole which makes it easier and convenient to store and they are extremely lightweight and portable too. Most importantly, this board features a juice groove and uses FDA approved waxes and oils so it is safe to use as well.
---
8. Eesome Teak Wood Cutting Board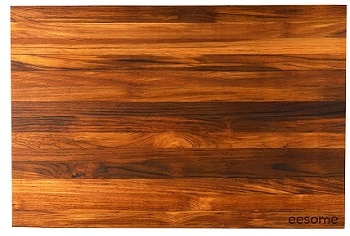 Eesome Teak Wood Cutting Board is made up of premium quality teak wood which makes it perfect for professional use. This professional cutting board uses 100% safe adhesives and FDA-approved oils and waxes for its construction.
Also, since this cutting board is made up of premium-quality teak wood, it has high water resistance and is extremely hard as well. Also, it doesn't scratch easily and can withstand heavy knife usage as well.
One of the best things about this wood cutting board is that it is long-lasting and can be refurbished easily too. Also, make sure you only clean this board with warm soapy water and dry paper towel but never soak it in water. Also, you will need to oil it in a few weeks to maintain its usefulness and longevity.
---
Also Read : Best Bread Makers In India
9. Urmila Plastic Cutting Chopping Board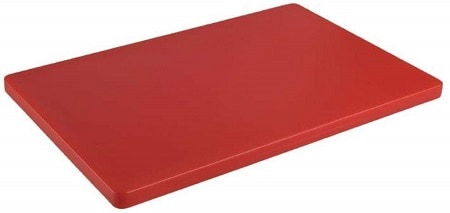 Urmila Plastic Cutting Board is another good board that can be used for cutting vegetables, meat, fruits, chicken, and so on.
This cutting board is made from high-quality food-grade plastic that is stain-resistant and moisture-resistant so it won't get damaged easily. Also, it features extra thickness that makes it more durable and stronger.
This cutting board also comes with an anti-skid textured surface that ensures that the board stays in place while cutting food. Plus, it is super easy to clean with water and dry towel after every use.
---
10. Indus Valley Mango Wood Chopping Board with Grooves
Finally, if you want a cheap and large wood chopping board for kitchen use then Indus Valley Mango Wood chopping board is the right choice for you.
This chopping board can be used for cutting vegetables, mincing meat, etc. and doesn't scar or warp easily. There are also juice grooves present on the board to ensure that the food juices don't spill out.
And since this chopping board is made of natural wood, it is safe and hygienic to use and the high fibers in it won't dull your knife edges too. This chopping board is also durable and strong as it uses mango wood which is usually stronger than traditional woods but is adequately soft for knife use too.
---
Also Read : 10 Best Electric Storage Water Purifiers
Good Kitchen Knife
Amazon Brand – Solimo Premium High-Carbon Stainless Steel Kitchen Knife

Apart from owning a good chopping board, you also need a good and safe knife to cut up your food while preparing dishes. And one such good product is the Solimo Premium Kitchen Knife Set that includes 3 sets of knives.
This professional-quality knife set is made up of durable stainless-steel material that doesn't get stained and features triple-rivet handles for safe and comfortable use.
The high-carbon stainless steel blades have razor-sharp edges that ensure accurate and precise cuts. With this knife set, you will get a chef's knife, a utility knife, and a paring knife. The chef's knife and utility knife are good for chopping, cutting, and mincing of meat and vegetables while a peeling knife that is good for peeling and cutting small garnishes.
Also Read : 10 Best Electric Gas Lighters For Kitchen in India
How to be safe and protect your hands?
As mentioned earlier, a chopping board helps in slicing and dicing food safely so that you don't end up accidentally harming yourself. However, even a good chopping board would require some careful steps on your end to ensure that you don't experience finger cuts while preparing food.
Here are a few guidelines to keep in mind when you are using a knife and a chopping board:
Ensure that you store your knives at a proper storage place like a knife drawer, a knife block, or a magnetic wall. Also, always keep the knife blades covered when not using it and use knives for its intended purpose only.
Make sure your knives are sharp and not blunt because a blunt knife can easily slip and cause damage.
Try to wear protective equipment like cut-resistant gloves or stainless-steel mesh gloves while using the knife.
Make sure that your cutting board is secured when you are using it and never use your palm as a cutting board.
Keep a damp cloth under the cutting board to prevent it from slipping when you are cutting and dicing food items.
When you are slicing on the chopping board, keep your fingers away from the blade and always keep the tip of the knife on the chopping board.
Don't interact with anyone when you are using the knife to cut vegetables or fruits.
Make sure that your cutting board is clean and washed frequently to avoid any food particles getting stuck on it. If there is food stuck, it will be difficult for you to cut up your food properly on it and you might accidentally cut up a finger.
Also Read :
10 Best Kitchen Gas Stoves in India
Best Electric Storage Water Purifiers
10 Best Induction Cooktop in India