Talking about Brother, it is a Japanese brand with more than 110 years of history and has a product like Laser Printers, Ink Tank Printers, Sewing Machines & Label Printers in the market.
The brand "Brother" sent me this DCP B7500D printer about a few days ago and I have been testing it since then to figure out if the printer is worth your money. After getting the printer in a cardboard box, I was able to easily install the printer myself and figure out all the features. It was quite easy to put the toner cartridge into the drum unit and then into the printer. All instructions are mentioned clearly in the setup manual with images.
Also Read : 10 Best Printers For Small Business and Home Use in India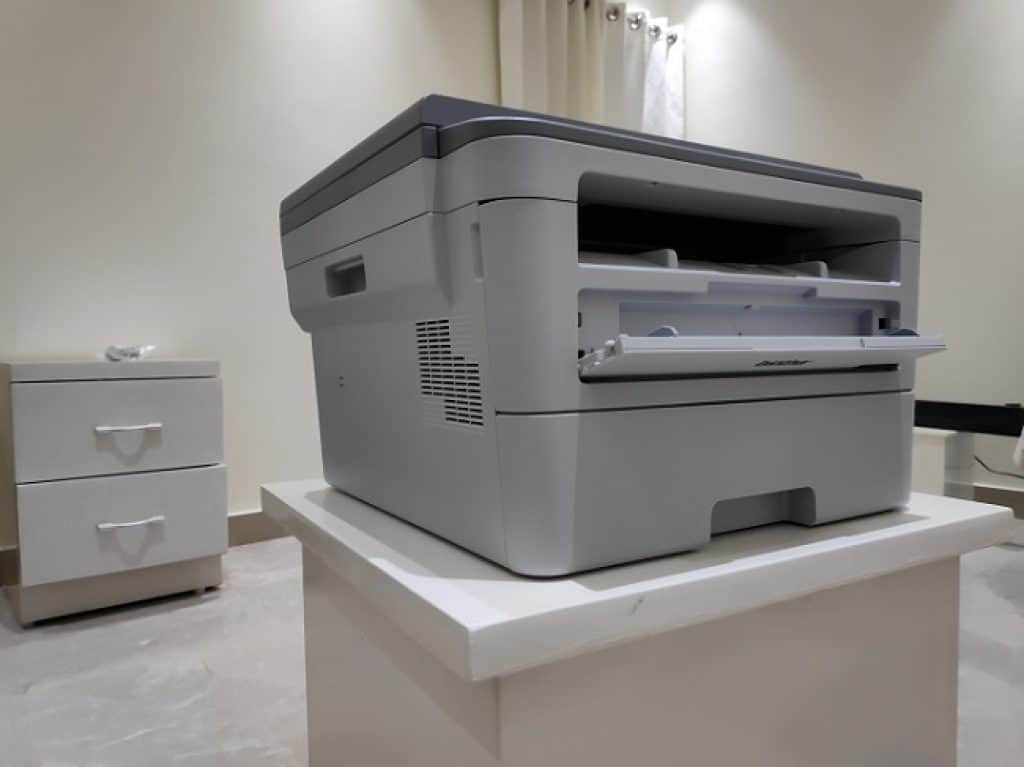 The model I got is the non-wifi model, but if I was to buy one now then I would certainly go for the wifi-enabled model which is Brother DCP-B7535DW or any upper model because nowadays features like AirPrint, Google Cloud Print, Brother iPrint&Scan, and Wi-Fi Direct are absolutely needed for a business to be modern and save time.
I have tested Brother DCP-B7500D with a lot of changes in settings like contrast, density, and quality. You can make changes to all these options and set the final quality of print as per your requirement. You can see the test print below, there is an inbuilt option in the printer to do a test print like this.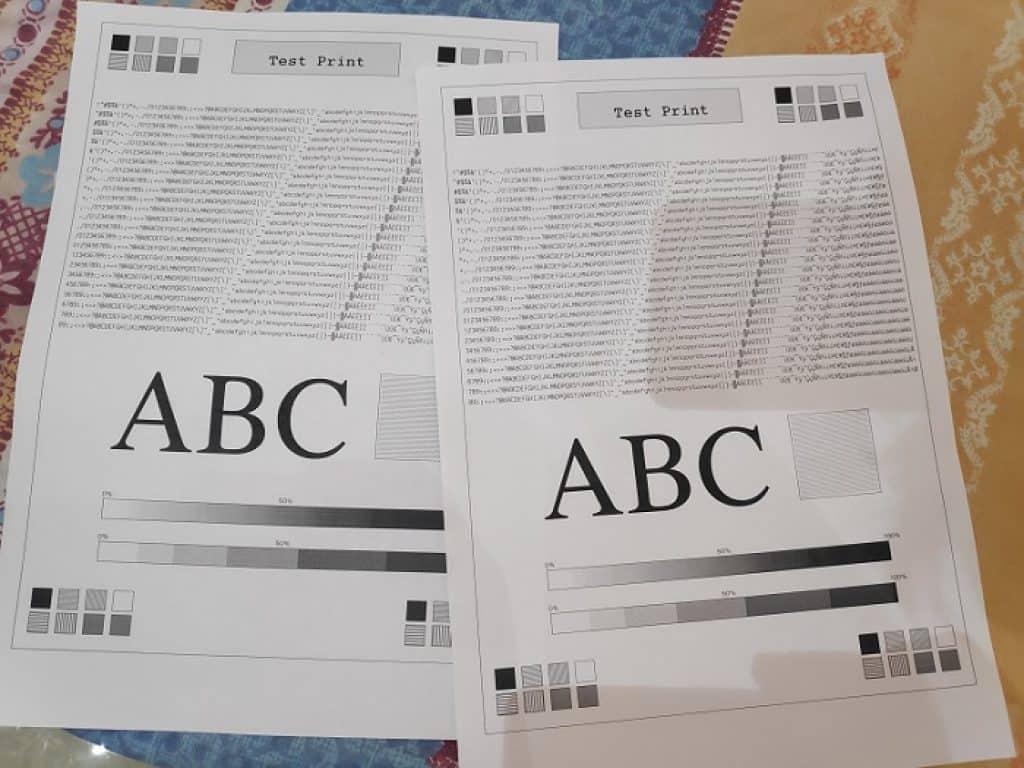 As you can see that the test print turned out quite well with all the contrast and shades with clear white paper in the background. You can adjust the contrast, density, etc as per your wishes and start printing. I also did some test runs with ID and official documents which also turned out well.
Printing & Refill Costs
The highlight of this printer is the Toner Box Series which comes with Innovative Toner Cartridge Technology offering:
33 paise Cost per page
2600 pages yield toner
Rs. 940 (MRP) for TN-B021
Overall Low cost of ownership for customers
How Brother Toner Box technology is so cost effective?
The user only needs to replace a small toner tube, allowing you to reuse the main image processing unit for optimal cost-efficiency, and is affordably priced at MRP of Rs. 940. Which is sometimes even cheaper on Amazon.
It is quite easy to put the toner into the drum unit as you can see in the pics below, it hardly takes a minute. Which can then be inserted into the printer from the front easily. I will also be putting a video resource to make this process easier for you to understand.
Also Read : Best Ink Tank Printers in India For Home & Office Use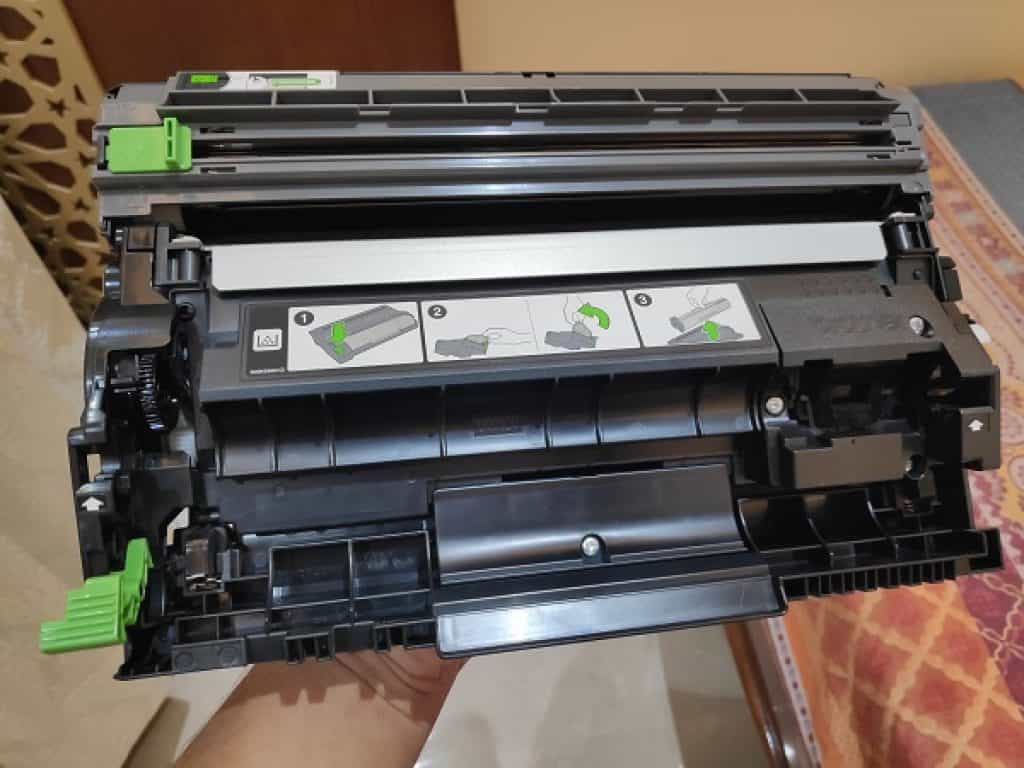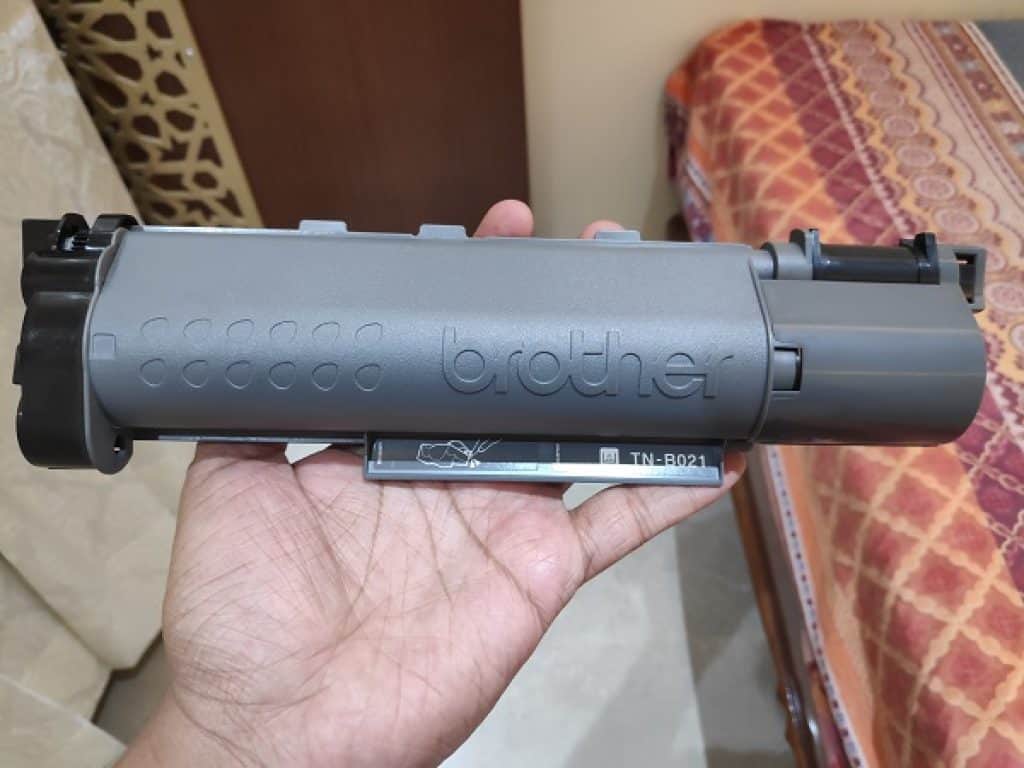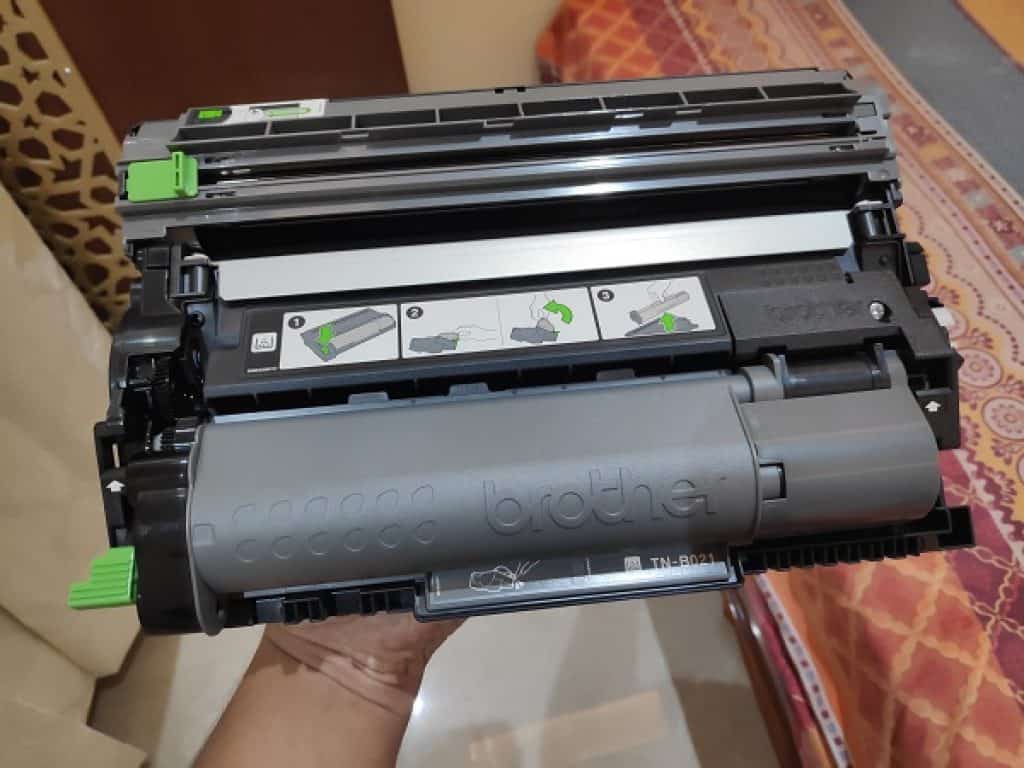 Warranty
Currently, Brother offers a 1-year Onsite Warranty on the product with terms and conditions. However, they do claim that the printer is a low maintenance product and offers a longer machine life. Thanks to the latest technology and innovations.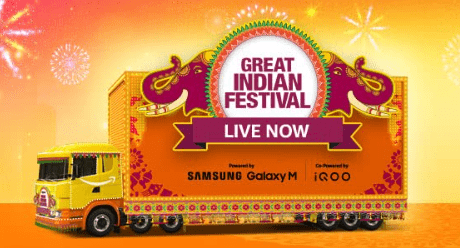 *Prices and Specs as shared by Brother of their lineup.

Features Of Brother DCP B7500D
Talking about the DCP B7500D model that I did all the tests with. Except for the wifi Direct, LAN, and 50 sheet ADF it has a ton of other valuable features.
All In One (Print, Scan, Copy)
It offers all three functions of print, scan, and copy which are needed by the most business making it an ideal choice. The functions are easy to operate with dedicated buttons and an LCD display.
Tray Capacity
250 page fully enclosed large capacity paper tray, which also protects paper from dust and moisture. There are also standard single feed trays available to meet the requirements of users planning to do thick paper printing.
Printing Efficiently
It offers Up to 34ppm continuous printing speed which can easily tackle and large office needs, so no more lines at the office outside the printer room. Everyone can do their printing tasks quickly and move one with their work.
Print resolution can reach 2400*600 dpi, for better print quality. Also equipped with standard automatic double-side printing (Duplex Printing) which offers speed up to 16 faces/minute and helps us in saving paper by using both sides.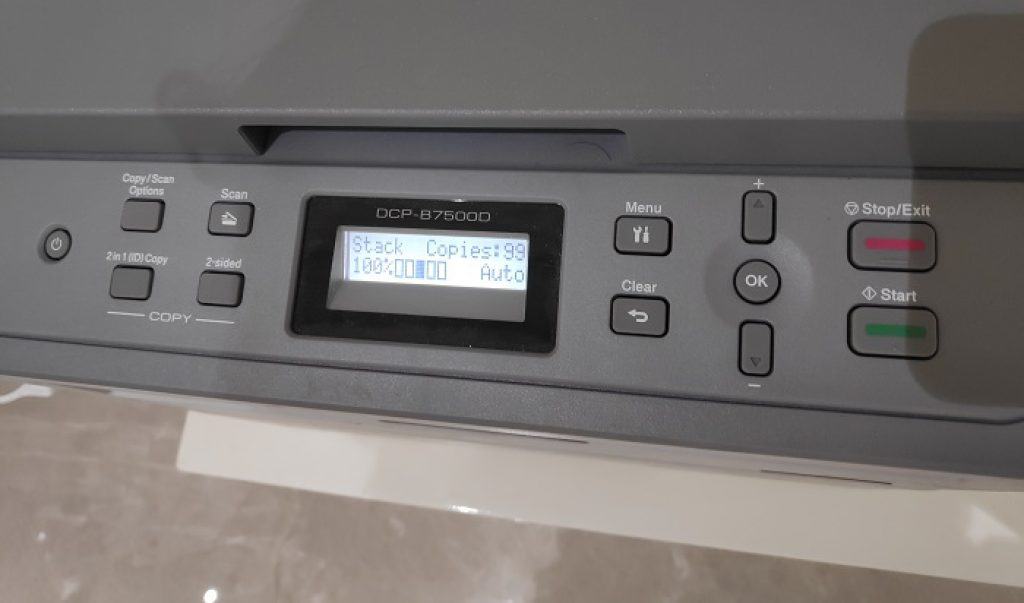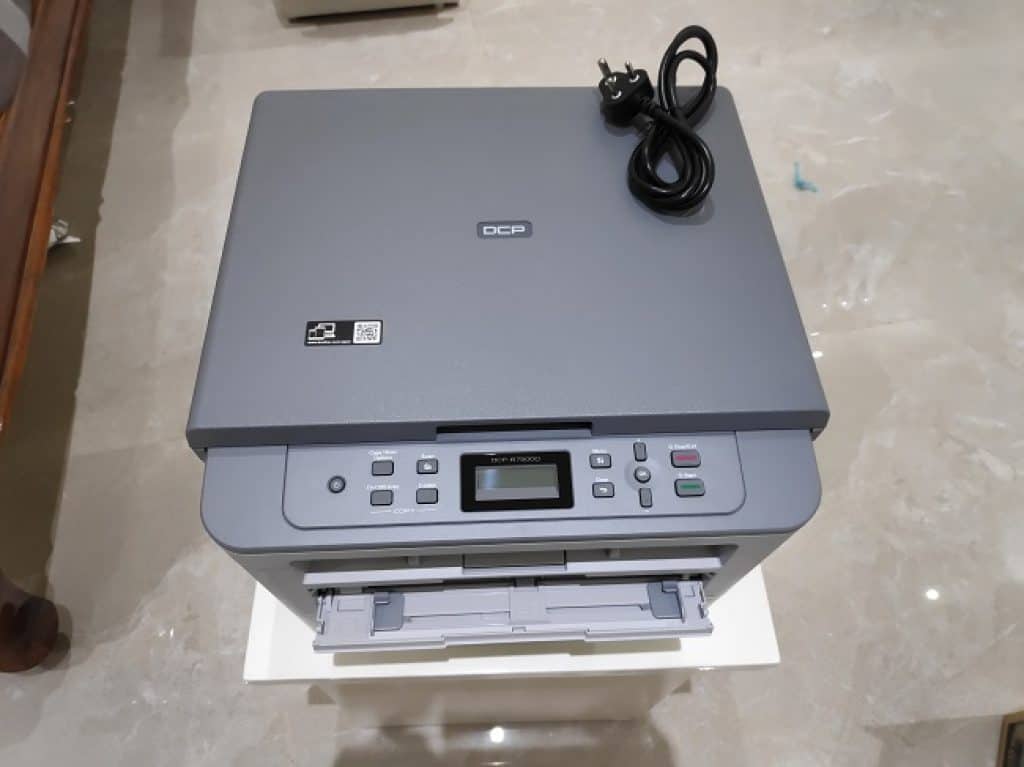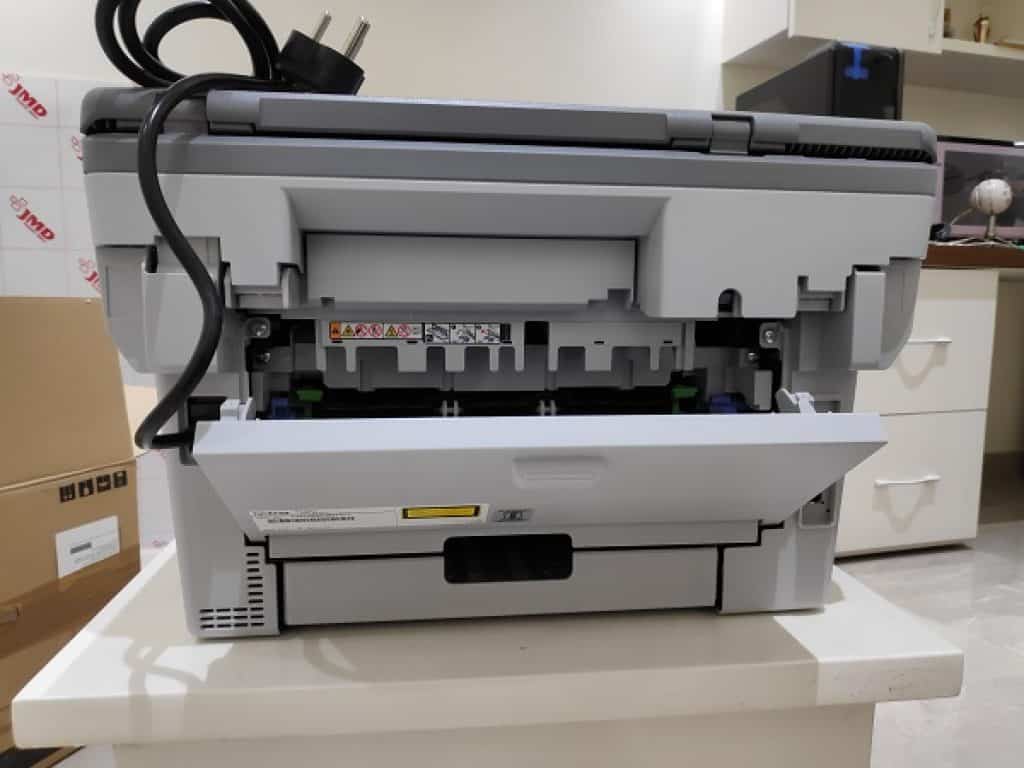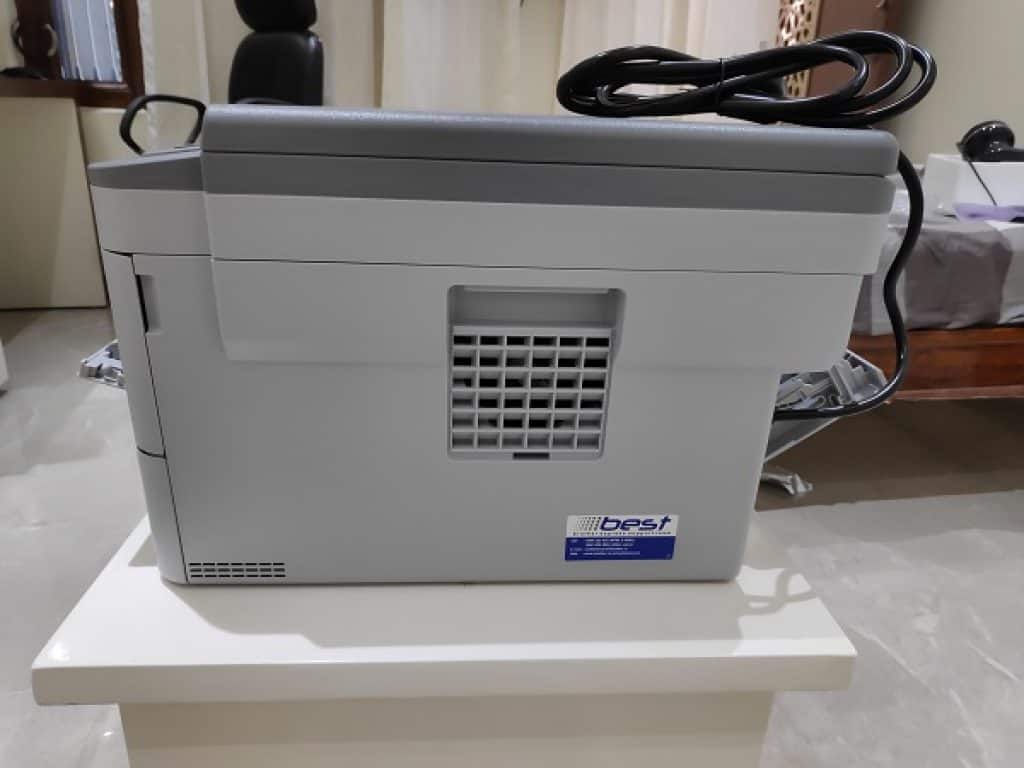 Other Features At a Quick Glance
Colour Scanning to PDF, Image and so on
LCD Display
Comes With 2600 pages Inbox Toner
Compatible with Windows, Mac & Linux
N in 1 Printing (Multiple pages can fit onto a single printed page and more)
Toner Save Mode
Flatbed Scanner up to A4/Letter size
2-in-1 ID Copy
Multiple copies up to 99
Enlarge/Reduce copy
Ease of removing Paper Jam
And Straight paper path (used for thick paper media and
envelopes, Bond paper etc)
Final Verdict
Overall Brother DCP B7500D Laser Printer scores the highest grades in terms of built quality, ease of use, ease of assembling, low printing cost per page, and elegant looks. The printer is ticking all the right boxes, just missing the wifi direct and other wireless options. You can make up for that by getting the higher model Brother DCP-B7535DW which has wifi.
I also liked the dark and light soothing grey color theme of the printer, will be a great fit for most offices. It just gives a feeling of calmness sitting quite on the table. Well, having a printer can save you a lot of time and visits to your local printing shop so if you are in the market to buy a printer then definitely consider the Brother DCP B7500D (non-wifi) or Brother DCP-B7535DW (wifi) models.
Why compromise, when you have a choice. Choose Genuine Toner. Say no to non-genuine Toner and Get Quality, Warranty, Durability, Longevity.
That was all folks, let us know what you think in the comments below.

Rs.

17,818

Rs. 19,890
10 new from Rs. 17,790
in stock


Rs.

27,000

Rs. 34,090
6 new from Rs. 27,000
in stock

Also Read:
10 Best Home Wi-Fi Mesh System in India
Best Wi-Fi Routers Under Rs. 1,000