Review After 2 years Of Usage
The PC gaming headset market has come a long way from spending a hefty sum to get a decent gaming headset that will fulfill your needs to the point where budget headsets finally have decent audio that it's more than enough and spending the extra buck or two is not really justified. The HyperX Cloud Stinger serves the exact same purpose. I was lucky enough to buy it from amazon during a sale at Rs.2799 on the 17th of February, 2018. 
| Aspect | Details |
| --- | --- |
| Release Date | August 12, 2016 |
| Purchase Date | February 17, 2018 |
| Purchase Price | Rs. 2,799 (on sale) / Current Price 2023 : around Rs. 4,000 |
| Design | Over-the-head, matte black design with red logo |
| Adjustability | Adjustable steel sliders (12 heights), rotating earcups |
| Microphone | Flip-to-mute, non-detachable |
| Comfort | Earcup cushions with HyperX signature memory foam |
| Build Quality | Lightweight (275g) all-plastic body, durable after drops |
| Cushion Durability | Cushions wear out after a year, earcup cushion detachment issue |
| Clamping Pressure | Reduced after 2 years, less secure fit |
| Cable Length | 1.3m cable, 1.7m extension cable, terminates in 3.5mm plugs |
| Microphone Quality | Clear voice, slight plastic-like sound, good for budget |
| Audio Quality | Directional sound great for FPS games, punchy bass, average for music |
| Customization | No software, plug-and-play system |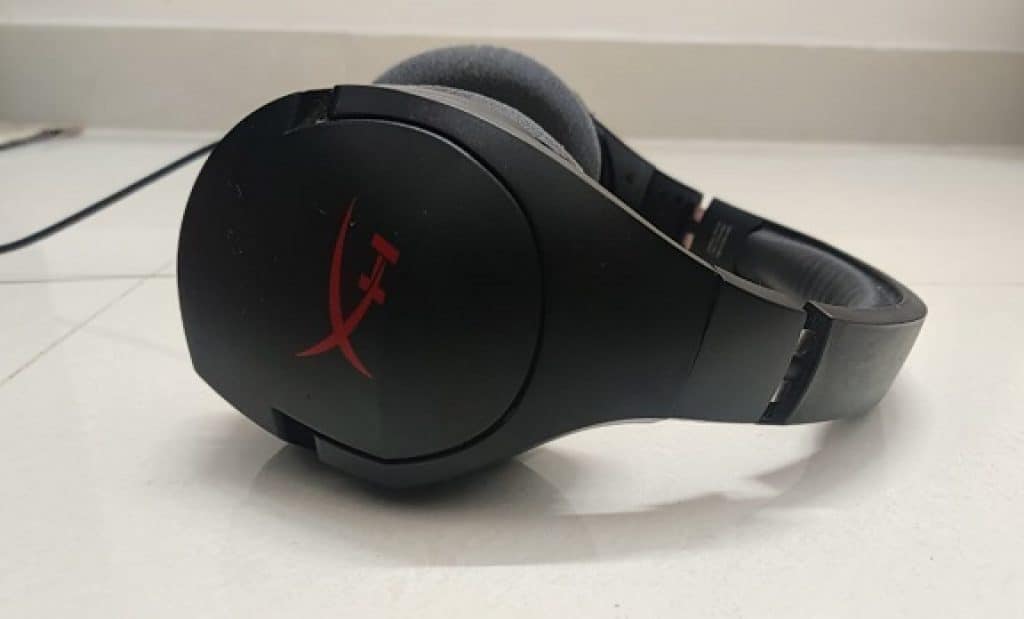 The HyperX Cloud Stinger was launched on August 12, 2016 as a budget offering to all those gamers out there who simply cannot afford a premium headset. Regarded as the king of budget gaming headsets of all time, but is it worthy of the title and the money spent?
Also Read : Best Gaming Headphones Under Rs 2000 in India

In Box Contents:
The HyperX Cloud Stinger comes in a neat black cardboard box when opened has the following:
An Instructions list/ quick start guide
The headphones itself
1.7 meter extension cable
Design:
The HyperX Cloud Stinger features a simple all matte black design with a HyperX red logo in the middle. It is an Over the head type headset with 2 big ear cups and a band of cushion at the top supporting the head. At the top of the headset the HyperX branding is engraved and the headset features adjustable steel sliders which can be adjusted in 12 different heights each side.
Also Read : 10 Best Gaming Headphones Under Rs 5,000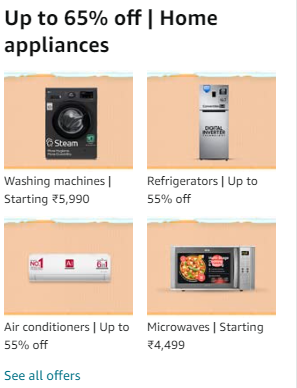 The left earcup houses the wire and the microphone which has a nifty feature that can be used to mute the microphone by flipping it vertically against the head and unmute it / use it by pulling it down. The left earcup also houses the headset cable and the right earcup has the volume slider on the bottom. The earcups can be rotated in a 90 degree angle to get a good fit, they also contain vents at the top of the earcups for passive noise cancellation and overall it's a good looking headset for the price.
Build Quality:
I think the Cloud Stinger is one of the lightest gaming headsets in the market. At just 275 grams, It feels very light. This is accomplished by the all plastic body of the Cloud Stinger. I like its weight; it feels sturdy enough to stand up to some abuse without feeling too heavy on your head. After 2 long years my Cloud Stinger's body still feels solid and it's still in the same condition as it was when I bought it 2 years ago. There are no cracks or defects in the body and no I'm not a very careful person it's the very opposite I'm a clumsy one.
Even after several drops, it still hasn't given up on me. The fit of these headphones is really good and they provide sufficient pressure and clamping force and it blocks most of the background noise that you may hear.
Also Read : Best Gaming Laptops Under Rs 50,000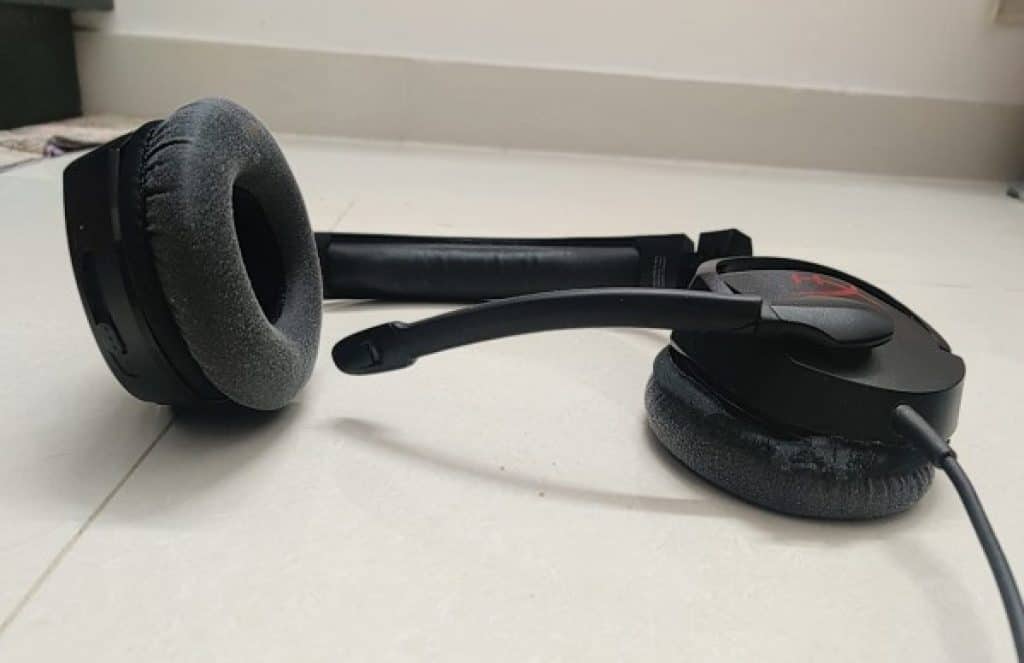 The earcups are really and I cannot stress this enough, really comfortable for the price. The earcup cushions and headband padding features padded, synthetic leather. The headband padding is very cushy for a budget headset, and the HyperX signature memory foam inside the earcups allows for a comfortable fit during long gaming sessions.
The durability of these cushions is just average, after a year of use, I started to see the cushions wear out and some black particles that came out, But this was not true for the headband as it remains the same. Another issue with the cushions occurred after about 1.5 years of usage where the earcup cushions were no longer fixated with earcup and especially the left earcup cushion falls off every time since the end of the cushions which held on to the earcup got very thin due to wear and tear.
Also Read : Best Earphones Under Rs 1000
The only thing that annoys me after 2 years is that the clamping pressure of the headphones has significantly reduced to the point where if I shake my head, the headsets would just slide down. Nonetheless, the earphone is still really comfortable and I seriously cannot find any degradation of comfort from when I first purchased it.
The headset cable length is really good at 1.3m and terminates with a 3.5mm plug so it works with PCs, PS4, Xbox One, and mobile devices(If you have a 3.5mm headphone jack). HyperX also includes an extension cable which is another 1.7m long combining them makes the total length of the cables to around 4 meters and the extension cable terminates into two separate 3.5mm plugs one for audio and another one for microphone which is great for PC users. The cable is just made out of rubber and it's not braided. The quality of the cable is average and after a year and half's use, the cable started to wear out and I had to use insulation tape to cover them.
The mic is not detachable and it's made out of smooth, soft rubber and plastic alloy and it feels really good to touch. The mic produces a snap like sound every time you mute or unmute and it's perfectly fine and it's actually a feature that lets you know that you have muted your mic. Although my mic kind of broke after a year where one time I pushed it to mute, a small part near the end of the mic towards the headphone broke off.

Overall, the build quality is good enough considering the price point and will last you for a year or two comfortably for a casual user and I cannot really complain about it.
Performance:
The HyperX Cloud Stinger features Dynamic, 50mm with neodymium magnets with a frequency response of 18Hz-23,000Hz and an Impedance of 30 Ω. But what does this mean in real life?
Game Audio Quality:
I'm a hardcore FPS gamer who loves to grind games like CS:GO, Valorant, COD:Warzone,Battlefield 4, V etc. The headset is just simply great for games like these where you need to rely on sound to determine the position of your enemies. It's directional sound is really good and not once did I ever have a problem of hearing enemie's footsteps or minute cues that CS:GO has. The bass is punchy and strong as it should be in a gaming headset and the explosions and gunfire effects are a treat to the ears.
In CS:GO, the footsteps are crisp and clean to hear and I could easily pinpoint exactly where the enemy was thanks to the really good stereo drivers by HyperX. I could hear the small cues like the pop of a flashbang or someone swinging their knife in the air. The same can be said for other games too. Not once in two years did I ever miss a footstep or a game sound cue that I should have definitely heard.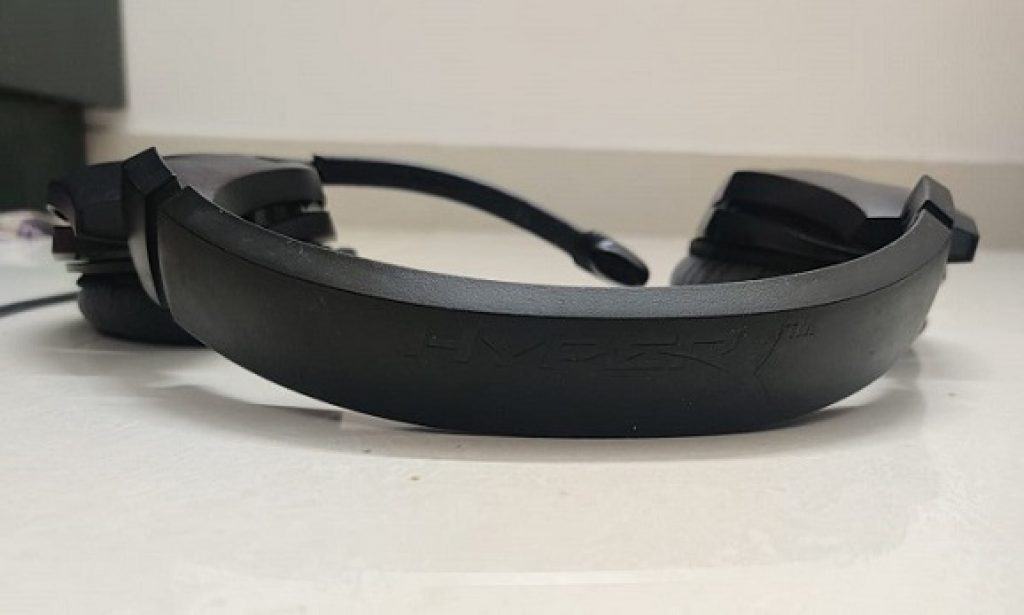 Although when going into single player story driven games such as The Witcher 3:Wild Hunt, Red Dead Redemption 2, the cloud stinger suffers here due to the lack of any customization of sound and 7.1 surround sound. I just could not get the immersive experience that I wanted to. Don't get me wrong, they sound really good, but it is more of a personal taste.
The HyperX Cloud Stinger features a plug in and play system. There are no softwares to tweak, no RGB or any emulated surround sound like 5.1, 7.1 nuances. You just plug it in and boom you are ready to play.
Also Read : Wireless Headphones Under INR 2000
Music Audio Quality:
Gaming headsets are only meant to be used in games is the usual idea, but the HyperX Cloud Stinger surprised me. The audio quality is strictly average for music if you know how songs feel and sound in a really good headphone.
There is sufficient if not well produced bass that most people will enjoy. The highs and the lows are average and the mids are decent and well produced and the vocals are decent too. Although there is distortion at very high volumes. It's average, But considering the price I really can't complain.
Also Read : Best Earphones Under Rs. 2000 in India
Mic Quality:
Microphone is one of the most important components in a gaming headset and the mic in the Cloud Stinger will not disappoint you and will get you the job done. The voice sounds crisp and clear and none of my friends in discord or teamspeak ever complained that my voice broke in between or something like that. The voice sounds more plastic than human if you compare it with a good quality mic. The microphone similarly sounds very good for a budget headset. The long, stiff boom arm keeps the mic far enough away that it doesn't pick up any popping. You can also do some mild recordings with it if you are a starting level youtuber/streamer.
Overall, for the price it's a really solid microphone and in my two years of usage, I've never had any issues with it.
Also Read : Best Gamepads Under Rs. 10,000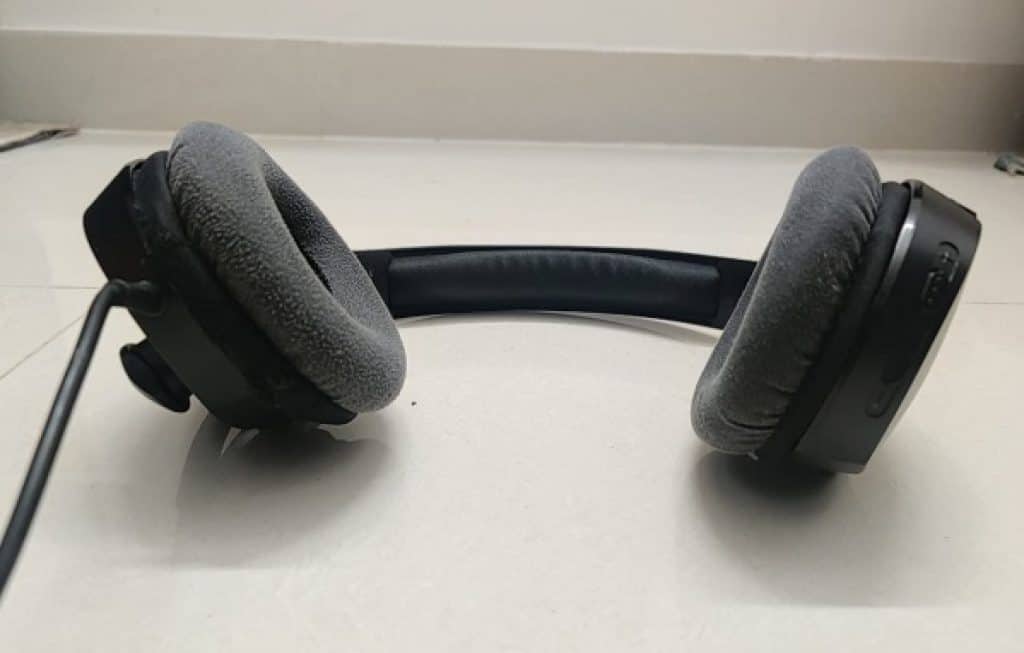 Conclusion:
The Kingston HyperX Cloud Stinger offers an unparalleled value for the money compared to its competitors. For Rs.2799, it's a steal with good build quality and great audio for the price. Although the Cloud Stinger is currently selling for around Rs 4000, still it's a very good budget gaming headset that offers great value for money.
The Cloud Stinger is a budget FPS gamer's dream with its great directional sound drivers and comfortability justify the price tag and I would recommend to anyone who is looking for a budget gaming headset.
---
Also Read :