Realme buds 1 was a decent offering that failed to compete against the Mi earbuds last year. They were not bad but they didn't offer anything over the Mi earbuds and had worse sound quality. Realme Buds 2 at 599 came out to fix that and I think it accomplishes that. It being out of stock so often might speak to that.
Right of the bat, I can say that these are the best value of money earphones in the Rs 500 to Rs 1000 segment. RB2 offers great build quality, partially braided cables, and good sound without any major shortcomings. Let's delve deeper into what makes them the best earphones in the segment.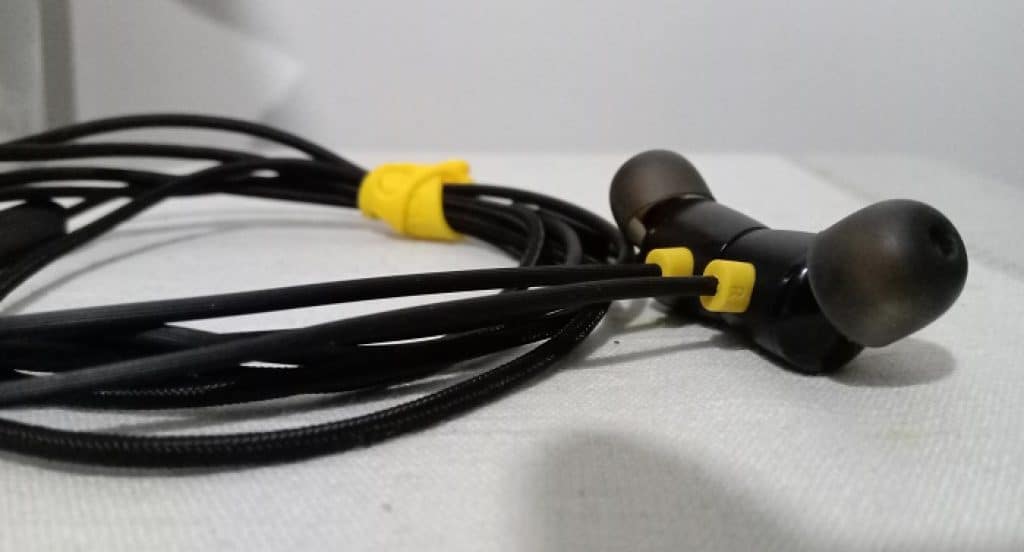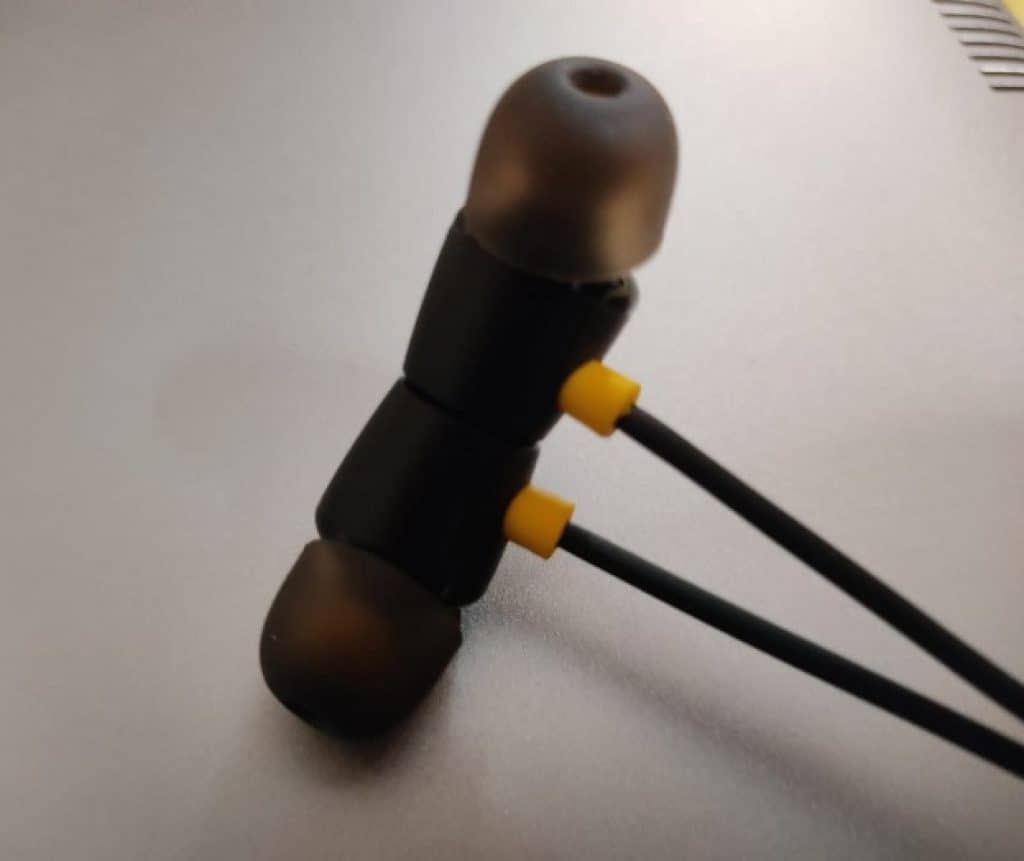 Build and Design
They come in 3 colors. Green, Orange, and classic Realme Yellow-Black theme. I really wish that there was a pure Black or White version of this since I personally feel like the Yellow-Black colour scheme makes them incompatible with various outfits and green and orange are also very vibrant colours. But that is just my opinion. Regardless, the build of the earbuds is the best in the price range and beyond.

Also Read : Best Earphones Under Rs 1000 in India
The earbuds themselves offer a combination of matte and glossy texture which makes them fairly grippy. A LOT better than the Mi dual drivers which are all plasticky , shiny and shows even the small scratches very easily. Just look at these, they are not very old and due to the pandemic going on, I didn't even take them outside, if they got this beat up just by staying in my drawer most of the time, I don't think they will withstand daily abuse as well as the Realme buds 2.
The cable, unlike what Realme says, is not fully braided.
It is braided from the headphone jack to the point where the earbuds split into two, after which it is just a standard cable. That is rather disappointing since that's kinda the point of a braided cable, to protect all 4 points of failure (3.5mm jack, 2 earbuds, inline controls) while the braided cable here only protects 1(3.5mm jack) out of the 4. The earbuds themselves are curved inwards to make them more comfortable (like the Mi dual, redmi buds and Jbls).
But all of that is easily forgiven since these are the only (good) earphones that even have a braided cable in this price segment. Comparing these to the CX180 with its thin and sickly cable that might break if you touch them without wearing surgical gloves (I have broken these 3 times). It's not even funny how far ahead of the competition these earphones are in terms of build quality. The only earphones that have the comparable build quality to these might be the JBL C200 but they are more expensive and I don't have a lot of experience with those.
One thing that slightly bothers me is that they are a little big.
So when you sleep on your side, they shove into your ear due to the large size. The same is the case with Mi dual drivers. There are magnets behind the earbuds which make it slightly more convenient to store. Kinda pointless to have magnets in the earbuds but it seems they are reusing the drivers from the Realme buds wireless which had magnets for power on and off and they just left them there. The inline controls and the mic are fine. The audio quality from the mic is rather poor but the same can be said about every other earphone. They are only good for voice calls. JBL C200 inline mic claims to have noise cancellation so that might be worth looking into if you are more interested in mic quality.
The 3.5mm jack is not L shaped
That makes it more likely that you will bend it too much in your pocket and destroy it. It also has a cable management thing that you can wrap around and secure with the rubber band to reduce the length of the cable. I didn't find it necessary but it's a fine addition. Although it might get annoying if you don't use it so I recommend wrapping it around itself.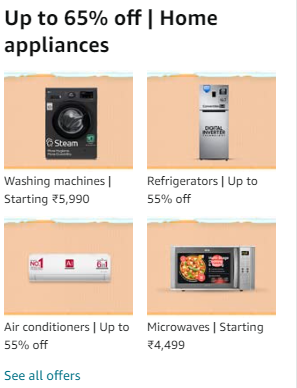 Overall: Great build quality 8.5/10. Hope Realme buds 3 are fully braided.
Also Read : Best Earphones Under 500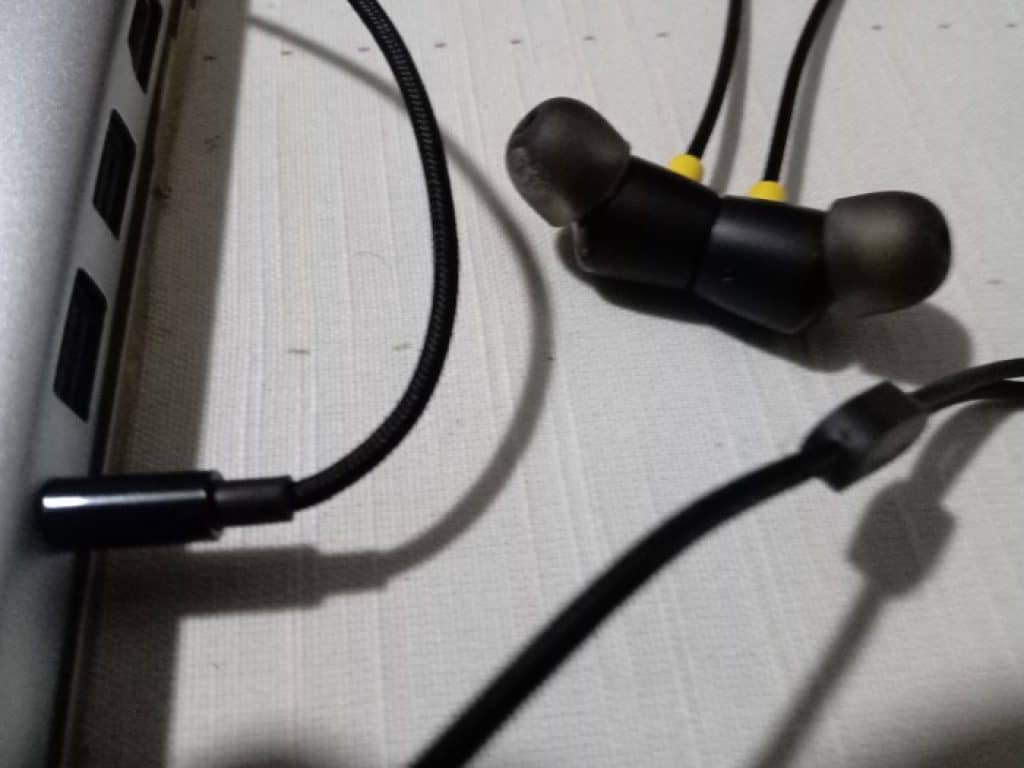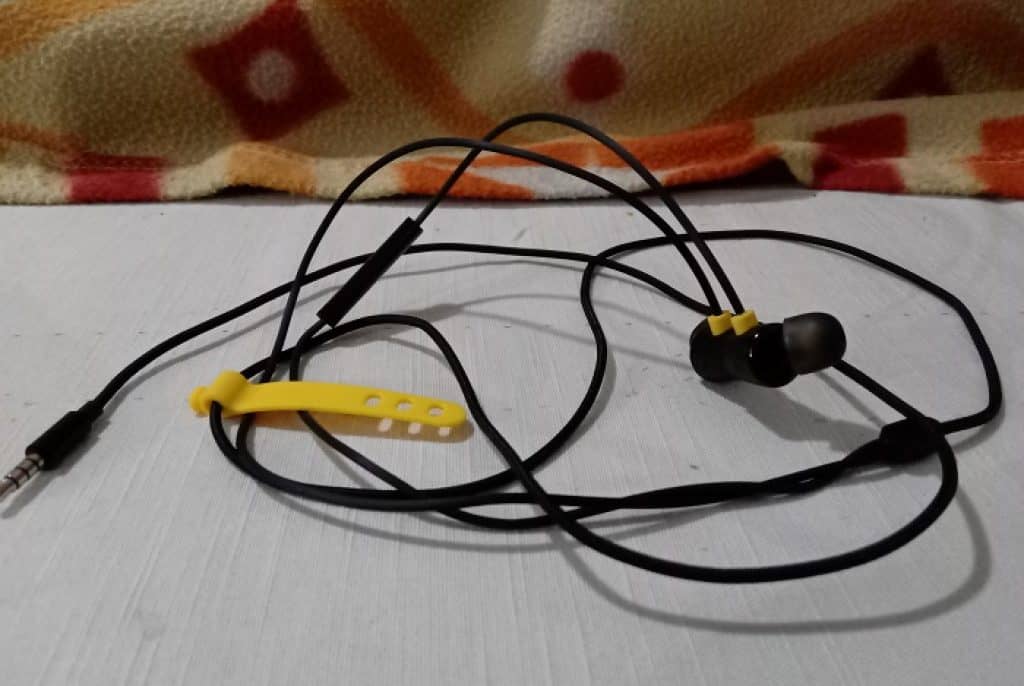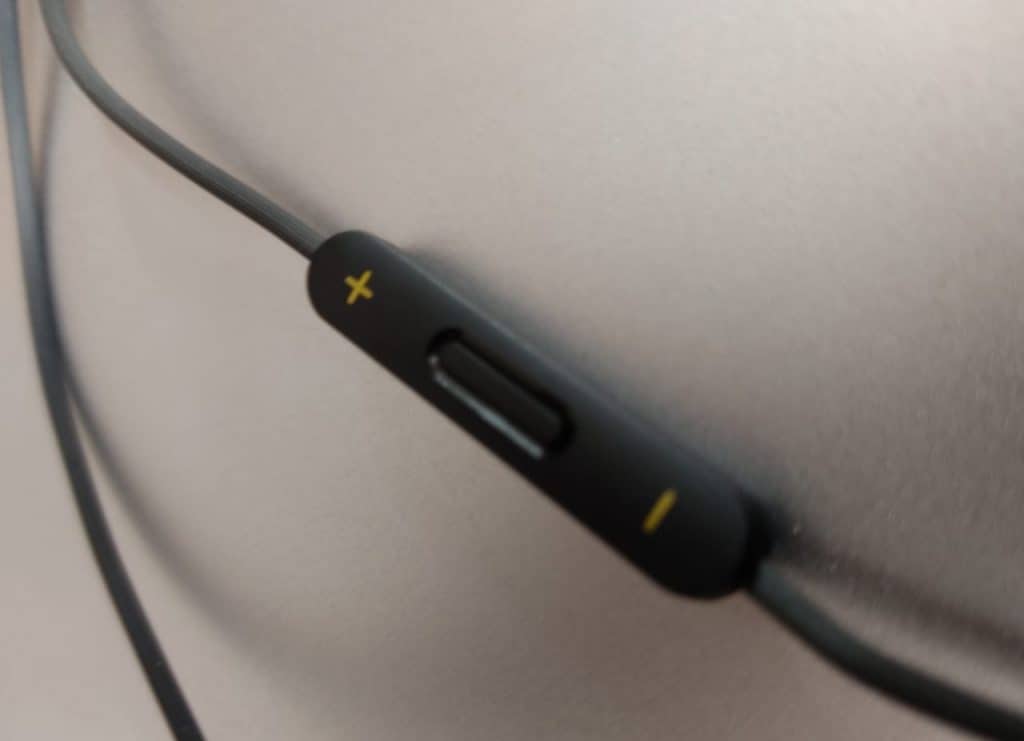 Sound quality
Huge upgrades over the Realme buds 1. The sound signature is still somewhat similar, you can feel that it's Realme buds 1 on steroids instead of something that is completely different. These sound like how you would expect "Realme earbuds" to sound, completely geared towards Bollywood style music. But that makes them fine for listening to alternate rock or other pop songs. The bass is a little muddier than you would expect though, so sometimes it gets difficult to follow the bass lines compared to Mi dual drivers, which I think are way too conservative with how dynamic they can be, leading to a flat sound.
Mi dual drivers are a little more versatile but unless you are someone who needs some really accurate sounding earphones for audio monitoring purposes, almost everyone would appreciate the little more punch that Realme buds 2 offers.
The only option that offers better sound quality than these are the tried and tested Cx180s. They have, as I mentioned before, horrible build quality. They break very easily, I think it's on purpose, I feel like Sennheiser knows that even if they break, people will repeatedly buy these since no other earphones can compete with them in terms of audio quality. I have personally bought them 3 times and I know many people who have done the same. But just in case you want THE BEST sound quality, then unfortunately that's the CX180s.
Also, I should mention that the one I ordered had some buzzing noise, so I got it replaced and the new unit didn't have that problem. So, make sure you test it out properly on arrival as with any other tech product.
Overall: 8/10 Good quality.
Also Read : 10 Best Bluetooth Earphones Under 2000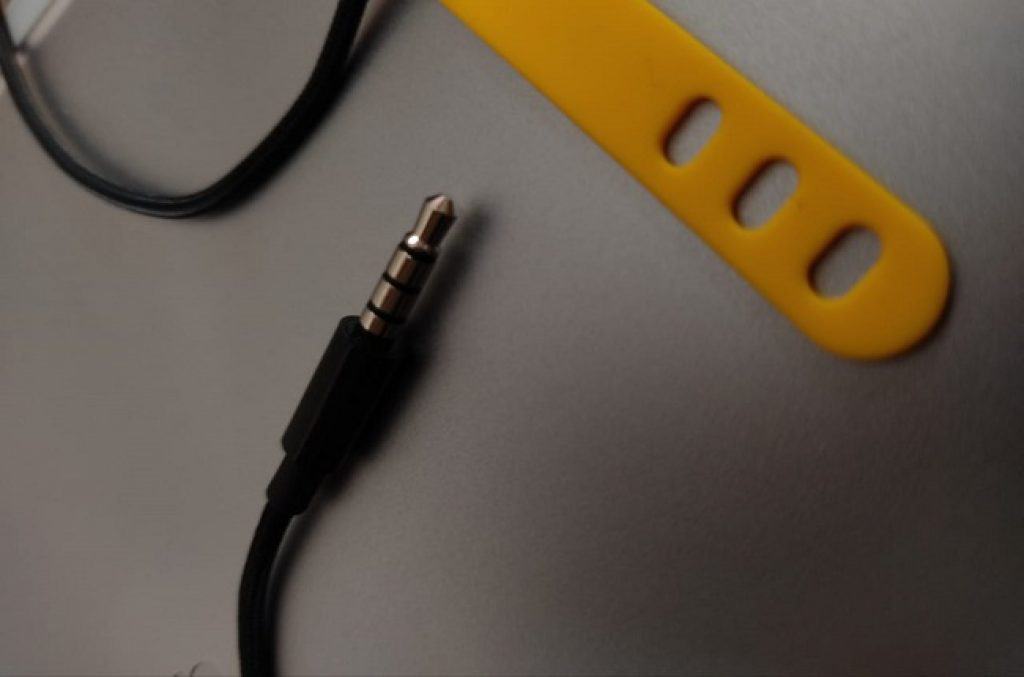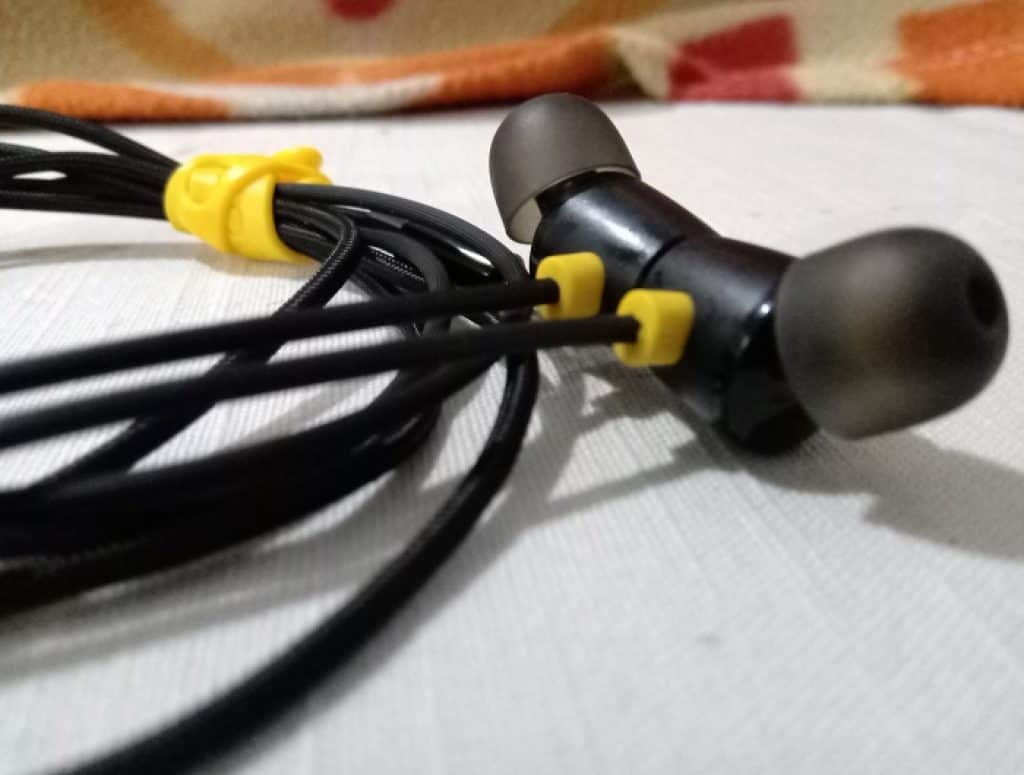 Comparisons
The other options are Mi earbuds and Cx180s. Those 2 are Rs100 more expensive. Mi earbuds don't offer anything noteworthy over Realme buds except a more understated design. Nothing else in the price segment stands out.
Also Read : Best Earphones Under 2000
Verdict
These are just better than the Mi dual drivers, it's the main competitor. You can tell from the moment you put them on.
Realme buds 2, despite how good they are, still can't beat the 5-year-old Cx180s. But I feel like the way better build quality, the inclusion of a mic and half braided cables make the Realme Buds 2 a better buy over the Cx180s.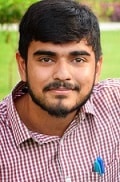 This Review is Written By – Aryan Tiwari
I'm a simple guy, interested in gadgets and stuff.
---
Also Read :
Best Wireless Earphones Under 1000
Wireless Headphones Under INR 2000
​​​​In Ear (IEM) Headphones Under Rs.1500
Gaming Headphones Under Rs 2000 in India