Recently updated on November 20th, 2023 at 09:42 am
So, guys I bought this cooling pad since it was one of the most popular laptop cooling pads from Zinq on amazon. It costs 800 to 900Rs and it is one of the cheapest 2 Fan cooling pads. I have noticed some real problems with it but considering the price I think it's a fine deal.
I am first going to express how my experience was and then how it is in general.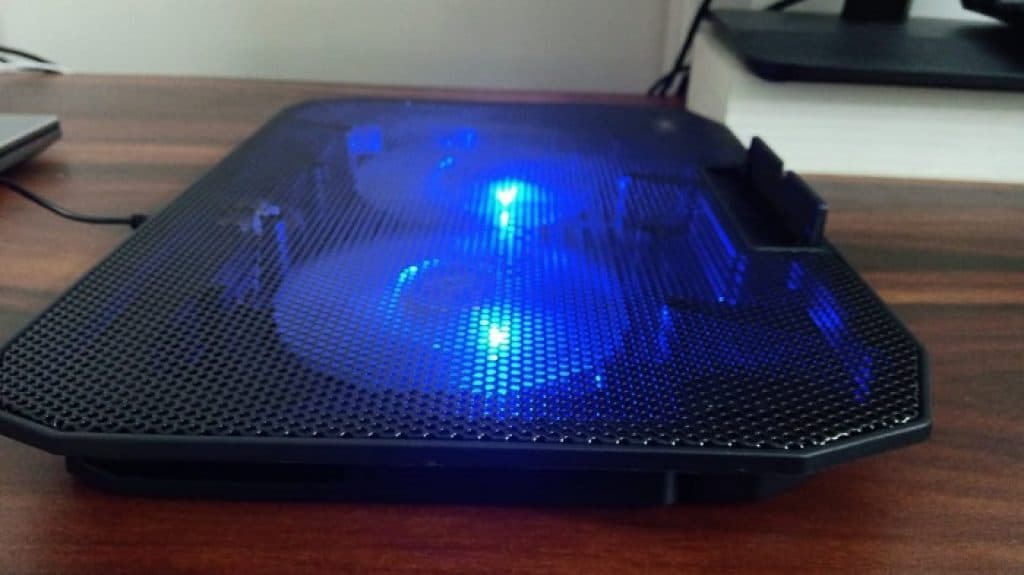 My Main Problem With it.
First of all, IT DOES NOT HAVE A OFF SWITCH what the hell man??? HOW CAN THEY MESS THIS UP! To turn it off you have to Yank out the cable and that plugging in and out so many times is going to put unnecessary wear on the usb port that you are connecting it to. This is a bigger omission that it sounds like, I mean, I have been using it for a week and its an absolute pain, AN ABSOLUTE PAIN to reach out to behind the monitor to unplug the damn cable.
And yeah, Good luck if your laptop has USB ports on the back (many Lenovo laptops).
Why? Why? How much does it cost to add a freaking OFF switch?? Even a 300Rs toy car has an off-switch god damn it!
Anyways, I'm going to calm down now and move on to the other aspects. I chose this one in particular because I didn't want any coloured fans (those ones look like a Toy instead of a Tool)
And apart from a DeepCool cooling pad that's Rs2000 in price, this seems to be the only one with colourless fans. But it does have Blue LEDs with both fans. I wish it didn't have them. They look bad (my opinion) and they don't have an off switch. I mean, OFCOURSE THEY DON'T HAVE AN OFF SWITCH, it doesn't seem like anyone from this company has seen anything called an off switch.
The laptop for the most part covers the light so it's fine.
Also Read : Best Laptop Cooling Pads in India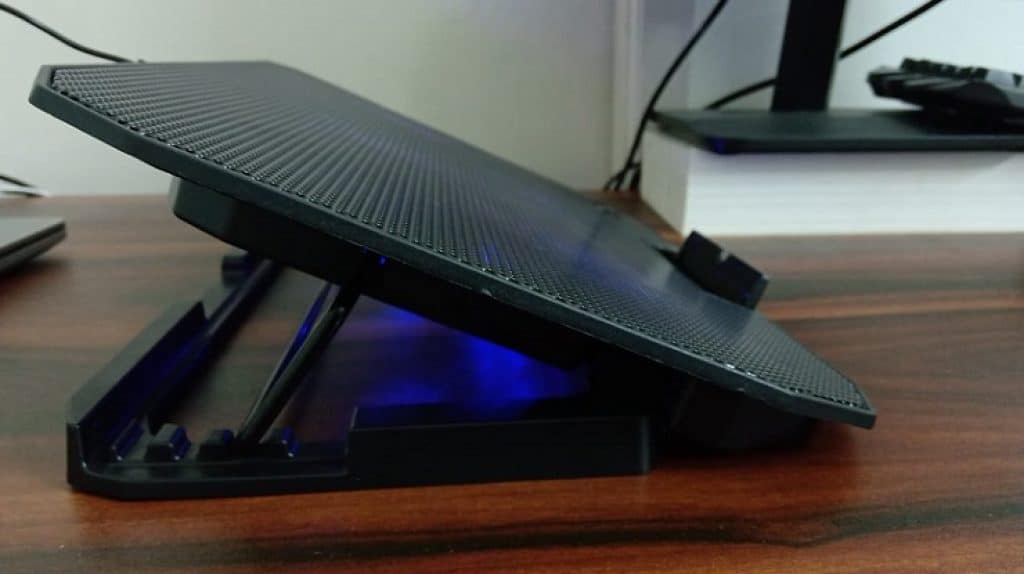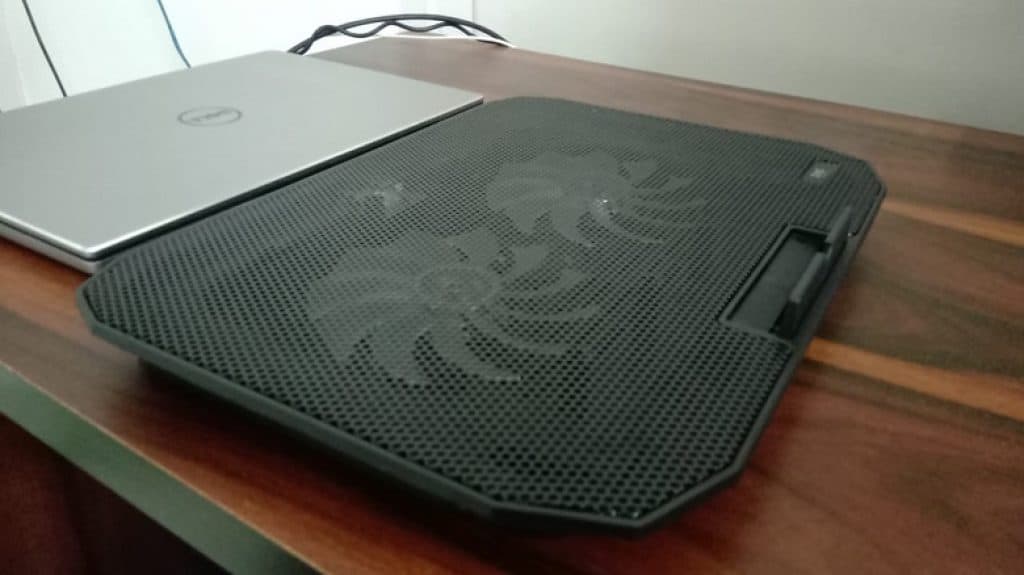 Performance
It has a metal mesh at the top which is nice, and you can feel the fans blowing onto the laptop pretty well by keeping your hand over it. The fans are high quality and its performance is as good as it gets for cooling fans. Remember, just blowing in a lot of air in the laptop doesn't reduce the temperatures beyond a certain point. Those 5 fan cooling pads are not going to perform much better than this two-fan option.
The cooling pad can fit a 15inch laptop but that's it. Forget about putting a 17inch laptop on here. I am using it with a 14 incher and it works really well for that size. There are 3 "modes" or tilt option that you have with it. Any of those is fine based on the amount of height you want but airflow wise, I didn't see a difference between any 3 modes.
It has 2 USB ports. You use of to connect it to the laptop using the included USB A to USB A cable. The other can be used for a mouse or keyboard or controller. Don't plug an External hard drive to it, use a native port on the laptop for the high-speed stuff. It has a cut out in the holder/ stopper on the front to prevent the laptop from sliding off and opening it when the lid is closed.
The cooling pad has nice rubber feet on the bottom too to prevent it from slipping around.
Also Read : Best Gaming Headphones Under Rs 1000
Fan noise
It makes a smooth whoosh noise instead of some inconsistent annoying noise. I think the fan noise on it is not a problem. I prefer to turn off the annoying fan of my laptop and use these external fans only. That results in lower temps surprisingly.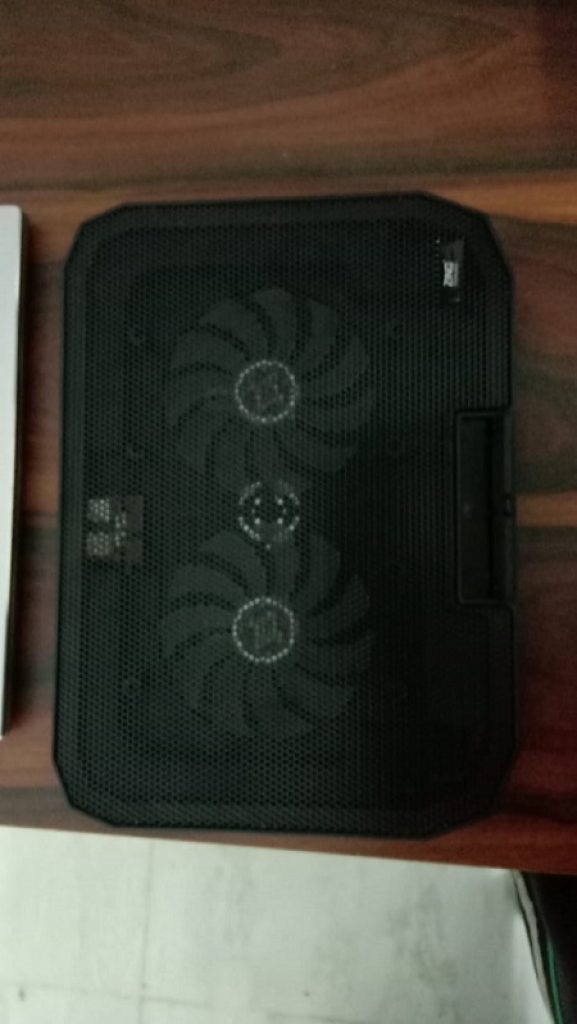 Results before and after
Short version: Cooling pads are almost useless if you don't have a laptop with a metal back panel
Long version: I tested it with a plastic laptop and it made almost No difference. To be fair, the plastic laptop was not really overheating in the first place but in case you have a plastic laptop that is overheating you're better off replacing the thermal paste on it instead of buying a cooling.
So with my metal laptop, I tried it regularly, 3dmark timespy.
It handled it A LOT better than without a cooling pad. Temps were down 5 to 10 degrees.
Now I bought some M.2 1.5mm SSD thermal pads and put them between the Heatpipes and back panel of my laptop so that the back panel of the laptop will act as heatsink for the laptop. And since the back panel is pretty big compared to the small heatpipes in the laptop, the Temp drop with the thermal pads and the cooling pad combined was HUGE.
I saw a Drop of 35 degrees where earlier it would max out to 90degrees, now it never broke past 60degrees on the CPU and 52 degrees on the GPU.
Not only that, now I have the top 20 score for an i5 7200U on 3d mark timespy leaderboard. Pretty nice.
Also Read : Best Gaming Chairs In India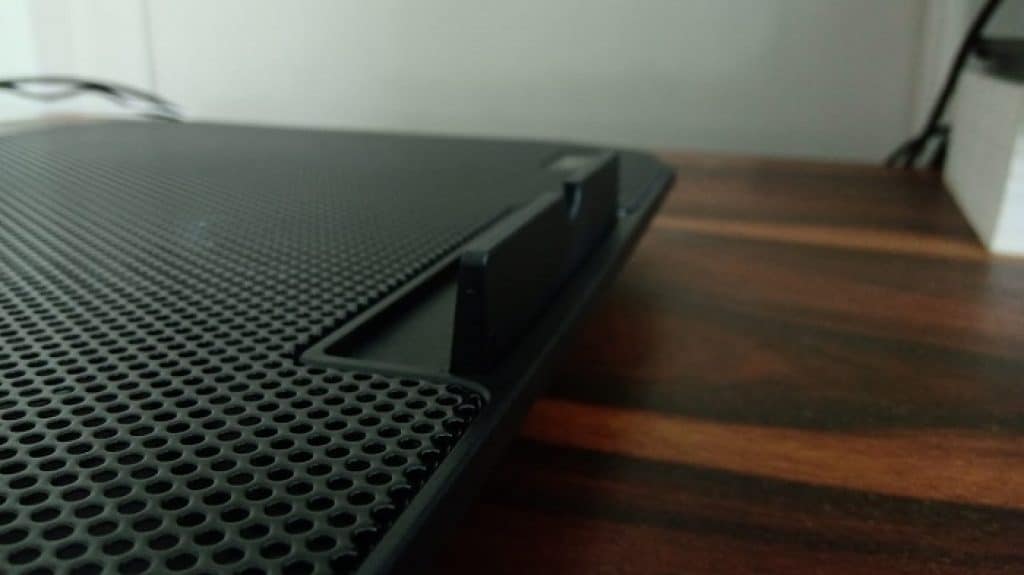 Conclusion
Buy it only if you have a metal laptop and can handle the lack of an OFF switch. There are no other 2 fan options that are cheap and better. The Zebronics option is always out of stuck and looks very ugly so that leaves us with this Zinq thing.
---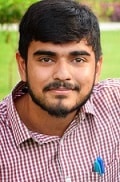 This Review is Written By – Aryan Tiwari
I'm a simple guy, interested in gadgets and stuff.
---
Also Read :
10 Best Gaming Laptops Under Rs 50,000
Gaming Laptops Under Rs 90,000
10 Best Laptop Under 60,000 in India