7 Best Most Reliable Orthopaedic Mattress in India 2020
Which Is the Right Mattress For You ?
It is really important for everyone to have a good night's sleep and for that you need to have a good quality mattress according to your particular requirements.
To take care of your back and for maintaining the right posture while you sleep, an orthopaedic mattress is really important in today's time.
There are plenty of options online and here is the list of the best ones that offer a great value for money.
Top 7 Best Most Reliable Orthopaedic Mattress in India
1) Sunday Orthopedic Mattress
Mattress Rating – 4.9 / 5
Mattress Feel : Medium Firm
1) This is the mattress I can vouch for and the one which has given me some of the most comfortable night sleeps.
2) The mattress came with a organic cotton zipper cover on top , with breathable latex , memory foam and high resiliency latex in layers.
3) The brand uses premium latex , memory foam with zero percent fillers and passes 60,000 cycle tests with Oeko-Tex certificate to ensure no harmful chemicals.
4) The brand also offers a 100 day trial and a 10 year warranty in case of manufacturing defects.
5) This mattress doesn't come in rolled shape and you don't have to wait for it to adjust like from some other brands. Those rolled up mattress can never compete with these thick multiple layered mattresses.
6) All in all this is the mattress that I will be buying if I was looking for a orthopedic mattress for my goo night sleep free of neck and back pain.
Check Cheapest Price – Amazon
---
2) Wake-Fit Orthopaedic Memory Foam
Mattress Rating – 4.8 / 5
Mattress Feel : Medium Soft
1) Looking for a single-bed mattress? This might be the best option for you.
2) Its length of 72 inches is perfect even for the tallest of the people and you sleep whichever way you want on its width of 36 inches.
3) Made out of quilted cotton fabric, this mattress from Wake-Fit has an inner orthopaedic foam layer to help you have a comfortable sleep.
4) Above the orthopaedic foam, there is the top layer known as the memory foam that has been specially designed to give you rest after a long tiring day.
5) It is then covered with a fabric liner that also acts as a barrier against fire.
6) This premium quality mattress is available for price from Amazon and it also comes with a 5-year warranty.
---
3) Wake-fit Dual Comfort – Hard & Soft
Mattress Rating – 4.6 / 5
Mattress Feel : Medium Soft & Medium Firm on opposite sides (Both sides are usable)
1) Coming from the same brand as the first one, this one also comes with a similar premium quality.
2) This particular mattress is for double beds and sports a size of 78 inches by 60 inches.
3) Compared to the previous one, this mattress is a bit thicker at 6 inches for added comfort.
4) Both the sides of this mattress are usable, one of which offers medium hardness and the other one has medium softness.
5) This made to order mattress from Wake-Fit is great if you want a custom size and make changes accordingly. The mattress comes with a good quality cover pre-installed and below that are the usual layers of different types of foam that were mentioned in the first point.
6) This double bed mattress is available for price for the mentioned size and the price can vary depending on your specific size and other requirements.
---
4) Wink & Nod – 7 Inch Cool Gel Memory Foam
Mattress Rating – 4.2 / 5
Mattress Feel – Medium Firm
1) This mattress is manufactured and designed in India using the most innovative techniques and highest industry standards.
2) Using materials carefully sourced from across the world including USA, China and India.
3) Providing cutting edge and most transparent design by offering 4 comfort layers:
Removable and breathable mattress cover made of bamboo fiber material
Cool gel memory foam
High density support foam
A non-slip base layer to ensure optimal support and temperature control.
4) If you don't like the mattress, you can return it for a full refund in the 100 day trial period.
5) A medium firm ortho-mattress best for people with back pain.
6) It comes with 10 years of manufacturer's warranty.
---
5) Dreamzee Orthocare Memory Foam Eurotop
Mattress Rating – 4.4 / 5
Mattress Feel – Soft, comfortable & supportive
1) This mattress from Dreamzee is a great product considering the size and quality of the foam. For the size of 72 x 36 x 10 inches, the thickness is great if you prefer thicker mattresses.
2) The base of the mattress is the high resilience foam which then holds a layer of memory foam on the top.
3) All whole foam material is packed within an outer layer made out of premium quality imported quilted fabric.
4) While maintaining your body posture while you rest, the mattress is also great for spine care.
5) It is available online for price and it comes with a warranty of 5 years.
---
6) Boston Orthopaedic Queen Size
Mattress Rating – 4.2 / 5
Mattress Feel – Medium Firm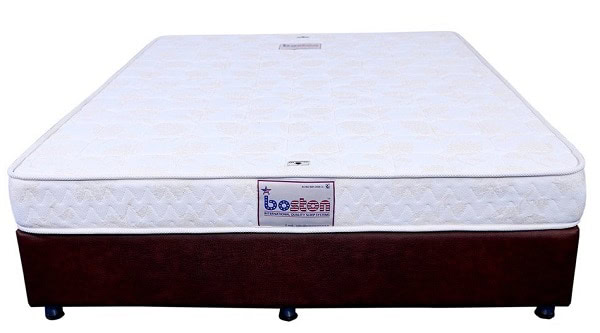 1) A mattress is made out of several layers of foam and quilted fabric for a perfect level of softness that is great for maintaining your body posture, and this mattress from Boston masters at this.
2) The mattress comes in a size of 78 x 60 inches for queen sized beds and has a thickness of 6 inches.
3) Just like any other Orthopaedic mattress, this product from Boston also comes with multiple layers of foam that include a thick layer of hard foam in the bottom with the softer one on the top and an outer covering of quilted fabric.
4) It is priced at price for the mentioned size and offers 5 years of manufacturer warranty. The seller can also customize the mattress according to your requirements.
---
7) Royal Rest Orthopaedic Dual Comfort Hard & Soft
Mattress Rating – 4.1 / 5
Mattress Feel – Comfort , Firm
1) Nothing is more important than your health and especially your back which gets strained after the full day's work.
2) Your mattress should be perfect to relieve you from all the fatigue when you finally get to sleep in the night.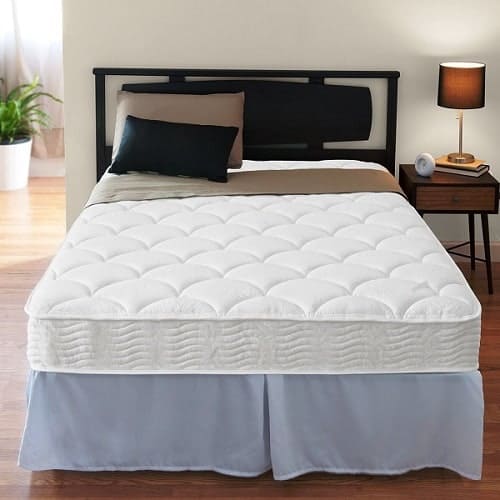 4) This Royal Rest mattress does this job really well. It is available at a size of 75 x 48 x 5 inches and is priced at price.
5) The twin-size mattress offers just the right amount of hardness and softness for proper rest and maintaining your posture as well.
6) The premium quality top fabric is made out of quilted material for an improved comfort level.
7) The thickness of the mattress is also perfect for general use. The manufacturer is also giving a warranty of 5 years with the mattress.
---
Please do comment below to let us know your experience and suggestions.
---
Also Read:
1) Top 10 Best Cheap Mattress Under Rs.10,000
2) How To Find The Best Comfortable Mattress For You in India ?