Nowadays, more than ever you need a webcam for all your tasks. And with everything still going online, you might need to buy a webcam for yourself as well. But if you're still feeling conflicted on what to buy, we're here to help. This webcam from Zebronics is a very good option for everyone, even for those who're on a tight budget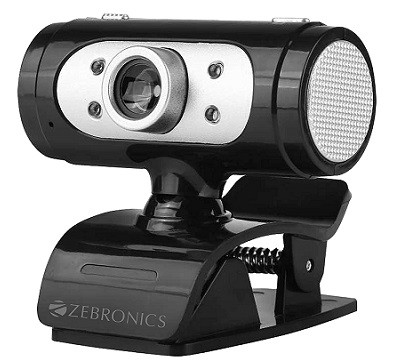 Pros-
1080p camera with 5P lens
Auto White-Balance
Night Vision
Cons-
Below Average microphone
Wide camera view
Check Cheapest Price : Amazon
This webcam will satisfy all your conference needs, the quality is exceptionally good at this price point and is definitely within budget for most people. The web camera is decent enough for all your needs. And it does offer a manual switch for LED as well in case you're in need of more light. The cable length is quite long which will be more than enough (1.58m). The web camera comes with an auto white balance as well, which will help in improving the quality by fixing and balancing the colors.
Though there are few things you do need to keep in mind while making this purchase. The camera angle is very wide, which is not optimal for a webcam as usually, you don't want the background to be seen all the time. But this can be countered by using OBS or other software.
And the last thing which holds itself back is the mic quality, which is very average. It gets the work done but it's better to have a dedicated mic.
All in all, it's a decent purchase and at this budget, you can't get a better mic. Hope this can help you in ironing out your decision.