Recently updated on November 20th, 2023 at 09:53 am
One Year User's Perspective of Apple Macbook Air
In this article, we bring you a special review from a user who has been actively using the 2019 Apple Macbook Air as their daily driver for the past year. The Macbook Air is one of the best entry points into the Apple ecosystem, and most people who prefer quality and smooth performance will definitely be interested in this system.
This particular model is the 13 inch Macbook Air with the Intel Core i5 processor, with a base clock of 1.6Ghz. The laptop has 8GB of 2133Mhz LPDDR3 RAM and also has the Intel UHD 617 graphics processor.
The processor is a decent performance, considering the face that this variant can only be found in Macbooks. The base clock is rather low at 1.6Ghz but has turbo boost upto 3.6Ghz, so it does have the power to do heavier tasks.
The laptop's 8GB RAM is more than enough for smooth multi tasking and performs very well for practically any productivity tasks, excluding video editing or 3D rendering. The inbuilt graphics card however isn't going to win any awards, since it frankly isn't that powerful. You will be able to play casual, light games but don't expect any modern games to run well on this laptop, since it wasn't meant for gaming.
Now, let's discuss the components as described by a user.
Also Read: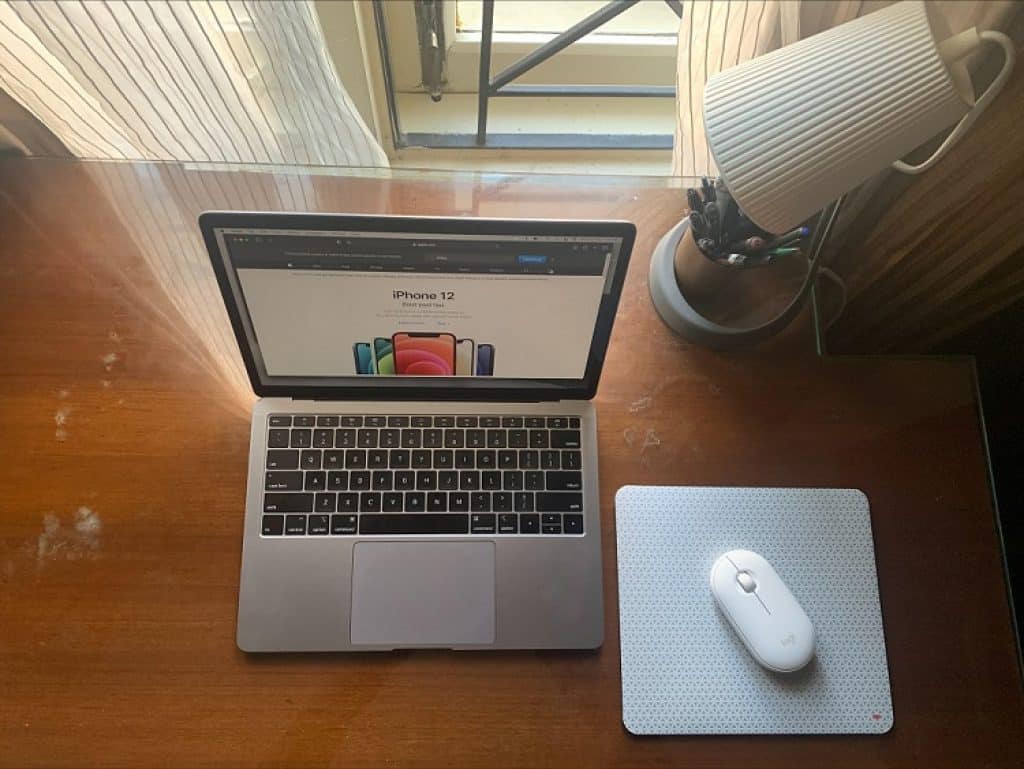 Display: Excellent
The Macbook Air's display is an excellent example of what a good screen should be. The aptly named Retina display is a very color accurate display and it gets amazingly bright at 400 nits. The aspect ratio of the laptop is 16:10, which means you get more vertical height for viewing content. The Air also has Apple's True Tone technology, which automatically adjusts the display's color temperature according to your viewing environment.
The display is perfect for use in office spaces as well as well lit areas, even outdoors to an extent. The viewing angles are comparatively better than most laptops at this price range.
The durability of the screen is a topic of discussion though, since older models had a tendency to transfer fall damage to the screen. We will discuss this more below.
Also Read :
Storage: Severely lacking
This is one of the areas where the Macbook Air is severely lacking. This particular model has 256GB of SSD storage. For many users, having such low capacity on a laptop is a big disadvantage. The lowest variant of the Macbook Air comes with even less storage, a mere 128GB. So if you are a person that has a lot of files and data to store, either get an external drive or get the higher storage variant of the Macbook Air. The latter choice is harder to recommend because the price premium for just a storage upgrade is very high on Apple products.
Space restrictions aside, the SSD is very fast though. The transfer speeds are very high and boot times are easily one of the fastest you will see in laptops. This is both due to the nature of MacOS and Apple's own hardware.
There is a small complaint for the device that once the storage is filled up or close to getting filled up, the laptop's performance and overall snappiness is affected a lot. Simple things such as opening a browser or files window are very laggy. But after clearing the space on the SSD, the system became smooth and snappy again.
Also Read : Best Gaming Laptops in India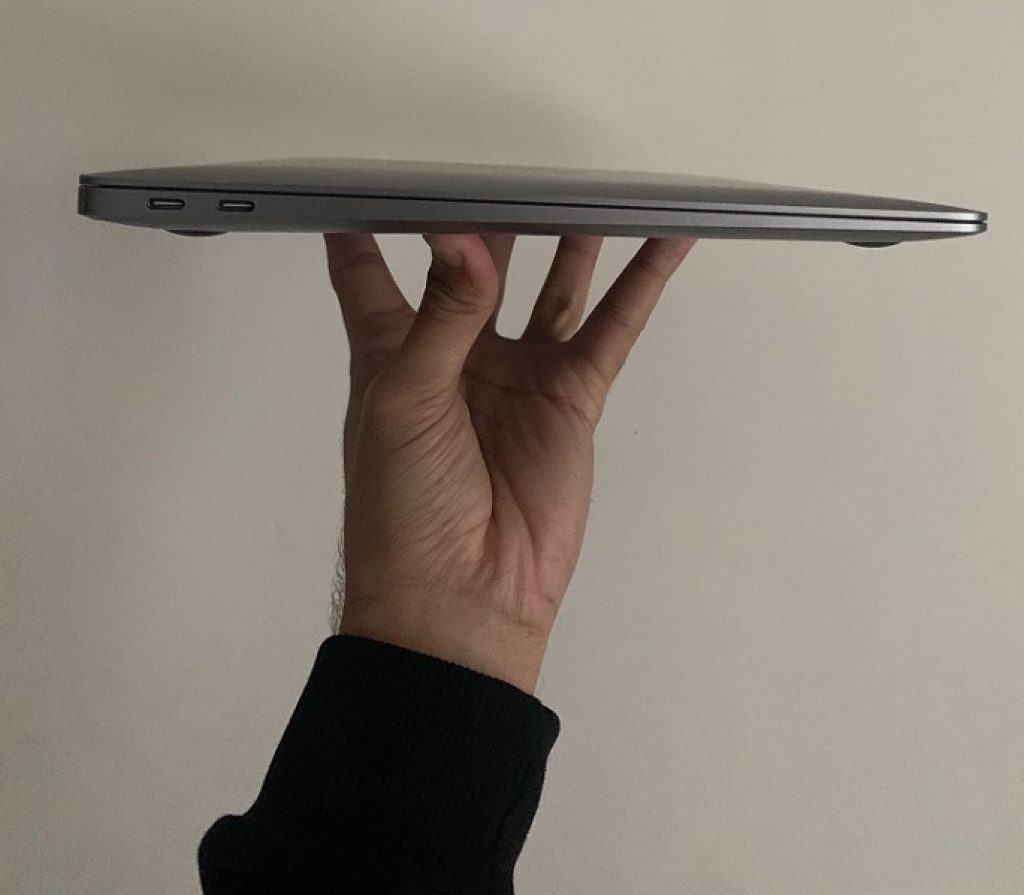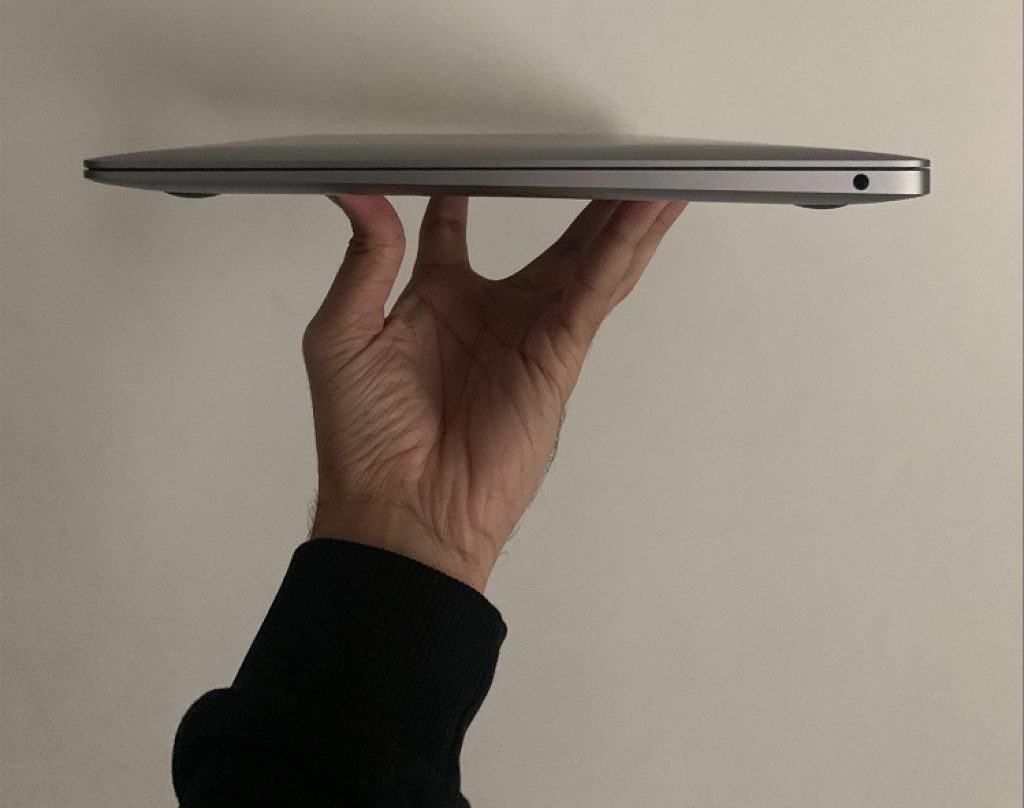 Size: lightest laptop
The Macbook Air has it's reputation literally in its name. In our year of usage, we have never had to worry about the weight of the laptop when we were carrying it with us,whether in our hands or a backpack or a pouch. It is one of the lightest laptops out there, but has enough weight to it such that it doesn't feel flimsy. The 13 inch screen has very small bezels, so it takes up less space.
The laptop fit in almost all small bags and backpacks, but we generally carried it in a dedicated padded pouch for extra safety.
Security: Ensures Privacy and Safety
In terms of security, Apple has always taken extra steps to ensure privacy and safety of your data. The Macbook Air comes with a Touch ID sensor that uses your fingerprint as authorization. The authorization is done entirely on a different chip, which is dedicated to storing your fingerprint data separate from the rest of the laptop.
Logging into the Macbook Air takes just a fraction of a second and it is a robust method that is very useful for anyone needing to protect the data on their laptop.
Ports and Connections: Serious Shortage
The Macbook Air has a serious shortage of ports, and you will feel this shortage very quickly when you start using the laptop. With only two USB Type C ports, it does not room for connecting multiple devices, which means you will absolutely need to buy an external USB hub. If you are using one USB C port for charging, then it only leaves one other for other connections.
On the topic of other connections, you will have to use USB drives that have USB Type C cables, and most USB Type C pen drives and external HDD and SSDs are priced higher than their USB Type A alternatives. This is a major disappointment for a lot of people and rightly so.
Also Read :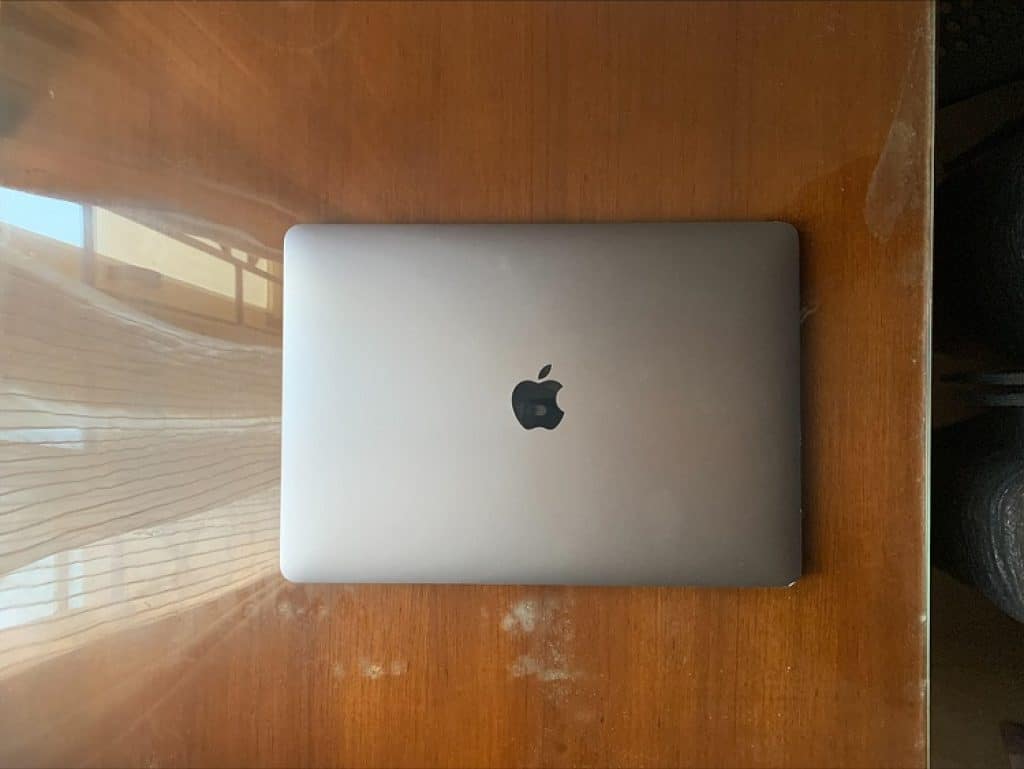 Performance: Depends On Your Usage Scenario
The Macbook Air's performance depends a lot on your usage scenario. For attending video calls, watching youtube videos, writing documents and spreadsheets, it is more than adequate. Many students as well as working professionals use this laptop as their go-to machine for simple tasks like these.
But for production work, such as video editing, photo editing, gaming and music production, the laptop does show it's sluggishness. When using Adobe Photoshop,for example, it is decent enough for 1080p resolution photos, but if you step up to 4K, the laptop becomes very slow and you cannot multitask when using it. This is the same for video editing too. For basic music production, it does a good job, since its 8GB of RAM does help out.
For gaming, it is very underwhelming, and it's not surprising since the Intel Graphics included in it is hardly capable of even 1080P gaming. We suggest that you do not try to attempt to play any modern games on this laptop since it will severely drop frames and lag, which is never a good experience.
Also Read : Best Laptop Cooling Pads
Battery Life: Excellent
Now, this is one of the highlights of this laptop. The battery life on the Macbook Air is excellent, to the point that you do not have to worry at all about it dying in the middle of your work. If you are just browsing on Chrome or better yet, Safari, then the battery lasts around 9 to 10 hours, which is a whole lot more than any other Intel based laptop out there. Adjust your brightness and accordingly and you can get even more. In our one year of use, it was a very rare occurrence that the battery was low and we had to charge it during our day time use. It will last a whole day if you maintain the brightness and use it for light tasks.
The laptop can also be charged with most USB Type C chargers, which also includes power banks. This feature alone means that you do not have to be stuck near a wall socket to be able to use your laptop.
Camera: Better quality than the competition
In the current situation of the world, where almost everyone is working and attending college from home, video calls are the new norm. This has made a very big shift in the way we value video cameras on our machine. If you have used any laptop camera before, you would know that the quality is atrocious and there is little to no details in the video. Especially in low light areas, the cameras really show their age.
The Macbook Air's camera thankfully has much better quality than the competition. The lighting is muchmore even and it truly looks like 720p, compared to the 480p cameras that we generally find. Even in low light situations, the camera was able to maintain the noise levels to an acceptable amount.
Also Read :
Best Gaming PC Cabinets Under Rs 5000
10 Best Ultrawide Gaming Monitors in India
Best Budget PC built Under Rs 25,000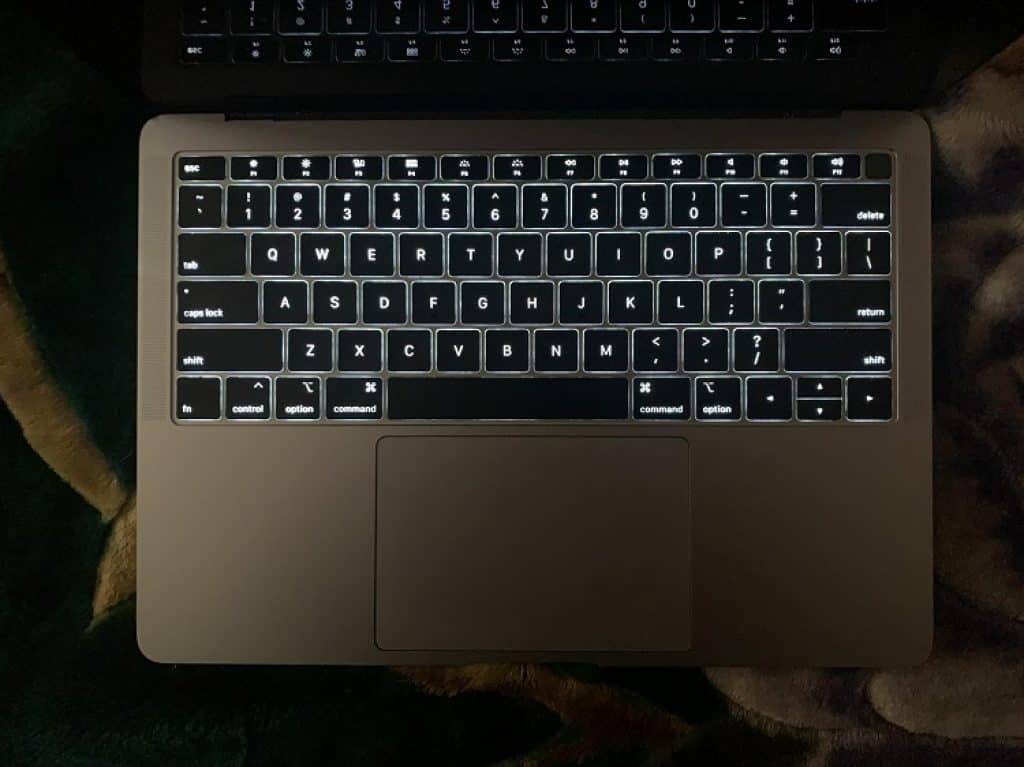 Keyboard and Trackpad:
When the 2019 Macbook Air released, it received a lot of criticism for its use of Butterfly switches on its keyboard. In our year of usage, we did feel that sometimes the keystrokes were missed when typing, but the keyboard hasn't had any other problems apart from that. The keys are well spaced and it doesn't cause fatigue when typing for a long while. Ofcourse, if you are a regular mechanical keyboard user, you will obviously prefer its feel compared to the flat keys of a laptop keyboard.
The backlighting on the keyboard is decent, but it could be a little brighter. Especially during the daytime, it was a surprise to see that the backlighting was one, since it practically had no effect on the readability. At dim places however, it was more than enough.
The Trackpad of Macbooks have garnered a lot of praise in recent years. Many users call it the best tracking experience on a laptop, and they are not wrong. The trackpad is huge, dwarfed only by its larger cousin, the Macbook Pro's trackpad. The tracking is smooth, precise and we never had any problems with unregistered clicks on the trackpad.
The gestures on the keyboard are very responsive as well, but that can be mostly attributed to how smooth MacOS is. Multi Finger gestures, swipes and holds were never missed and it was a very smooth experience, which can hardly be found in other laptops.
Also Read : Gaming Laptop Buying Guide: How To Choose the Right Laptop?
Durability:
The Macbook Air performs well in terms of durability. The laptop's unibody design helps a lot in reducing the damage from drops. Our laptop was unfortunately dropped once in the past year, but thankfully there was no major damage to the body of the laptop. It did suffer a very obvious indent to the side of the laptop though. But the dent is hardly noticeable, and does not hamper the aesthetic of the laptop.
We have had reports of people who have damaged their screens from fall damage, so that should be noted, since there is almost no protection for the screen.
Connectivity:
In terms of connectivity, the laptop has a slight disadvantage, since this is a 2019 model. This model supports Bluetooth 4.2 instead of Bluetooth 5.0 which is widely used today.
The laptop also does not support Wifi 6, but since the market for Wifi 6 routers is very small currently in the country, it shouldn't be that much of a problem. We didn't have any problems with connecting to Wifi, and it had a pretty great signal in our house.
Also Read : 10 Best Laptops Under Rs. 35,000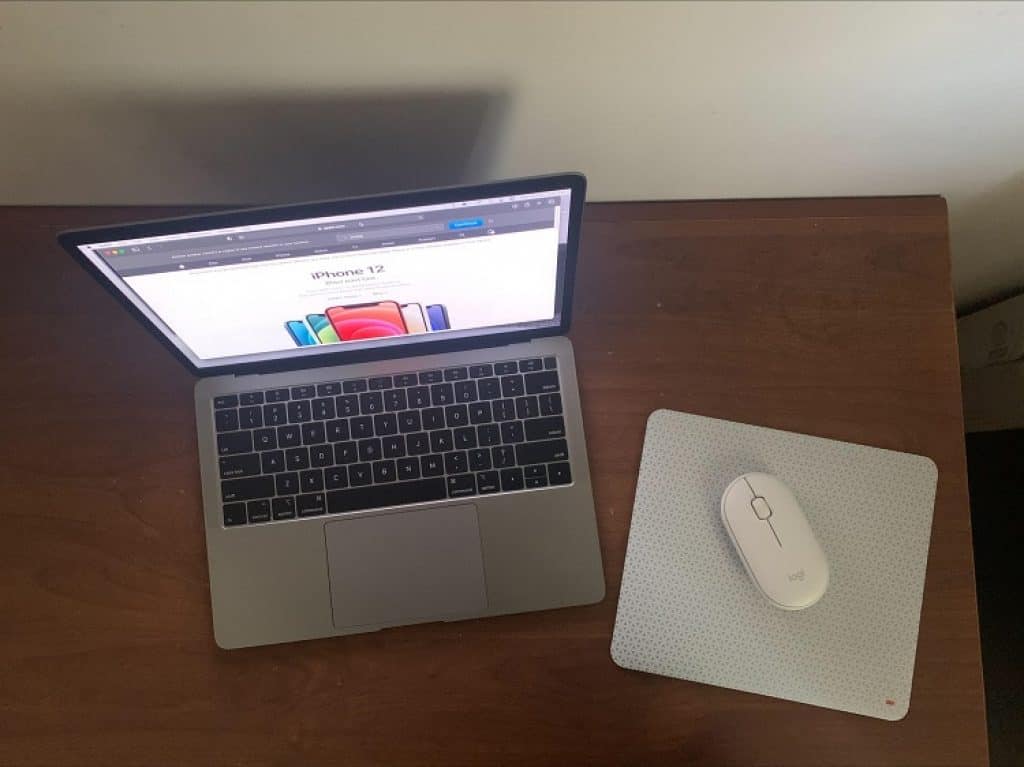 Conclusion:
The 2019 Apple Macbook Air is a casual user's dream laptop. If your usage is mostly simple tasks and you want the absolute smoothest experience doing these tasks, then you can't go wrong choosing a Macbook.
The 2020 Macbook Air has more improvements to the hardware, such as Scissor switches on the keyboard, which was a much awaited change. Ofcourse, you will also get the latest Intel processor in the laptop too.
Speaking of processors, another important thing to note is that Apple is now making their own processors and have launched their newest Macbooks using these chips. The Macbook Air M1 is one of the best performing Apple laptops out there and if you were waiting to buy a Macbook, then this is probably the best one to go for. Thanks to the new M1 chip by Apple, you get significantly more battery life and tremendous performance to go along with it too.
We highly suggest waiting for the new Macbook Air M1, since it is really a game changer in terms of Apple's laptops. You get performance equal or better than last year's Macbook Pros for the price of an Air. Apart from the performance the battery life is claimed to be 15 hours with normal usage and 18 hours without using Wifi. This is a breakthrough in terms of power efficiency and it will only get better with time.

Rs.

79,990

Rs. 99,900
1 new from Rs. 79,990
in stock

Also Read :

Best Gaming Laptops Under Rs 70000 in India

10 Best Gaming Laptops Under Rs 50,000