Recently updated on May 21st, 2023 at 06:47 pm
In the world of High Resolution Audio, Audio-Technica has always been a household name. From Amplifiers, DACs and even turntables, the Japanese company has always pioneered whilst keeping the cost somewhat low.
A key example, and the subject of this review is the Audio-Technica M50X, a mid-high range studio monitor that aims to deliver clarity on all of the frequency fronts in order to deliver a neutral, balanced sound. In this review, I will go over several aspects of these headphones: What's Included, the Build Quality, Comfort and Stability, the performance in music and games and finally, my final verdict.

Rs.

11,800

Rs. 20,246
15 new from Rs. 11,800
in stock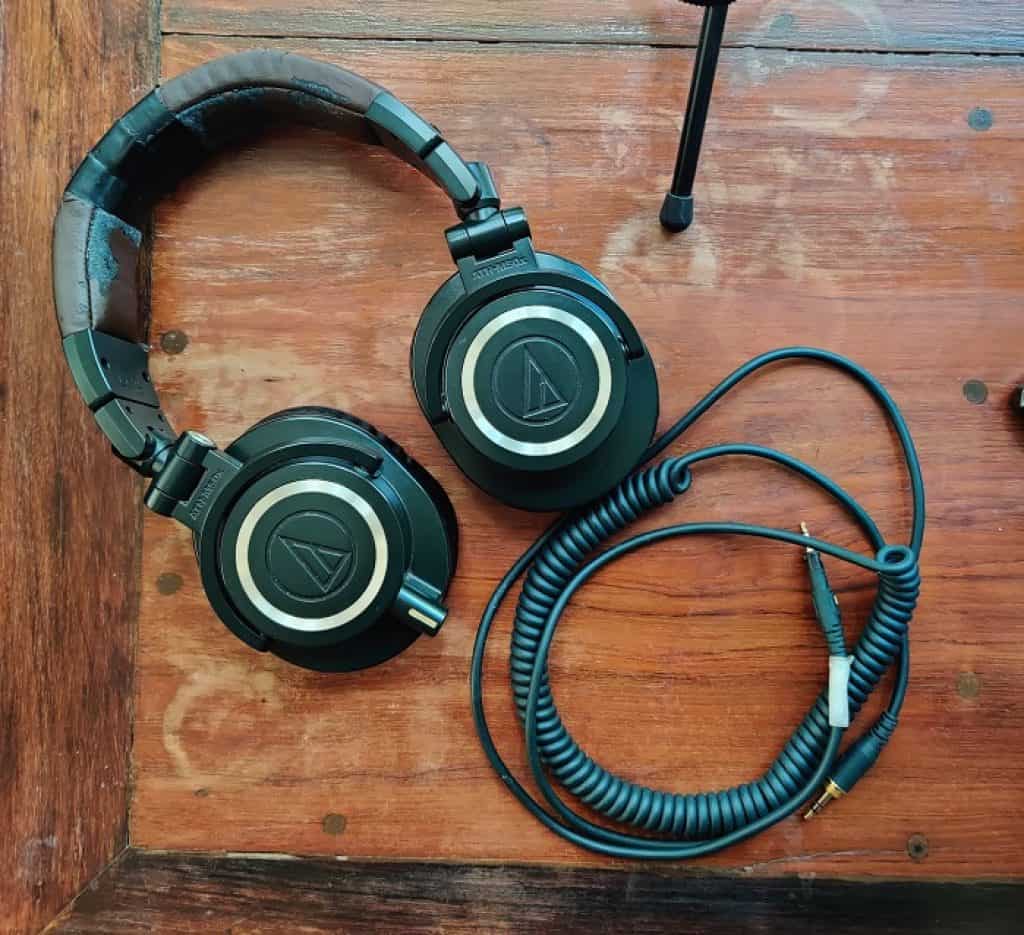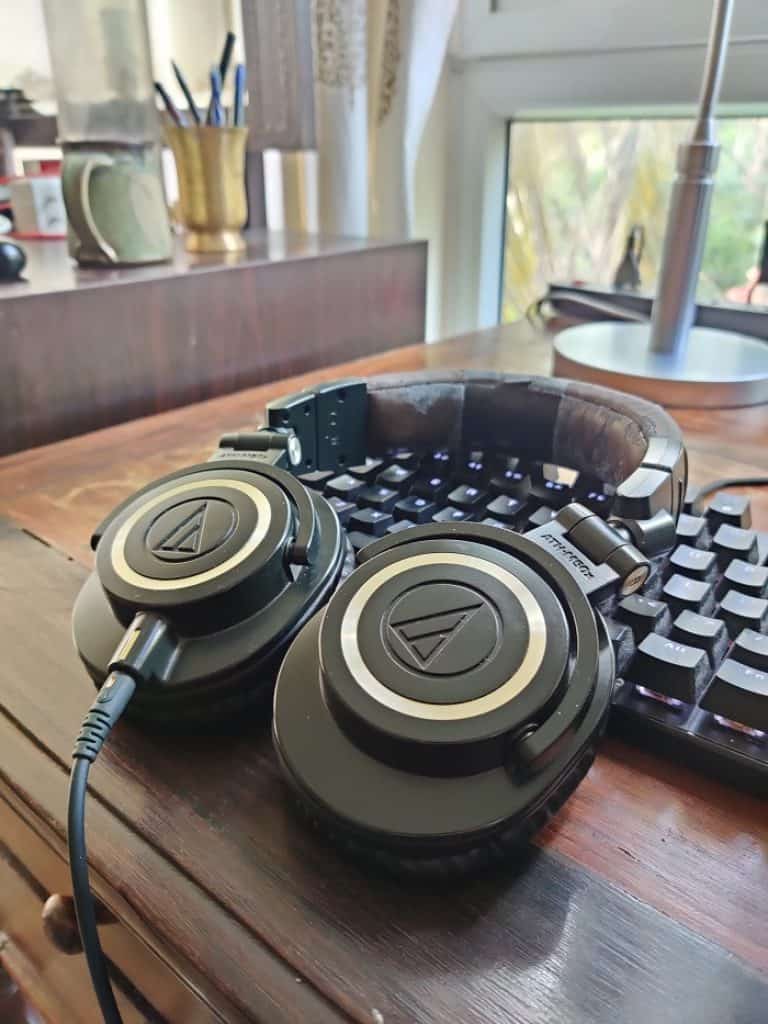 To begin with, a number of things are provided with the M50x.
You'll have to forgive my majorly beaten up pair of M50xs, they are at this point nearly 6 years old and yours, should you choose to buy one, definitely won't look as bad and worn as these ones. In any case, apart from the regular documentation, you get a little leather carrying pouch that is monogrammed with the Audio-Technica logo and three additional cables that vary in length. There is a short 1 meter one that can be used to connect to your phone or other close distance devices, a laptop for instance.
There is a coiled 1.3 meter one that is my personal favorite of the three. When Stretched out, it can go up to 2 meters long and I have been using this to connect to the back of my computer and not have cluttered wires all over my table, but still offer some leniency if I want to get up and grab a sip of my coffee. The last one is the longest, and it clocks in at about 3 meters long.
I've seldom used this one, but it could be useful for those who have their rigs far away from their seating position, or if you want to route your audio cable under the table. It's important to note that all of these cables use a proprietary connection mechanism.
They all include a 3.5mm to a 2.5mm audio jack which plug into your device and headphones respectively, but this doesn't mean that you can find any old 2.5-3.5mm cable and make it work, as AT's locking system requires the cable to be twisted into place so as to not slip out during usage.
While this makes the headphones a lot more usable and secure, if the cable is damaged in any way, then a replacement will have to be ordered from AT itself, and knowing India's technology availability, you'd probably have to pay a good amount for shipping on top of the 12 dollars that the 1.3 meter cable will cost.
Not to worry though, these cables are really quite rugged, and I haven't faced a single problem yet. Also included with the M50x is a 3.5mm to 6.35mm conversion jack should you want to connect directly into a DAC or an instrument. All in all, AT definitely include a good array of I/O cables and a decent pouch to carry your headphones.
At a price point of 10k INR, this isn't bad, but it's not amazing either. For gamers, one thing is sorely missed: an inline microphone. I would've liked AT to include some sort of cable with an inline microphone so as to offer a sort of rounded package that caters to everyone. But, if you're able to spend 10k on a set of headphones, I find it hard to believe that you would struggle to afford a microphone as well.
Also Read : Sony WH XB900N Wireless Headphones Review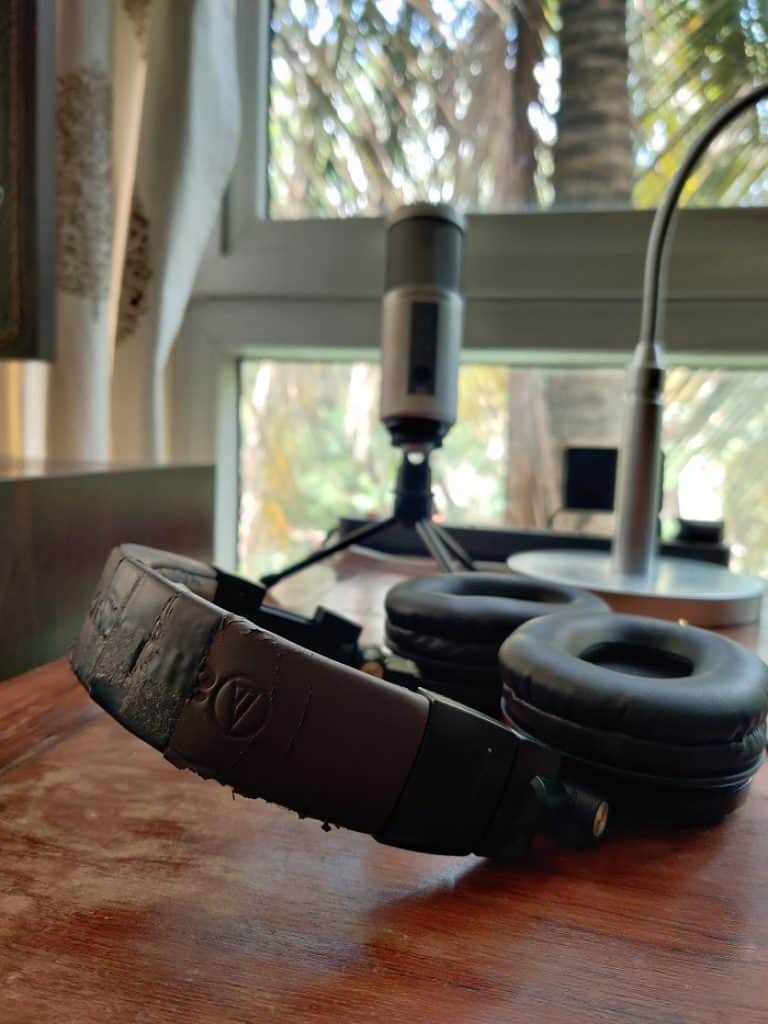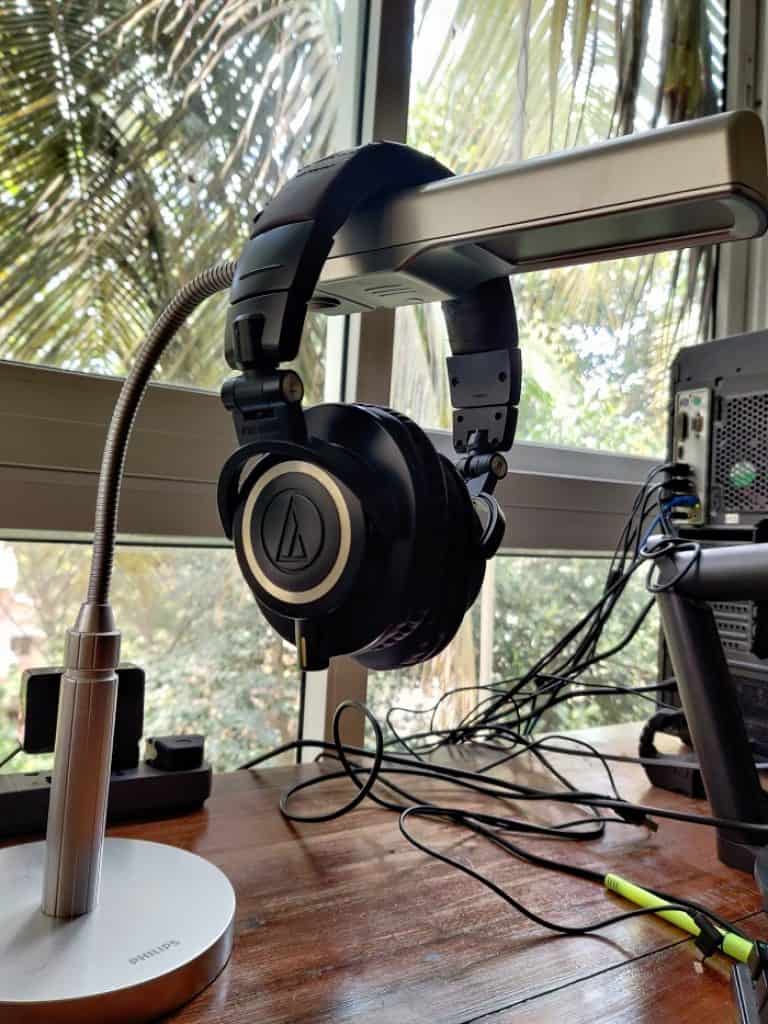 Moving on to the build quality
I really can't find any fault with this product. I have abused these headphones over the years and the body never creaks and the headband and extension mechanism are as tight as ever. The earcups are still soft, and the leather has not cracked at all. The only sign of wear on my headphones is on the headband, where the leather had started to peel in the last six months. Mind you, that's a 5 and half year lifespan on the headband leather. I've done a lot to my poor M50xs.
They've fallen from my 4 foot tall table more times than I can count, my dogs have chewed on the cables and I've smashed them between textbooks in my bag whilst on my way to college or a LAN party. Regardless of the situation I thrust the M50x into, it comes out unscathed and without a single scratch on its body. I guarantee that you will not be disappointed with the build quality of the M50x. It is built like a tank and could probably even survive being run over by the likes of one as well.
Being a tank is all well and good, but a studio monitor doesn't necessarily have to be the most durable thing in the world. After all, they're intended to be sat in one place and listen for minute changes in a sound environment.
Sound technicians and engineers therefore may have these monitors on for hours at a time, and therefore comfort is a very important factor and here, the M50x can be quite hit or miss. I personally find the M50x to be decently comfortable for long periods of time with my ears only being fatigued after at least 5 hours. It is a heavy pair of headphones, tipping the scales at just over 300 grams.
This could be too heavy for those with smaller heads, but my oversized noggin seems to hold up the weight just fine. The earcups are massive as well as a result of encompassing the 45mm drivers, and even the biggest of biggest ears should be covered completely my the M50x.
The standard earcups are really nice and soft, swivel 90 degrees in both directions and are easily changeable should you want a different texture or fit. Ultimately, for the M50x, comfort is subjective. If you can, I recommend trying on the headphones to see if it'll work for you. Many people swear by it, and many people hate it. Check it out to see whether you like it or not, that's the best advice I can give you.
Also Read : Best Earphones Under Rs 5000 in India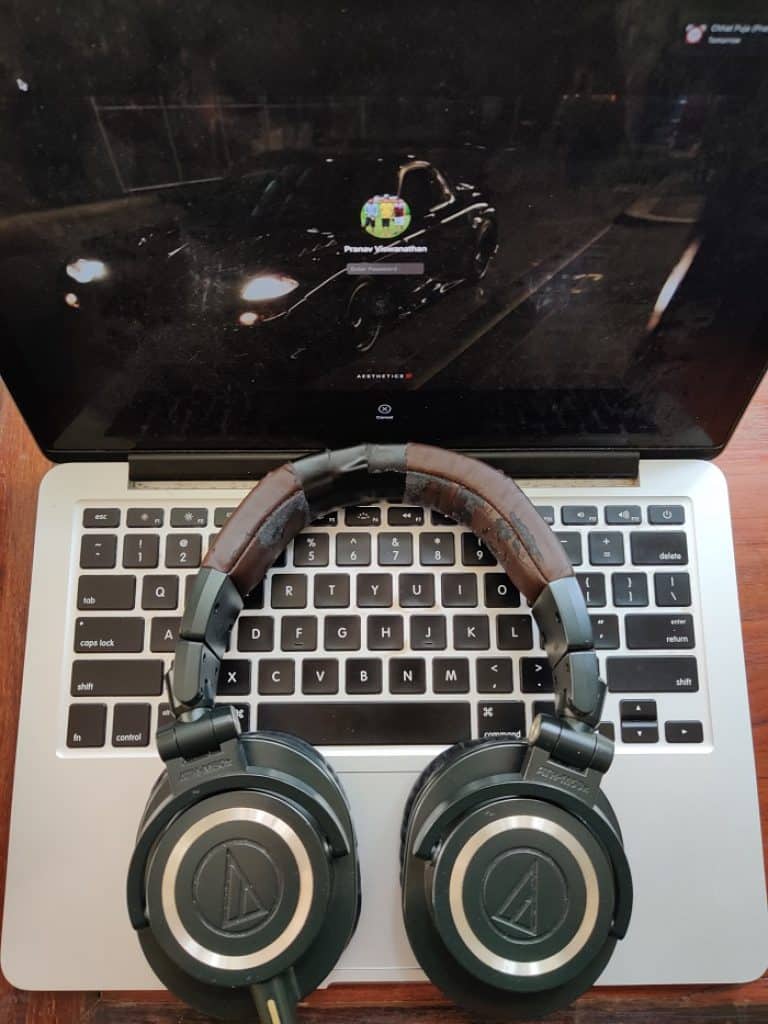 Let's talk performance.
I find myself rather conflicted with the M50x because if it were a standard pair of listening headphones, I wouldn't be unhappy at all. It's got good bass without necessarily impairing the mid to high range of frequencies either.
The M50x uses high quality 45mm Neodymium drivers as well, which are really the best of the best. Except the M50x is not a standard pair of headphones, it's a studio monitor. By definition, studio monitors are meant to be neutral and not favor any sound signature like the M50x does to Bass.
They're supposed to operate like a blank canvas, easily customizable to your listening preference but out of the box, AT has made them very punchy and bassy, not desirable elements in a studio monitor. The worst thing is by doing so, the M50x somewhat overshadow the mid-range of frequencies. This really affects vocals in music, where lyrics can sometimes sound muffled and quiet compared to the sub 300Hz Bass elements.
The highs are also a bit tinny, and in EDM tracks there's a lot of noise towards the higher end of the spectra. I managed to solve some of these issues by using an AMP DAC and creating a low pass filter to narrow out some of the bassy elements, but a regular consumer can't be expected to do this and so from a studio monitor perspective, AT missed the mark completely. However, if you choose to look at the M50x as a standard pair of headphones, for 10k, you're getting a really decent product.
Also Read:
Best Studio Monitor Speakers in India
10 Best Studio Headphones in India
What about in games?
Funnily enough, the Bass extreme profile of the AT M50x right out of the box make this ideal for gaming. In Counter Strike Global Offensive, footsteps were extremely distinct and clear, and I could locate targets across both the horizontal and vertical plane with no problem, despite the M50x being a stereo monitor.
Gunfire is very clear and has substance and depth, and the earcups do a good job of isolating a sound environment for you. Be warned though, you won't be able to hear much when you have the M50x on, so you may have to increase the volume on your phone and leave the door open so you can hear the doorbell.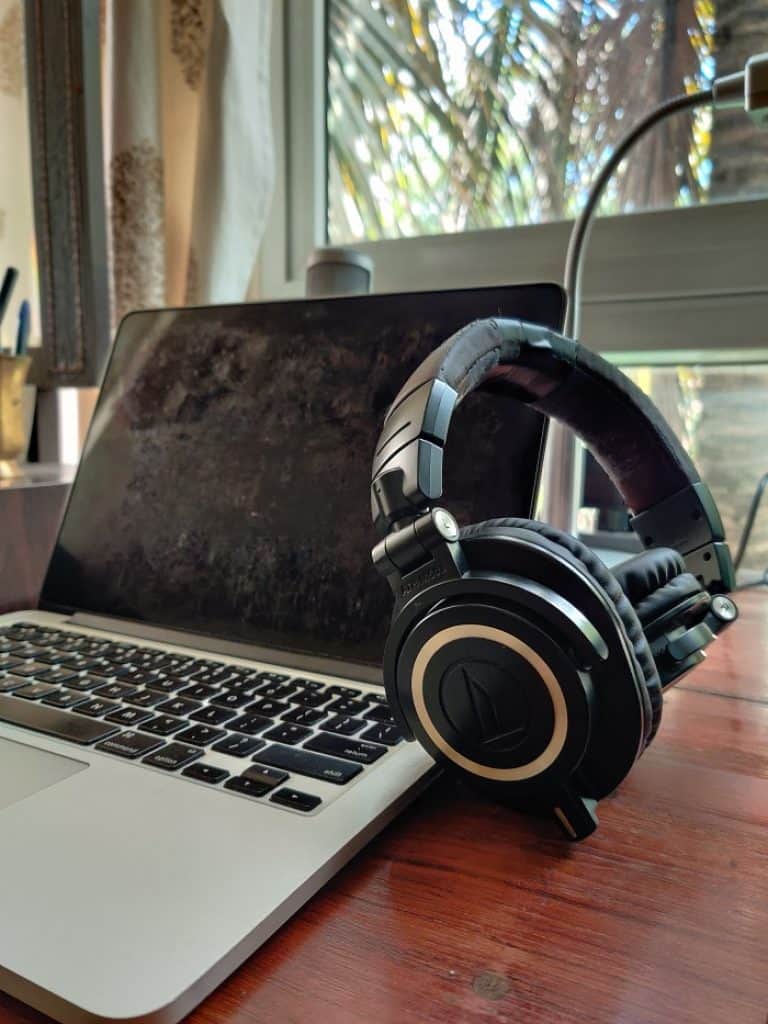 So, the Audio-Technica M50x. Is it worth it?
Well, that depends on your use case. If you intend to create music or edit videos, the M50x is a terrible choice as it fails to be neutral in a sound environment. But for general media consumption and gaming, the M50x is a fantastic choice with features that aren't offered at a price point of 10k INR.
It offers good connectivity, with a range of connection options. It does lack a microphone, but generally in line microphones are rather poor quality and you'd be better off investing in a separate solution entirely. Furthermore, the build quality is phenomenal, it feels like a premium product and its borderline indestructible.
However, the comfort is again subjective, so I strongly recommend that you try a friends or go to a physical store that has one out. I give the AT M50x a solid 8 out of 10, and definitely think that it should earn some of your consideration. Thanks for Reading!
This Review is Written By : Pranav Viswanathan
Having been brought up and around technology, Pranav is extremely passionate about all the latest happenings in the computer sphere. When he's not writing articles, you can usually find him shouting at his teammates in counter strike! Instagram
Also Read :
10 Best True Wireless Earbuds Under Rs. 2000
Best Wireless Earphones Under Rs 3000