While you may have held your child when they took their first step, but a walker makes the task easier for the child. Baby can sit comfortably in that cushioned chair and at the same time learn to use their legs and feet. There are a variety of best baby walkers available in India and the low-price baby walkers can do the basic task, but the higher-end ones offer additional features.
Some come with musical toys installed on the front grabbing the child's attention while there are many that can be folded for easier storage. Baby walker prices also warry based on these factors.
Top 10 Best Baby Walkers in India
You can look at our recommendations and find a middle ground to keep the cost in check and get a good baby walker online.
1. R for Rabbit Ringa Ringa Baby Walker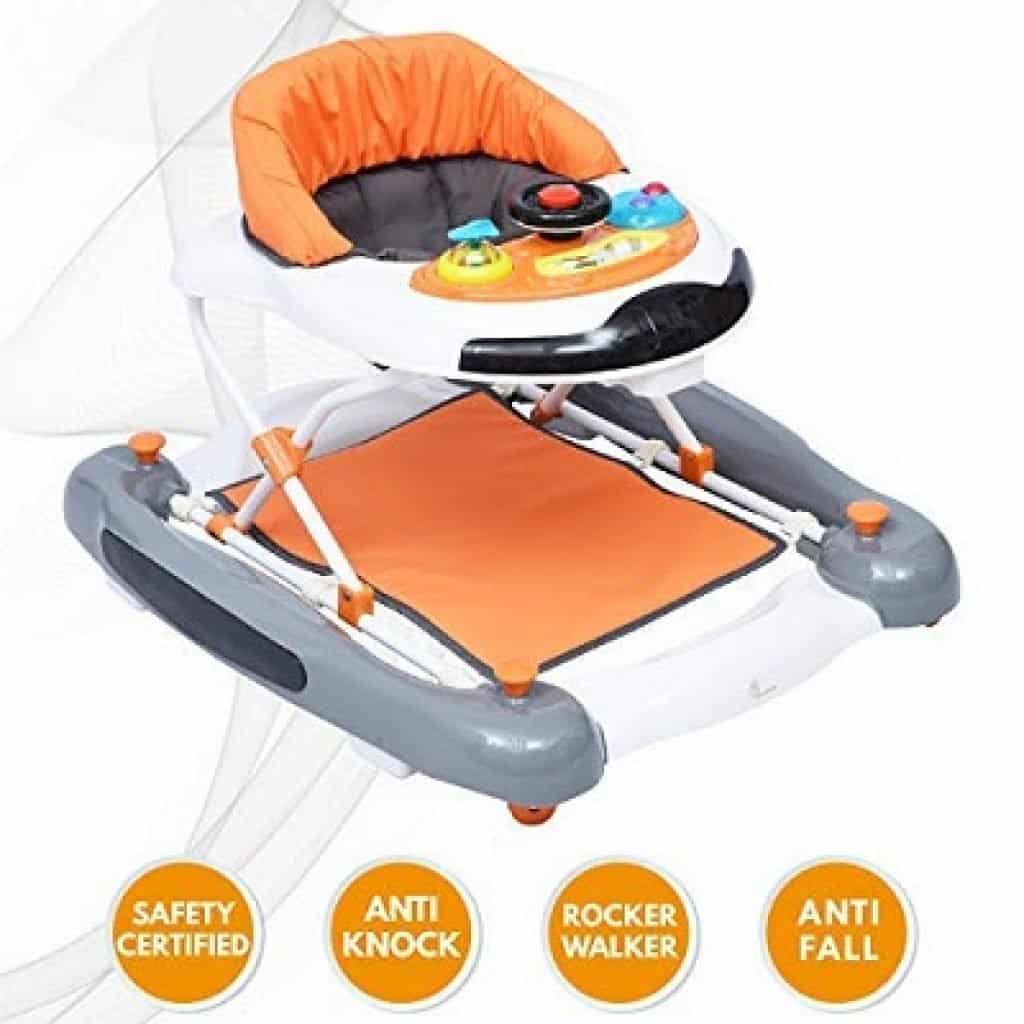 Keeping your child's safety in mind, this is the best baby walker in India as it comes with the EN 71 certifications which have a stringent process as per the European standards.
Protecting your child from falling on rough surface or stairs, there are a total of 6 brake pads installed on the downside. It functions as a two in one product and also works as a rocker.
Also Read : Best Diapers For Baby
While you will save the cost of a standalone rocker, your child will be able to learn walking and at the same time enjoy that ride.
Usually, you'd need to buy new walkers as the kid grows but not with this one. It has a 3-stage height adjustment that allows it to grow with your kid. When not in use, you can fold the walker and store it in any corner as it won't take a lot of space.
---
2. Mee Mee Baby Walker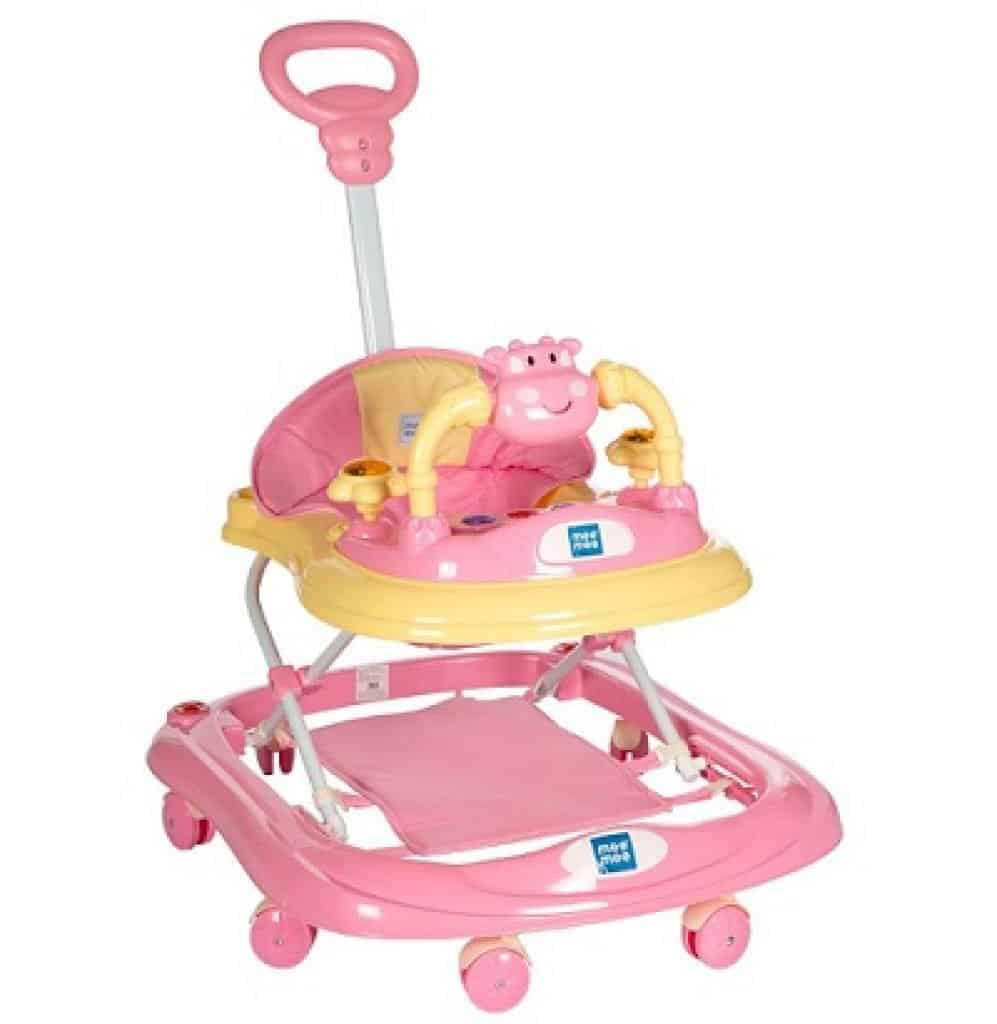 The company has made use of high-quality base materials to adhere to international standards and provide your child with a comfortable ride, thanks to its cushioned seat.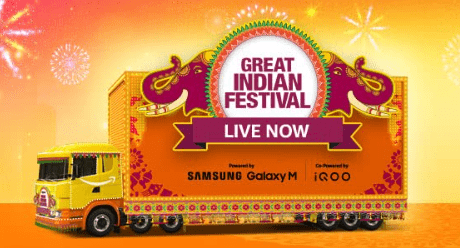 While your toddler's comfort has been addressed, its push handlebar allows you to push the walker forward without having to bend down.
Also Read: 10 Best Convertible Baby Car Seats
Upon your purchase, the company will provide free installation facility that is available 25 major cities across India. Its electronic toys tray can house a number of items and you can even remove it to make space for feeding your child.
Once again, you have the option to adjust the walker's height to suit what your child needs at a growing age. Eight wheels are included all around the low-price baby walker to give your kid a free way to move around in any direction.
---
3. R for Rabbit F1 Racer Car Walker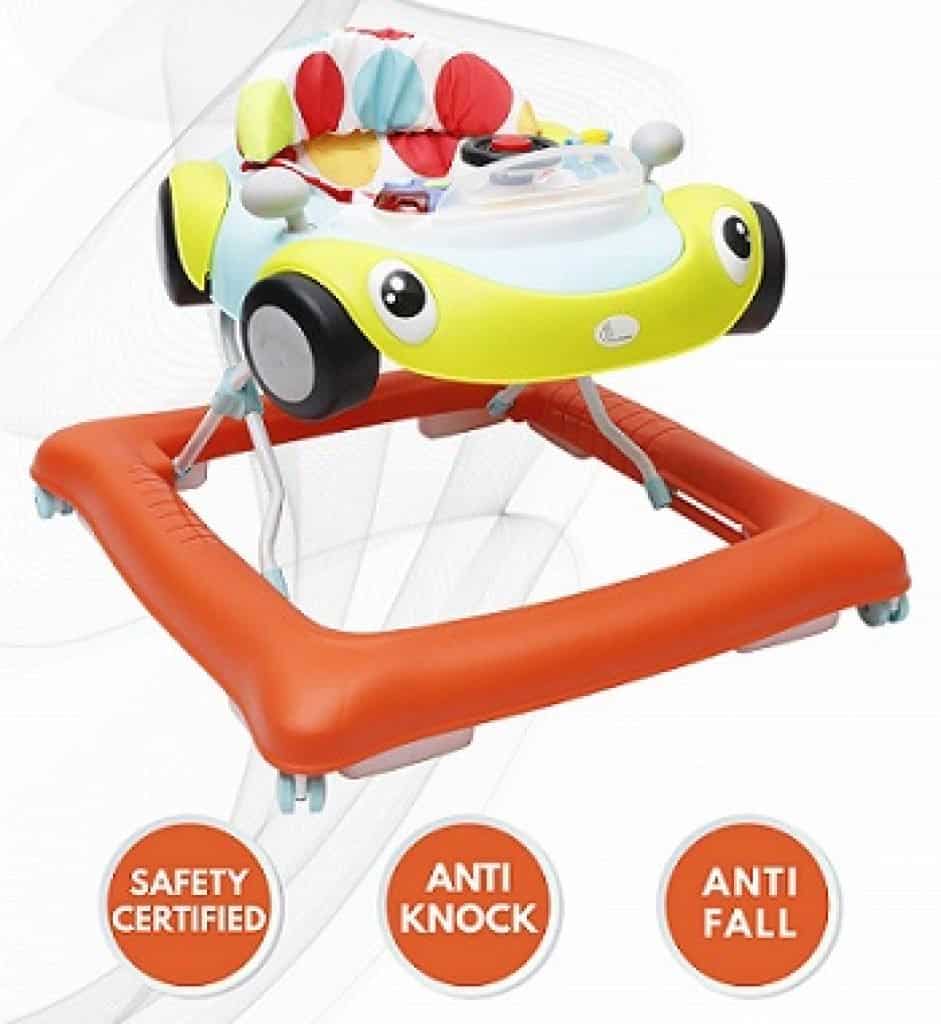 Like other baby walkers from R for Rabbit, this one too comes with advanced safety features like anti-fall and anti-knock which are extremely necessary if you have stairs around. The bumper placed around the frame of the wheel protects the kid get hurt by bumping into something.
Also Read : 10 Best Baby Bottle Sterilizers
Plus, you have the option to adjust its height to add the comfort level. Besides maintaining the safety levels, the company has given it a cute racer car-like look which will draw kids of all ages.
On the front, your toddler will have access to a musical tray bar which has a plethora of toys to play with letting you take a breather. When it's time for the kid to get out of the walker, you can easily fold it so that it takes minimum space when stored.
---
4. LuvLap Sports Car Walker Cum Rocker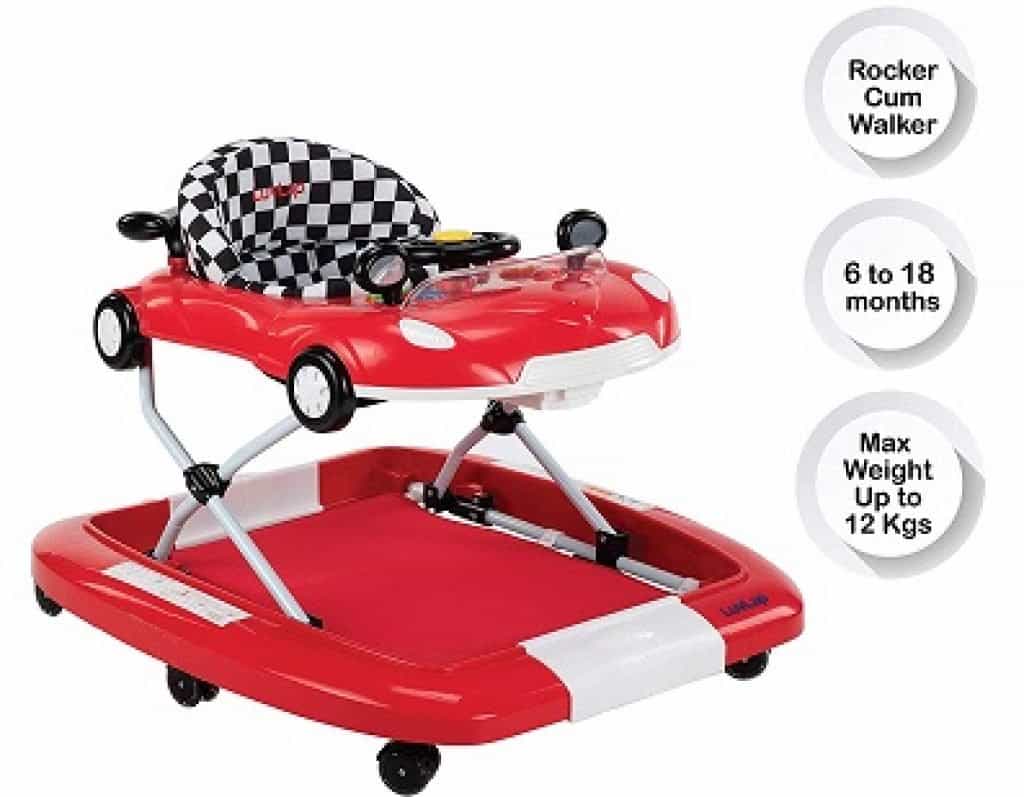 Launched recently during Prime Day, this walker comes with attractive and bright colours for your toddler. Plus, it is in the shape of a sports car for a more detailed look. You can easily remove the 'car dashboard' to reveal another tray underneath.
This plain tray can be used for your child's dining and s/he is done, it can be turned back into a car. To further keep your child engaged, the baby walker has a music function that has 12 tunes saved already.
Also Read: Top 10 Best Baby Strollers
For it, you can control the volume level and the included lighting.
Its wheels can be folded in to convert the walker into a rocker. Depending on the height of the infant, you can adjust its height at 3 levels for optimum results. The fabric cushion and foot mat used can be removed and they both are washable.
---
5. Natraj 1001 Standard Walker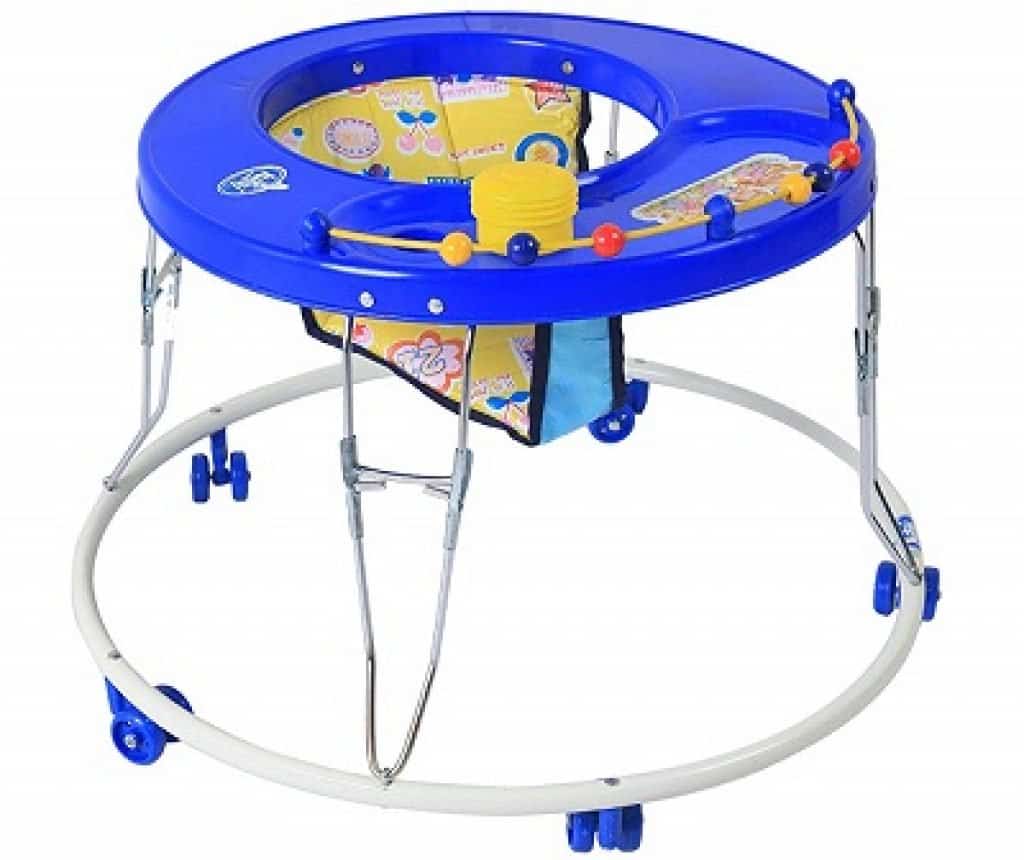 For the ones looking for a basic baby walker, then this Natraj model will fir your bill. It has an excellent build quality that you will feel that with its sturdy frame. Its wheels are designed to be unbreakable and they should last you a really long time.
Also Read : Top 10 Best Breast Pumps in India
The bottom ring of the walker is wider than the top one to maintain stability while your kid enjoys the adventure of walking. A wide seating area is included to allow easy movement for the young one while also keeping his/her comfort in mind.
A couple of simple toys are placed on the front to keep the child entertained for long. It is one of the best baby walkers in India under a budget.
---
6. LuvLap Comfy Baby Walker with Rocker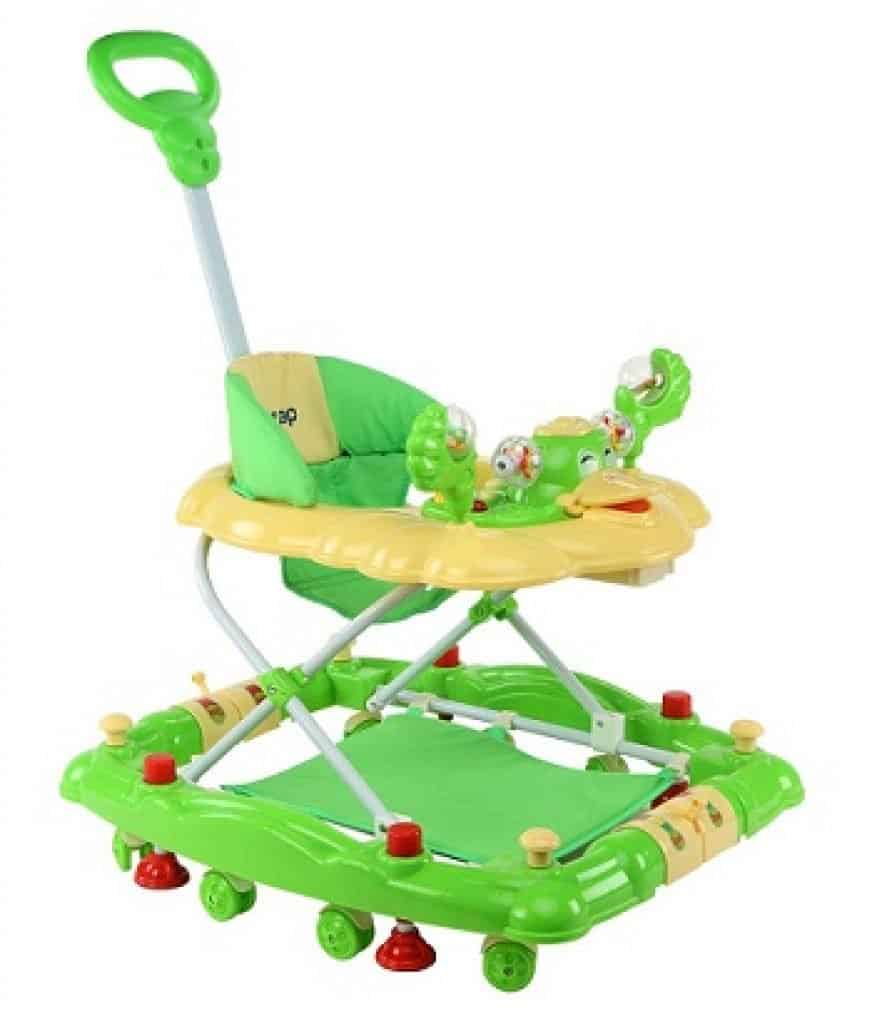 This multipurpose product can help your toddler take his/her first steps with the wheels on, and with the wheels folded, it can be used as a rocker. Push handlebar on the top lets you enjoy the moment with comfort.
With this push bar, you don't need to bend over to push. With that, you also have a brake function on the back that you can put in place to stop the walker from moving any further. Height adjustment is a feature included with this product.
You can even get the baby walker for small spaces in a host of colour options that you prefer. The toy tray on the front is loaded with a number of things to engage your child with. It has music and light function also.
---
7. Sunbaby Butterfly Walker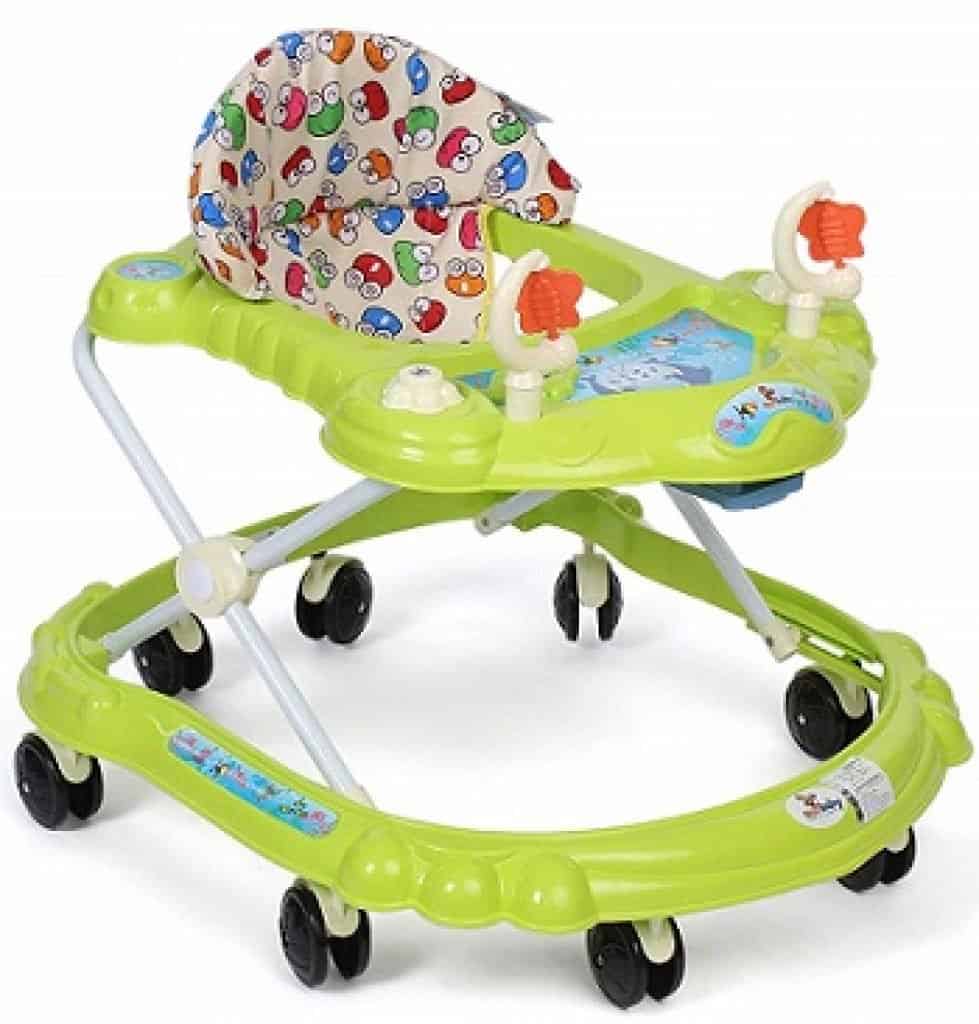 The entire seat is heavily cushioned to keep the child safe and at the same time comfortable while s/he takes the first step. Enough backrest has also been provided. A music button is provided on the front panel which does exactly what its name suggests.
Also Read : Best Baby Bottle Sterilizers in India
Your kid can easily press the button and stay engaged. Several pairs of wheels are placed around the walker's rim to allow easy movement in all the directions without any restrictions. The walker is adjustable according to the height of your child at up to three levels.
Plus, you can fold it entirely for storage or travelling. You can purchase this walker in any colour of your choice and the company offers 6 months of warranty on this model.
---
8. Panda Creation Musical Walker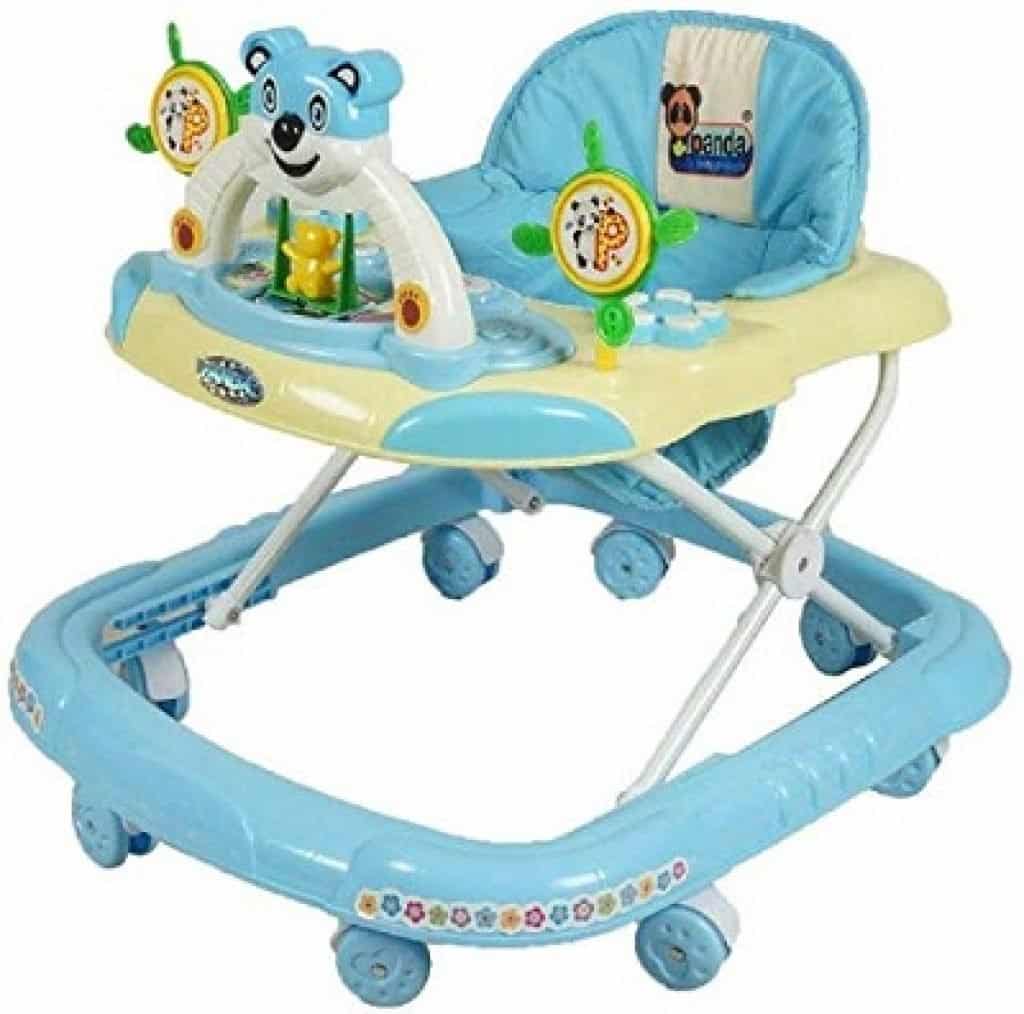 Right in the front section, a lot of fancy cartoon characters are included as 3D models to hook your toddler's attention while you may attend to your other chores. Panda has included a richly cushioned seat that keeps the child comfortable for long.
There are wide openings for the legs to extend fully. This colourful baby walker is a musical walker and plays tunes to again keep the children engaged and even willing to get into the walker for all the joy.
Also Read : Best Diapers For Baby
Besides this, a couple of rattles are also included. A wide bottom has been included to keep the walker stable and to safeguard it from getting bumped. Like many other options in this list, this walker is also height adjustable and comes in a couple of colour options.
---
9. Baybee Ziggy Kids Walker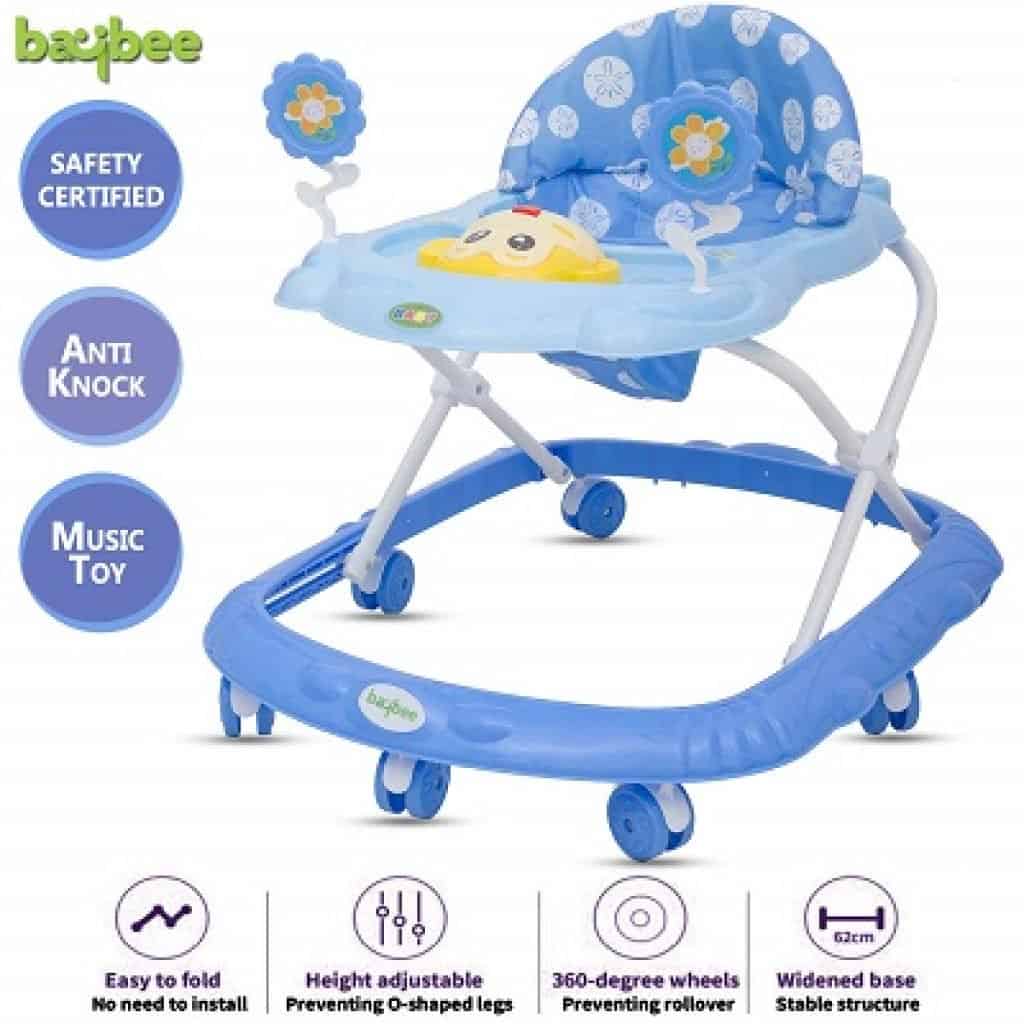 Baybee walker comes pre-installed out of the box and all you need to do is unfold it and get started. It is built with sturdy materials, so you need not worry about your child's safety. A large musical toy is included on the front panel that should keep the child hooked.
Also Read : 10 Best Baby Bottle Sterilizers
And when the need is you can use it as a food tray after removing the toy. This product is certified by the European authorities for the utmost safety of your kid. Plus, its seat is designed to maintain the right leg posture for the child and avoid O leg.
An easy to use lever has been included which you can use to adjust its height as the need be. And when not in use, the baby walker can be folded into a compact slab.
---
10. LuvLap Explorer Jeep Ride-On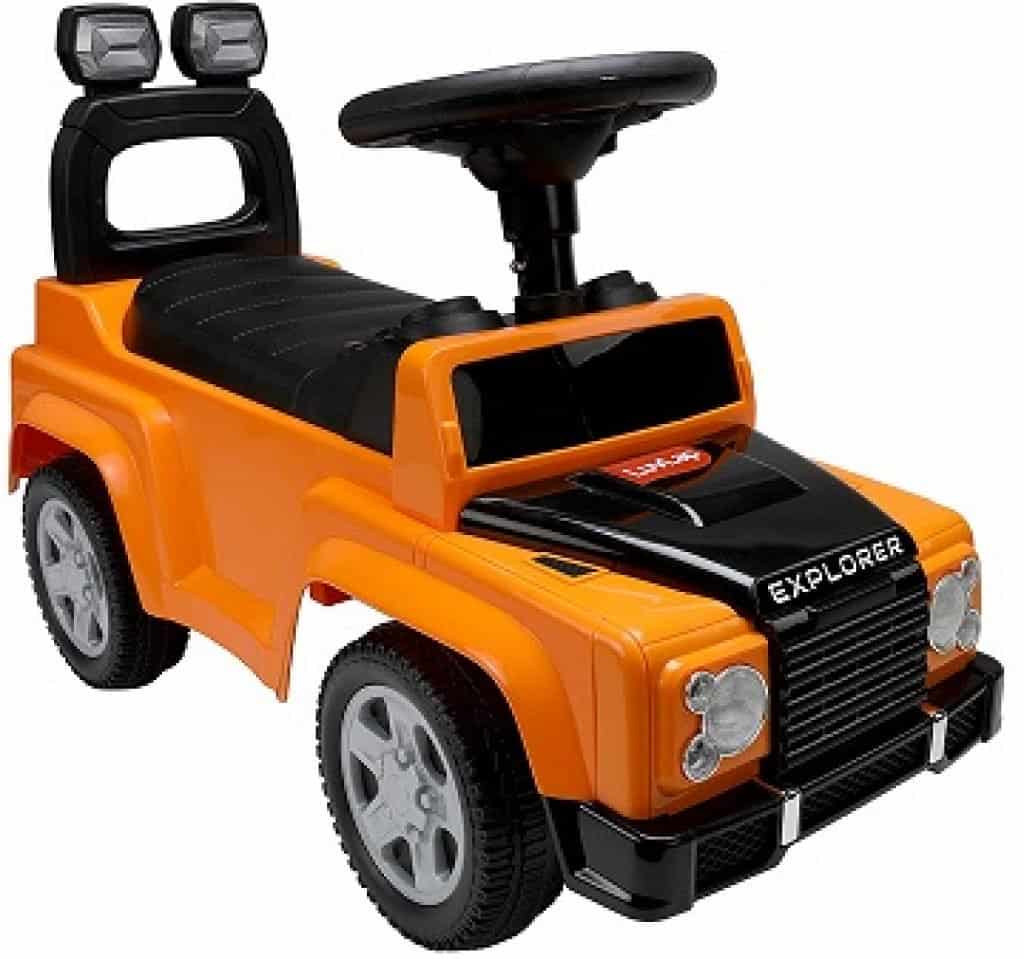 This product is unlike any other baby walker on this list. It is of course in the shape of an open car which your child can ride on. It is meant for kids between 12 and 36 months of age. It is certified as per European standards which ensure the safety of your young one.
Also Read: 10 Best Convertible Baby Car Seats
The four big wheels maintain the car's balance all throughout. The car's dashboard has a bunch of musical toys and similarly varied lighting ones which ensure your child stays active and plays along.
Ample storage capacity is provided under the seat where your kid can store his/her toys and maybe travel around. You can pick this car either in orange or red. It can bear a weight of 25kg and below.
---
Also Read :