Jigsaw machines can be a handy tool for every woodworker. The market is oversaturated with various jigsaws from various companies. Ironically, all of those manufacturers claim that they have the best jigsaw of all. Yes, they can claim as much as they want to. But, all of us know that they are not telling the truth at all.
It is also true that it is very difficult to find the 'real' best jigsaw machine among all these options. You have to go through a lot of hassles to do that. But, we are here to help you with that. We have already done our homework on the best jigsaw machines available in the Indian market. And, now, we will be sharing all this information with you.
In this post, we will be talking about the 5 best jigsaws in the Indian market right now. You will get to know about their features, pros, cons and more. So, let's take a deeper look…
In-Depth Reviews of the Best Jigsaw Machines in India:
The Best of the Bunch
Black & Decker KS900EKX Pendulum Jigsaw (600W):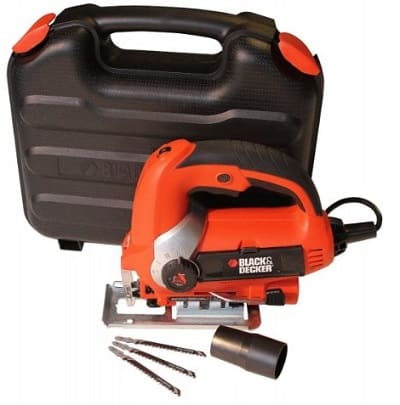 Black & Decker is a renowned power tools manufacturers. They are famous worldwide for manufacturing great quality hand and power tools. The Black & Decker KS900EKX Jigsaw comes with a lot of unique features. However, this jigsaw machine has a bit higher price.
This is also a compact jigsaw which can be operated using just one hand. It also comes with a carrying case. This is a great addition, to be honest. It will help you to store it safely or even carrying it around easily. This is a heavy-duty jigsaw. It consumes 600 watts of power.
That means the motor is very powerful. And, it can cut materials very fast. You will also get free blades with it. This is actually a very feature-rich jigsaw. So, if you are searching for a great quality jigsaw whether you are a professional or a hobbyist you can take this tool.
Key Features:
Comes with variable stroke rate setting (800-3200 per minute)
Comes with Lock-on Switch for the ultimate safety
Can be used for cutting 0-45-degree angular cuts
Power consumption of 600 watts
Can be used for straight as well as circular cuts
Depth of cut (up to): For Wood – 85mm, For Aluminum – 15mm, For Steel – 5mm
Can produce a perfectly straight cut
Both T shank and U shank blades fit
Comes with adjustable pendulum effect
Pros:
Comes with a dust blower function
It also has dust extraction function to attach a vacuum cleaner
Comes with sightline channel feature which makes it easier to cut straighter
Comes with SuperLock blade clamp for faster blade change
3 on-board magnetic blade storage cabinet
Adjustable speed and adjustable pendulum effect
Cons:
---
The Runner Up
Dewalt DW349 Heavy-Duty Jigsaw (500W):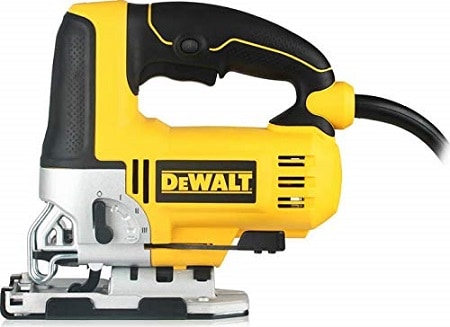 Dewalt is another world-famous power tool manufacturing brand. They offer great quality products for professionals all around the world. Here, we will be talking about the Dewalt DW349 Heavy-Duty Jigsaw. This is also a great quality product from Dewalt. However, it has a high price tag.
If you have no issues with your budget but want a heavy-duty jigsaw with lots of beneficial features, you can definitely check this item out. This tool needs 500 watts of power to operate. It is also very compact in size. But, don't let the size fool you. In fact, it is a powerful jigsaw.
Also Read : 10 Best Tyre Inflators in India
It can easily cut through woods, Aluminum, and other soft materials. You can use it for straight, angular and even circular cuts. The build quality of this jigsaw from Dewalt is also excellent. The front body is built with silver, and the back body is made of fiber. So, you are definitely getting a sturdy, robust yet powerful jigsaw from Dewalt.
Key Features:
Comes with low profile dust extraction shield
Comes with bi-directional vacuum spout for efficient performance
It weighs 2.9 Kg
It comes with a tool-less quick blade change feature
Power consumption of only 500 watts
Comes with a built-in flashlight for easy operation even in the dark
It uses T shank blades
Pros:
Comes with an additional soleplate; it is removable as well
The balance of this jigsaw is great
Comes with tilt and pendulum feature
Compact and ergonomic design
Comes with only one free blade
You can adjust the speed
Cons:
A bit heavy
Might be pricey for some of us
Could come with more than 1 blade
The Budget-Friendly One
BLACK+DECKER Jigsaw (400W):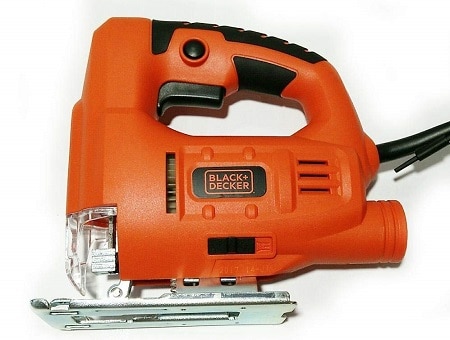 If you are looking for a cheap yet reliable jigsaw then this is the best option. You might not be familiar with the Black+Decker Company. But, we can tell you that they produce some affordable good quality products.
And, this jigsaw is one of the many. This is a compact jigsaw machine. So, you won't have to put so much effort using it. It is usable with only one hand. You can adjust the speed of the blade according to your need. It is very sturdy, so it will not vibrate excessively while using it.
Also Read : 10 Best Top Load Washing Machines in India
If you are into DIY projects, then it can be a great addition to your tools collection. But, for heavy-duty work, we would not recommend it. For that purpose, there are other options out there. However, it comes with a very reasonable price, you can't find a better option for this price at this moment.
Key Features:
Control speed according to your need
Can be used for straight, circular, and even angular cuts easily
Can cut woods up to 65 mm. But, it will be a bit slower while cutting anything more than 20mm
Consumes 400 watt
Comes with dust blower feature
The motor is brushed
Pros:
Comes with a transparent guard
Great build quality
Can be used either U shank or T shank blades
Comes with a long cord
Cons:
They don't provide any blades with the jigsaw
Other Great Alternatives:
Bosch 06015A8000 GST 650 Professional Jigsaw (450W):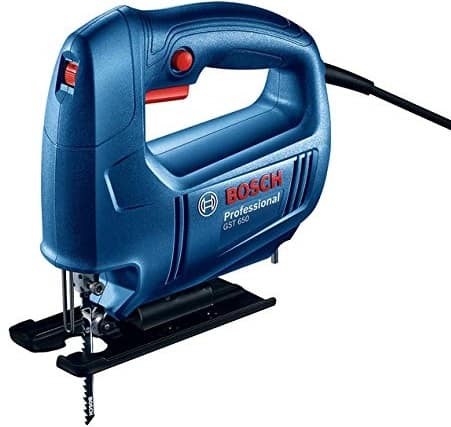 Bosch doesn't need any special introductions. They are famous for providing high-quality power tools. If you are a Bosch fan, then you should go with this jigsaw without any second guess. The Bosch GST 650 is a jigsaw for the professional woodworkers.
That is why it would also be a great choice for beginners. Although the main purpose of this jigsaw is to cut woods, it can also cut metal, plastic, and other soft materials. However, you have to use different blades for different materials.
Also Read : Best Angle Grinder In India
You can adjust the stroke rate depending on the material you are cutting. Also, the speed of the blade is adjustable. This is also designed for using comfortably. Overall, we have liked the features, design, and the build quality of this particular jigsaw machine.
Key Features:
Comes with adjustable stroke rate
Comes with individual speed selection wheel for fast operation
It weighs only 1.9 Kg
It consumes only 450 watts of power
Can be used to cut either straight or curved cuts using MITRE angles up to 45-degree
Pros:
Very lightweight and easy to handle
Comes with reliable Bosch technology and durable design
Very compact design
It produces very minimal vibration
The handle is slim and easy to grip
Cons:
You have to buy the blades separately
Dongcheng Powerful Jigsaw (580 W):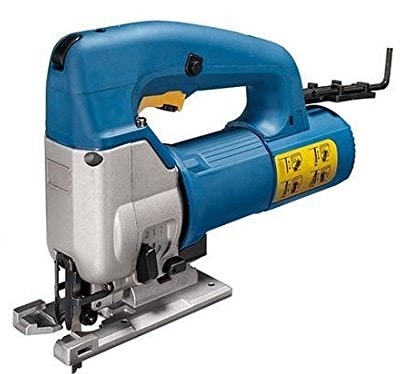 Typically, most of the Chinese brands are not that good. So, we don't usually recommend any products from them as well. However, Dongcheng is an exception in this case. They are also manufacturing some good quality power tools. And. among them, the Dongcheng Jigsaw (580 Watts) has caught our attention.
As the name suggests, it consumes 580 watts of power to operate. So, you can get an idea about the power of this jigsaw machine from that. Yes, it is a very powerful tool. It can cut through woods and other materials like butter. It supports only T shank blades.
Also Read : Best Electric Lawn Mower in India
This jigsaw is not that heavy compared to some others available in the Indian market. Also, it is designed ergonomically for efficient operation. You can adjust the cutting speed with a built-in switch. The blades can be installed very easily. Even if you are using a jigsaw for the first time in life, you won't be facing any difficulties using this tool.
Key Features:
Comes with a 580 watts motor which is a copper winding brushed motor
Comes with variable speed control feature for the blades
You can adjust the cutting speed as well
Comes with pure copper armature
Can be used for angular, straight, and circular cuts
Pros:
Easy to grip
Stable and sturdy build quality
Comes with a long cord
Best for DIY projects
Cons:
---
Wrapping things up:
If you are still with us, then you now have a good grasp about 5 of the top jigsaw machines in India. Here, we have included the best ones from the most reputed companies. However, we don't believe that if the product is from a popular brand, it would automatically be a good one.
Rather, we have gone with in-depth researches before picking this list. In this list, we have included the jigsaws in terms of overall best features, performance, design, and last but not the least the price. We have tried to make sure that everybody will find at least one model for their unique needs. Every person has different demands to meet. So, no single jigsaw would be the best fit for everyone.
For instance, in our opinion, the best one might be the Black & Decker KS900EKX Jigsaw. But, for your case, it might be a tad overkill in terms of both price and the features. So, you might go for the BLACK+DECKER Jigsaw (400W) instead. There is no problem with this. The important thing is that you get the best one according to your requirements. We hope that this post will help you to pick the best Jigsaw for yourself without any problems.
Also Read :

Best Demolition Hammer in India