When it comes to choosing the best skateboard in India, you will have a lot of options. Now, sometimes, it might get overwhelming for you to research about all these choices. We know that very well. Because we have already done that part.
And, it was done to help our readers on the process. So, we have gathered loads of information about some of the best skateboards in India right now. As a result, we will share all this information by reviewing the skateboards we have selected as the top choices for you.
So, let's get right into it…
Things to consider while buying a Skateboard:
There are a few things you need to be concerned about before buying a skateboard. For instance…
Primarily, go for a 7-ply maple board. However, once you are more into skateboarding, go for 8-ply or 9-ply boards
If you want to go places with your skateboard then go for the longboards or the cruisers
If you need very smaller boards, then you should look for the penny boards. However, they are not good for tricks
When you need a board for downhill, go for the longboards
Next, if you need one for rams, swimming pools or such, go for the cruisers or popsicle stick boards
As usual, for flat-ground tricks, the popsicle stick boards are good as well
The length of the board will also be a crucial factor. The length will depend on your age, foot size, and height, etc.
Another important thing to consider is the width of the board. Again, the width also will depend on the user's preference
Also, you have to consider the diameter and the hardness of the wheels
Types of Skateboards?
Frankly, there are various types of skateboards available. So it is very hard to categorize them. However, for the sake of explaining, we will divide them into 5 primary categories. They are Longboard, Cruiser, Mini-Cruiser, Old-school, and Double Kick.
The Longboards tend to be wider and longer than any other type of skateboard. They are good for cursing with a very reliable balance. The mini cruisers are boards only for cursing. They come in a smaller size and have softer wheels. The old-school skateboards come with a unique shape. These look like a fishtail and has an old-school vibe.
The mini boards are very smaller in size. This type of board is specifically made for young skaters. If you want a skateboard for your kids, you can get one of these. And, lastly, the cruiser is not specifically a type of skateboard. Because you can cruise with any skateboards. However, if the skateboard has softer and wider wheels, it can be called as a cruiser.
Best Skateboards in India- Reviews
1. Jaspo Hurricane Wooden Skateboard: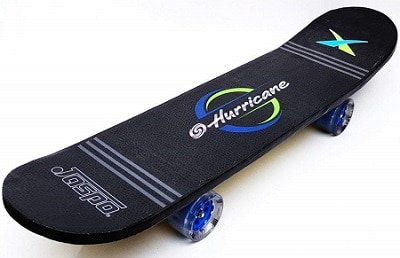 We are starting our review post with the Jaspo Hurricane skateboard. It comes at a very reasonable price. But even then, it is packed with a lot of features. For instance, it has semi-precision ball bearings, which are silent and has a smooth feeling.
Added to that, the skateboard also features 4-inch nylon composite trucks with PU shock absorbers. The deck is 6.5 inch and that makes it suitable for all skaters over 10 years of age.
Also Read : 10 Best Fitness Band Under Rs 2000
The wheels are vinyl and anti-skid. It comes fully assembled. For a beginner, this one can be a good choice.
Main Features:
Comes with 7-ply maple wood
It can support up to 220.4 lbs. Or 100 kg
The net dimension of this skateboard is 27 in (L) x 6.5 in (W)
It comes with ABEC-9 rating bearings
Has 55 mm wheels
---
2. Strauss Bronx BT Skateboard:
If you are looking for a high-end yet cheap skateboard, you can go for the Bronx BT skateboard. This is perfect for different conditions like parks, pools, and streets. The double kick dis-symmetric concave design makes it perfect for doing tricks.
The wheels are skid-proof and the baseplate and the hanger are made with aluminum alloy. The chromium still bearings will last a long time even if you use the skateboard regularly.
Also Read : 10 Best Exercise Bikes in India
The size of the skateboard is also great for balancing with 7.5 cms truck height. It also comes with an attractive graphic design.
Main Features:
The recommended weight limit is up to 100 kg
It is made with 8 ply of maple wood
The size of the board is 31 inches long and 7.5 inches wide
Comes with 55 X 37 mm wheels
---
3. Oxelo Mid500 Bear Skateboard: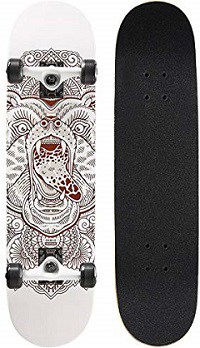 If you want to start trying tricks, then you can check this skateboard from Oxelo. It is specifically made for beginner skaters. It comes with some premium features and the overall quality of the board is also top-notch. At the same time, the price of the board is also a bit higher.
You will have a skateboard with very appealing graphics, aluminum trucks, 85A PU bushings, ABEC 5 bearings, 92a wheels, and etc. bear in mind, this is not for kids.
Also Read : 7 Best Most Reliable Orthopaedic Mattress in India
Matter of fact, it is not suitable for skaters under 4 ft. 4-inch height. So, if you don't have any issues with the high price tag, you can pursue this one.
Main Features:
Comes with 2 years of warranty
Made with 7 ply of wood
It comes with 54mm wheels
---
4. Strauss Bronx FT Skateboard: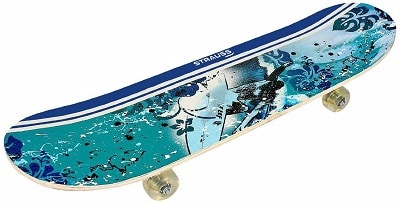 This is another skateboard from Strauss. It is the Bronx FT that comes with high-grade carbon bearings, PU wheels, chromium steel bearings, and aluminum alloy hanger and baseplate. It also features non-slip grip tape for better durability.
You will also get the double kick dis-symmetric concave design. It is ideal for light tricks and cruising. Also, there will be nice graphics on the board. The bearings and the wheels are very quiet. Also, the 5 inch wide trucks are made of all-steel construction. Overall, this can be a great choice for the price.
Main Features:
The maximum weight capacity is 100 kg
Comes with 55 X 37 mm wheels
Made with 8 ply layers of maple wood
The net dimension of this skateboard is 31 in (L) x 8 in (W)
---
5. OXELO SMALL YAMBA Cruiser Skateboard: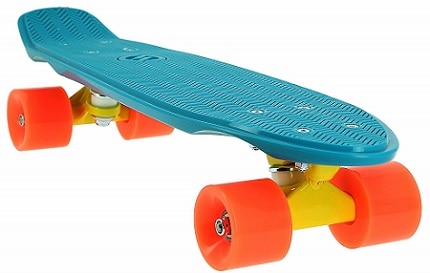 This is the second skateboard from Oxelo on our list today. For your information, this not a wooden board. However, this one is also armed with various premium features and as usual, the price of this board is also a bit higher. This is a board specifically designed for cruising.
So, if you are not into pro-skating or tricks, you will be fine with this one. This one has ABEC 7 bearing, 87a rubber wheels, and 3-inch wide aluminum wide truck.
Also Read : Best Foot Massager in India
The wheels are 59 mm wider that makes it suitable for cruising through the road or park wherever you want. Additionally, it comes with 2 years of warranty.
Main Features:
The dimension of this product is 22.63 inch(L) x 5.51 inch(W)
It comes with 59 mm wheels
The weight limit is under 100 kg
Made with Polypropylene
---
6. Jaspo Ride-on Penny Board: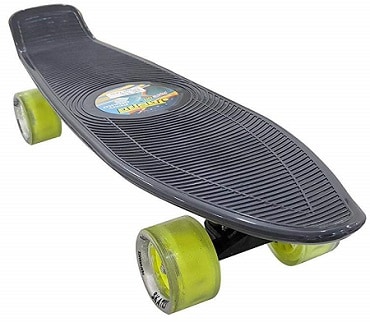 When it comes to portability and skating, you will have to look for a micro board. And. this Jaspo Penny board is one of those micro broads for you. This is suitable for cruising and you can even do some tricks with it. At the same time, it will be easy to fit into your backpack.
This particular broad from Jaspo comes in 6 vibrant colors. The colors are grey, blue, black, neon green, black (multi-color wheels), and orange.
Also Read : 12 Best Protein Bars in India
Also, it features the 70s retro styling and a very affordable price tag. Overall, this can be a great choice if you are searching for a penny board within a budget.
Main Features:
The maximum weight capacity is 60 kg
The dimension of the board is 22.04 inch(L) x 5.9 inches (W)
It's made with Polypropylene
Comes with 60 mm wheels
---
7. Nivia Skateboard: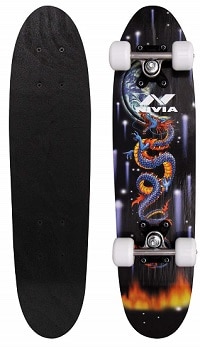 If you are looking for a lightweight and attractive designed skateboard, this particular skateboard can be a great addition to your collection. This perfect for beginners and smoother surfaces. Also, the price is not that high. This one is available in 2 colors such as blue and black.
Also, you will have various colorful graphics design integrated on the board. It comes with premium ball bearings that are silent. Also, it has an anti-skid deck for better control and stability. And, the best part about this skateboard is that it comes pre-assembled. So, you will be able to skate just after unboxing it.
Main Features:
It can hold up to 70 kg of weight
The skateboard dimension is 31-inch x 8 inch
It weighs about 500 gm.
---
8. Jaspo Hurricane Classic Skateboard: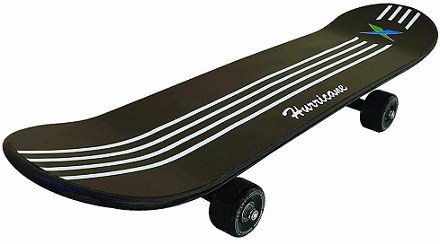 The Jaspo Hurricane classic skateboard is specifically made for tricks. As it comes with the double kick concave design, it is suitable for Ol action and 360s. Additionally, it is great for just practicing and cruising. This is a very sturdy skateboard.
You will get 627zz precision bearing, 2 pieces of grip tapes for anti-skid surface, etc. The 55 mm PU wheels are equipped with flat-spot and high bounce resistance.
Also Read : 10 Best Multivitamin Tablets
These come with 85a hardness. Moreover, you will also get a free carry bag with the skateboard. This is made with waterproof fabric and has a cushioned handle for portability.
Main Features:
Dimension of this board is 26.9 inch(L) x 7.6 inch(W)
Can support up to 90 kg
The net weight of this board is 1.940 kg
Comes with 55 mm wheels
---
9. EUPHORIC INC Waveboard:

This is a waveboard from EUPHORIC INC available in India. It is suitable for kids mostly. The board comes with a unique design that features a steel torsion bar. This allows it to achieve high acceleration without much effort from the skater. Added to that, it has PU wheels of high quality with LED light. Thus, it would be a crowd-pleaser, indeed.
The board is not made with wood. Rather, it uses high-end ABS plastic material. So, it is known for offering a long-lasting service.
For your information, the manufacturer specified that this is suitable for kids over 6 years of age. And, a lot of customers also said that they have got it for their kids to try and practice skateboarding.
Main Features:
Made with Polymer plastic
Size of the board is 33.07 inch(L) x 9.05 inch(W)
The maximum weight capacity is 60 kg
Comes with glowing LED light wheels
---
10. Razor Ripstik Ripster: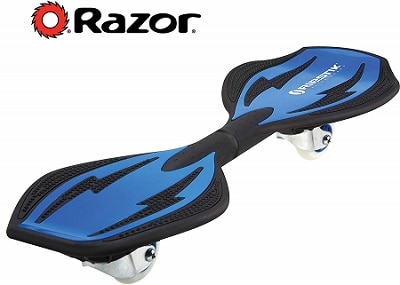 We are ending our review with the Razor Ripstik Ripster wave board. Razor is the first company that developed the waveboards back in the day. Still, they are known as one of the best waveboards manufacturers in the world. This particular waveboard also comes with the high-end quality of Razor. However, it is also the most expensive skateboard on our list. It is made with top quality materials and has a sturdy build quality.
You will love the fixed T-bar design, with the reinforced triple stacked head camp. Also, it is covered with pro-style rubber grips which makes it anti-skid.
Also Read : 10 Best Yoga Mats in India
The board also features 84a wheels with Razor Pro 30 bearings (ABEC 5) and kick nose and tail for better performance. It comes pre-assembled form the factory. So, you can use it out of the box. It is suitable for kids and adults of all ages.
Main Features:
The weight of the product is 2.04 kg
It comes with 66mm urethane wheels
The size of this product is 27 inch(L) x 9 inches (W)
---
Sum Up:
Skateboarding is undoubtedly fun and enjoyable. Even if you are not into pro-skateboarding, you can get one and try to enjoy cruising through your neighborhood. But for that, you will need a skateboard at first. That is why we have written this post to help you with choosing the bests skateboard in India.
In this post, we have talked about various types of skateboards in terms of quality, features, and price as well. That way, we hope all of you different requirements will find your perfect fit skateboard from this review post.
So, have you got any favorites here? You can let us know in the comments section below!
Also Read:
10 Best Fitness Band Under 2000
Top 10 Best Table Tennis Rackets