The Cosmic Byte Spider Headset is a budget headset. The price is extremely cheap, with the headset going for under 1500. The design is great, and as you would expect with the name "Spider" in the title, the lights are designed to represent spider legs(not accurately though, with 7 "legs" on each side).
These light strips are present on the earcups, separated by a glossy strip. Two variants are available, with a difference in the colour of the light strips. The colours available are red and blue.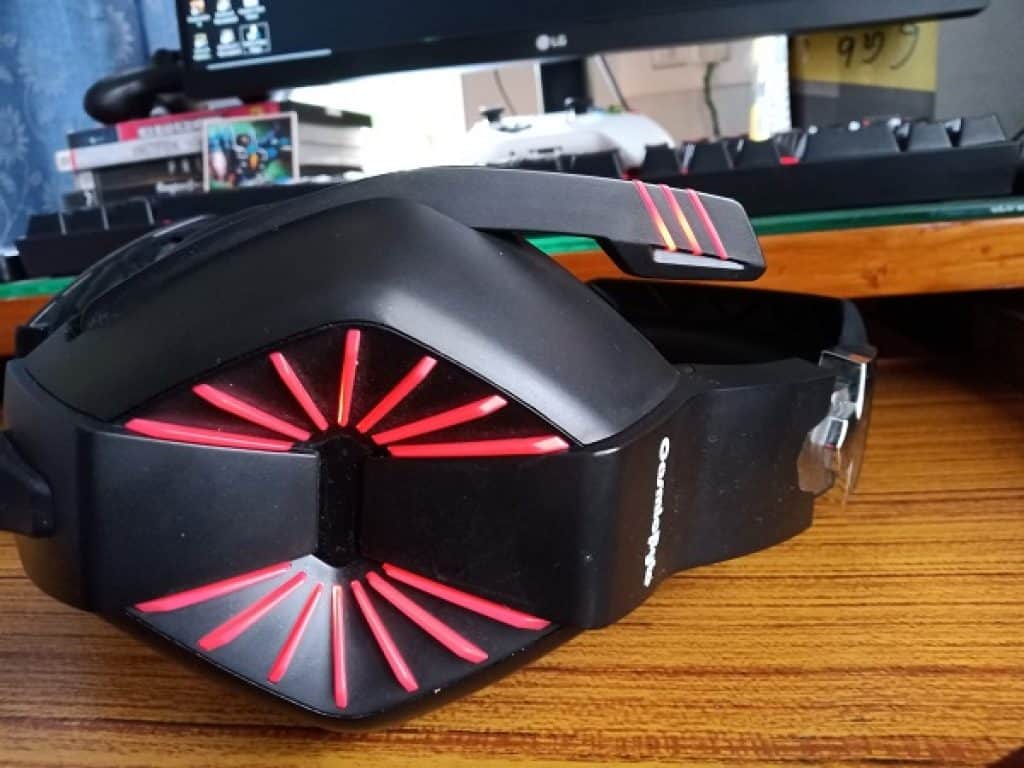 Packaging
The packaging is fairly okay, nothing extraordinary, but not too bad either. It has the specs on its back, and inside, you can find the headset in a plastic holder. It comes along with an User Manual.

Also Read : Best Gaming Laptops Under Rs 50,000
Design, Comfortability & Features
The pads on the earcups are very comfortable, though after using it for 7 months, the padding covers have started tearing off in multiple places. There is also another padding, which rests on the top of the head. The padding on that is still intact. The length of the earcup bands are adjustable, to fit all kinds of head sizes. I have a pretty big head myself, and it fits more or less perfectly, though the padding kinda rests on my ears, as opposed to over the ears. But after a few adjustments, its alright. I use the headphones for about 10 hours every day, and I do not feel uncomfortable in them at all. However, my ears do get sweaty sometimes, which may have caused the padding cover to start falling off. The braiding on the cable is alright, and is in one piece.
There is an attached microphone, which cannot be removed. It has 3 light strips on the tip. Its angle can be adjusted, to be right in front of your mouth or leaning against the earcups. Inside the padding, there is a cloth layer which separates the part which touches the ear and the insides of the headphones. The lights can be seen through this cloth. It is a wired headset, with no feature to convert it to wireless. It has a braided cable, with a microphone on and off button and a volume control. The audio jack is 3.5mm MM4 pin and gold plated.
It requires a duplex port to enable both the microphone and the headphone, otherwise, only the headphones will be enabled. There is a USB which is for the RGB. The lights won't turn on if it is disconnected. The cable is a whopping 2.2 m in length, give or take 0.15 from that.
Also Read : Best Gaming Laptops Under Rs 70000 in India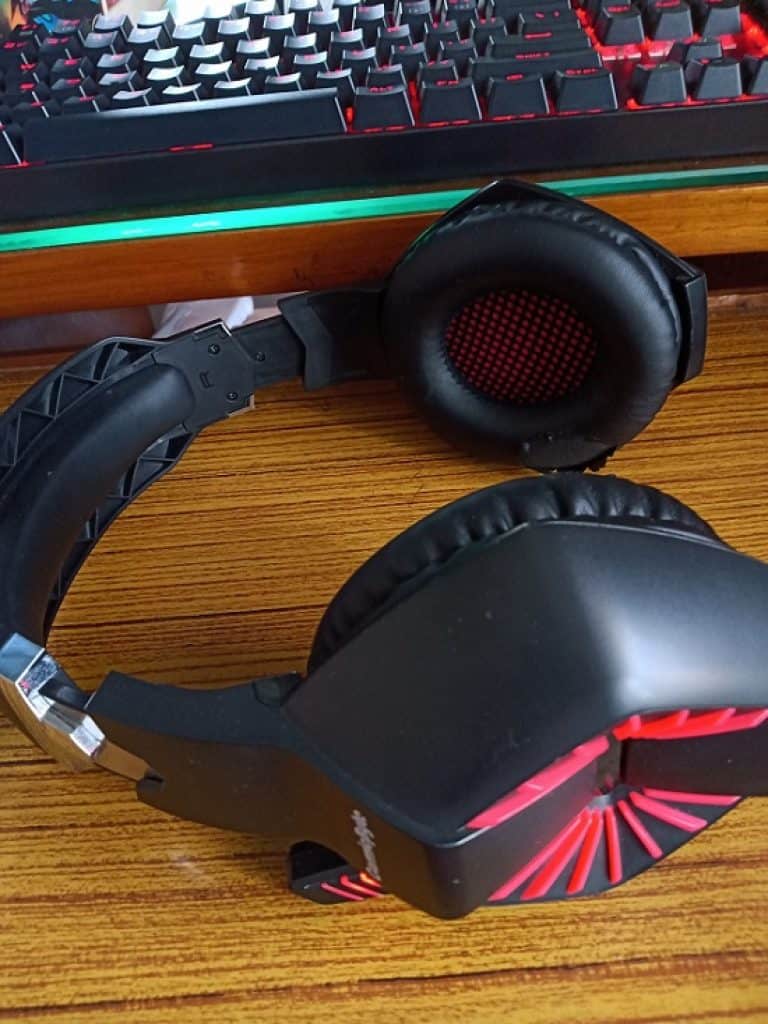 The build quality is more or less great. As I said, the padding covers are not durable. I started noticing a few weird bumps on the covers a few weeks before it started coming off. Then, it became scaly. Then, suddenly, the it started coming off, simultaneously in a few places. So, look out for that. Sometimes, when I put the headphones on, I hear a weird "crack", but it doesn't seem to have had an effect on the headphones itself.
The headset weighs 350 grams. The microphone is 6.0×5.0mm. Being an over the ear headphone it muffles all background noise perfectly and you can barely hear anything going on around you when you are using it.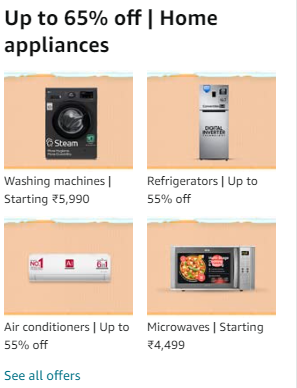 Also Read : Best Gaming PC Cabinets Under 5000 in India
Specifications
The specifications are as follows. The speaker size is 40mm. Speaker size doesn't matter much, but it basically decides how loud the sound can be. The driver basically vibrates back and forth in response to an electrical current, creating sound waves which go in our ear. What matters is how flexible the material is, and how much space it has to vibrate in. The tuning, enclosure design and ear padding are everything when it comes to how drivers sound. A bigger driver size doesn't mean better sound quality, however bass might be a bit better. Headphones with larger driver size usually have difficulty reproducing high frequencies.
The impedance is 20Ohm, give or take 15 percent. Impedance is basically the effective resistance of an electric circuit or component to alternating current, rising from the cumulated effects of ohmic resistance and reactance. To explain it simply and to understand how it affects your headphones, it can be said that headphones with low impedance(less than 25 ohms) require little power to deliver high volume and audio levels.
Also Read : Best Mini PCs in India
They work well with equipment having weak amplification like portable music players, phones, etc. Headphones which have a higher impedance(25ohms or less), demand more power to deliver high audio levels.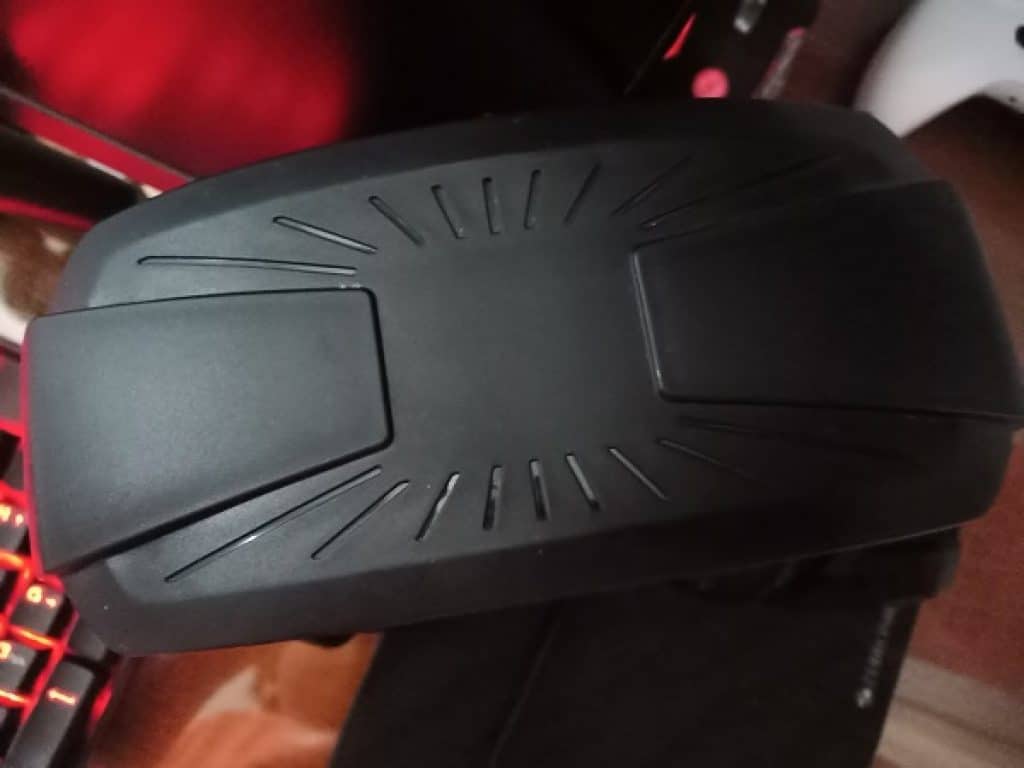 Thus, they are protected from damage caused by overloading they can also be used with a wider range of audio equipment. Low impedance headphones are more susceptible to blow outs. It ultimately decides how much you have to crank up the volume knob to listen at a reasonable loudness. This pair of headphones doesn't have that high of an impedance, and can be used with portable devices without any issues. I didn't have any.
The sensitivity is 118dB, give or take 3dB. This term relates to impedance, but isn't very helpful in judging a pair of headphones. It, similar to impedance, is a measure of how loud a pair of headphones will play at a given power limit. Basically, you will have to crank the volume knob less to get more volume out of something. A sensitivity of 86dB is considered relatively low, while anything above 110dB is considered high end. But again, high sensitivity isn't always better as it makes everything louder, not just the music/sound you are listening to.
Also Read : 10 Best Internal SSD for Laptop/PC in India
The frequency range is 20Hz – 20KHz. Headphone frequency response refers to the frequency-specific sensitivity of the output. Frequency responses show the range that headphones are capable of reproducing.
The microphone sensitivity is -38dB, give or take 3dB from that. Microphone sensitivity is the measure of a microphone's ability for converting acoustic pressure into an electric voltage. Basically, the higher the sensitivity, the less pre amplification is required to bring the sound to an useable level, and lower the sensitivity, greater the pre amplification required. The microphone itself is nice, obviously not high end, but it is passable. It has enough distance from the mouth to not pick up the sound of breathing(unless you do it heavily), but still is close enough to pick up whatever you say. However, the microphone is a bit fragile to hold, and feels like it will break any moment, if a teeny tiny bit more pressure is applied. The microphone impedance is 2.2K Q. Microphone impedance is the amount of opposition that a microphone has to AC signals. As a general rule, the lower the impedance rating, the better.
The working current of the headset is S50mA. The working voltage of the LED is DC 5V, give or take 5 percent.
Also Read : Best Productivity Laptops Under Rs 50,000 in India
Sound
When I first got these headphones, I didn't expect it to have great sound. It was supposed to be a placeholder headset until I got better ones. But, after actually putting it on and listening through it, it became my favourite headset, and I decided to continue with it. I was pretty surprised actually. A good headset, with "gaming" in its title, at a price of 1k-1.5k has more or less become a fable. Most other headphones in its price range either have terrible build quality or terrible sound. They are quite uncomfortable too. However, this is not the case with this one.
My first order of business with any headset is to listen to "Silent Shout" by The Knife(one of the best electronic songs in my opinion, if you're into that). Its a track with an extremely deep bass synth and great drum hits. Its great to test deep low-end reproduction for headphones, as most nowadays often heavily boost or sculpt deep bass. The Cosmic Byte Spider headphones can produce the song with a sense of power, without any distortion, buzzing or crunchiness when increasing the volume.
Speaking of distortion and buzzing, there is a downside I have noticed recently. If a particular video or sound source gets too loud, an extremely irritating distortion/buzzing occurs before subsiding again. It happens only when I'm attending a particular meeting, though, so it probably is a problem on the side of the speaker. I've yet to figure out the details, but you should look out for this.
Also Read : Gaming Laptop Buying Guide: How To Choose the Right Laptop?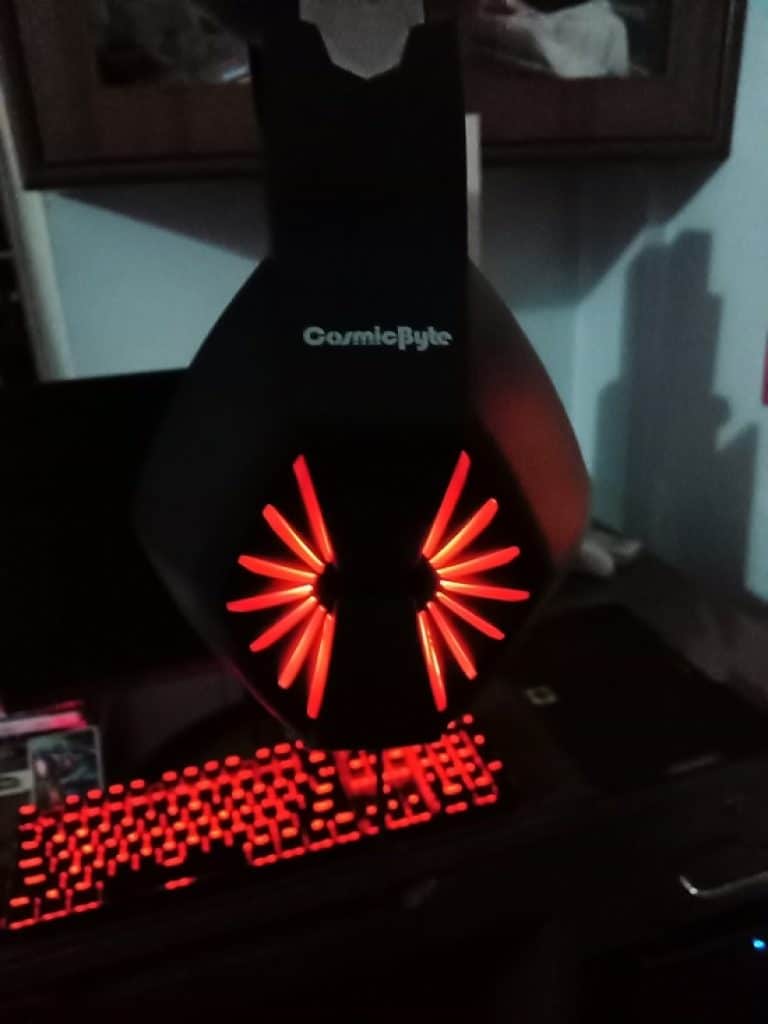 It can produce a large amount of clarity between notes, and they do not "blend" in together, thus retaining the personality of whatever you are listening to. The bass is great and balanced. It isn't so much that you would feel the need to headbang to every song, but it isn't too low either. I listened to "Banking, An Old American Art", a great piece from the OST of Red Dead Redemption 2, to test the bass further. During the beginning of this piece, it has these heavy drops and bass drums bumping, which I was able to make out perfectly and beautifully with these headphones. It can reproduce high frequency notes nicely. The trebles are sharp and crisp. The beats can be heard distinctly.
One of the only gripes that I have with this headset is that sometimes it sounds oddly metallic, in places where it absolutely should not. Its not clear if this headset has ANC (Active Noise Cancellation) or not. What Active Noise Cancellation does is basically, mirror the ambient noise around you and produce an anti noise, if you will, to prevent the ambient noise from entering your ears. Although it is not clear whether it has ANC or not, I will admit that it has beautiful noise cancellation. If you are wearing this and listening to loud music, for example, there is a very little chance you'll hear anything that is going on around you. That is a big plus in my books. It does not have user-adjustable EQ (equalizer).
Also Read : Gaming Laptops Under Rs 90,000
Now, on to directionality. This headset has great directionality. You can clearly make out from where the sound is coming. This kinda makes some songs weird, with the sound of specific instruments coming from only one earcup. But for gaming its extremely necessary and useful. I tested it with DTS sounds, and it felt like I was there.
Gaming
The headset is aimed at gamers, and it does its job extremely well. Whether you are playing a competitive game with heavy emphasis on paying attention to your surroundings(footsteps and all), or playing a single player game with a beautiful story, atmosphere and soundtrack, this headset will do its job and immerse you completely. I played a few matches of CS with this, and I have to say the footsteps are pretty distinct and can be heard pretty well.
Coupled with its great directionality, this becomes the go to headset for budget gamers. It works extremely well if you, like me, just play singleplayer games too. The sound of a bonfire in Dark Souls has become even more calming with this headset. But, I've been praising this for a while now, and have been saving the bad news for the last.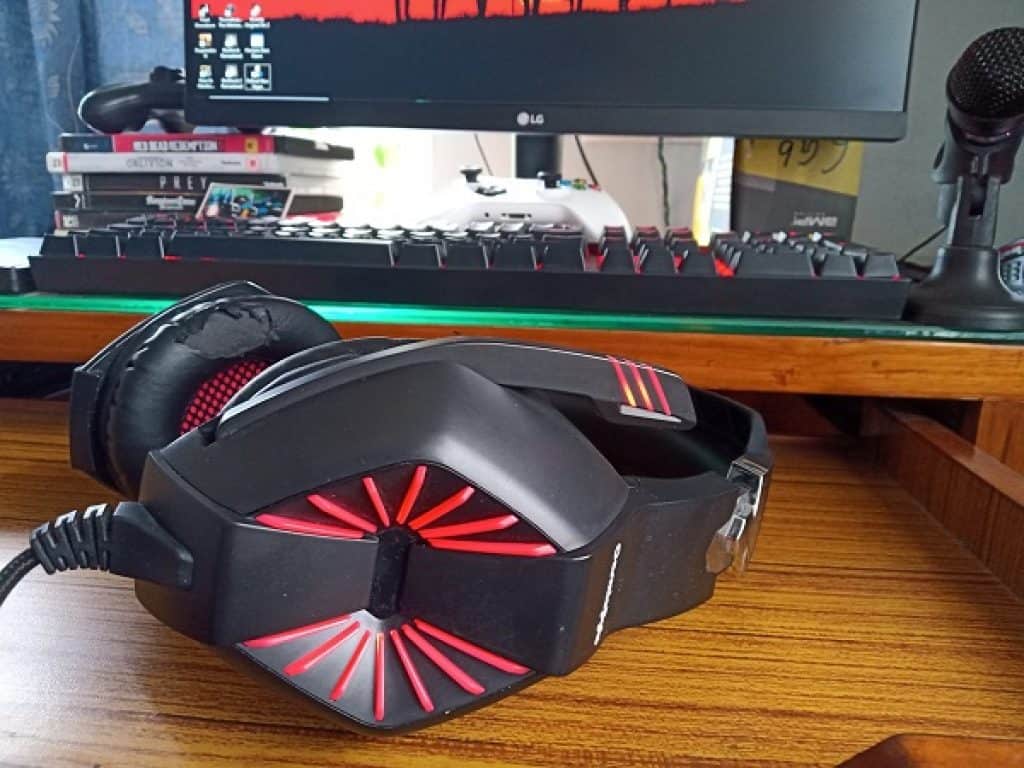 Cons
This headset is not perfect, nothing is, and has its fair share of flaws. I'll start with a major drawback. Its not good to use with a mobile. Though the sound itself doesn't have much of a change, it still sounds kinda worse than on a PC. But the more serious issue is with how inefficient it is to use with a mobile. Since the jack is not L shaped, it becomes harder to hold the mobile. Its bulky and the wire gets in the way, though that is manageable. If you game on mobile and are looking for a good headset, this might not be it because of its inefficiency with a mobile. There is also the disadvantage of the USB LED controller dangling around while you play on a mobile.
Another con is that it does not come with a splitter. Considering that many motherboards, even modern ones, do not have duplex ports, it should have come with a splitter. So, if you plan to use the mic provided with the headset, you are going to have to fish out extra money for a female to 2 male splitter.
The frequency range, although it is mentioned that it is 20Hz-20KHz, upon measuring it is a bit lower than that(20Hz-16KHz), but in any case up to 14 Hz is the normal standard, so it wouldn't cause much of an issue.
Also Read : Best Gaming Headphones Under Rs 2000 in India
The Microphone is passable, but the issue lies with its build quality. Its extremely fragile to hold and feels like it will break or snap if a bit more pressure than the required amount is applied. Still, the build quality of the other headset barring the mic is great and sturdy.
A weird "crack" noise is heard sometimes when I'm putting it on, although it doesn't seem to have had any effect on the headset. I expected the padding cover to last a longer while though.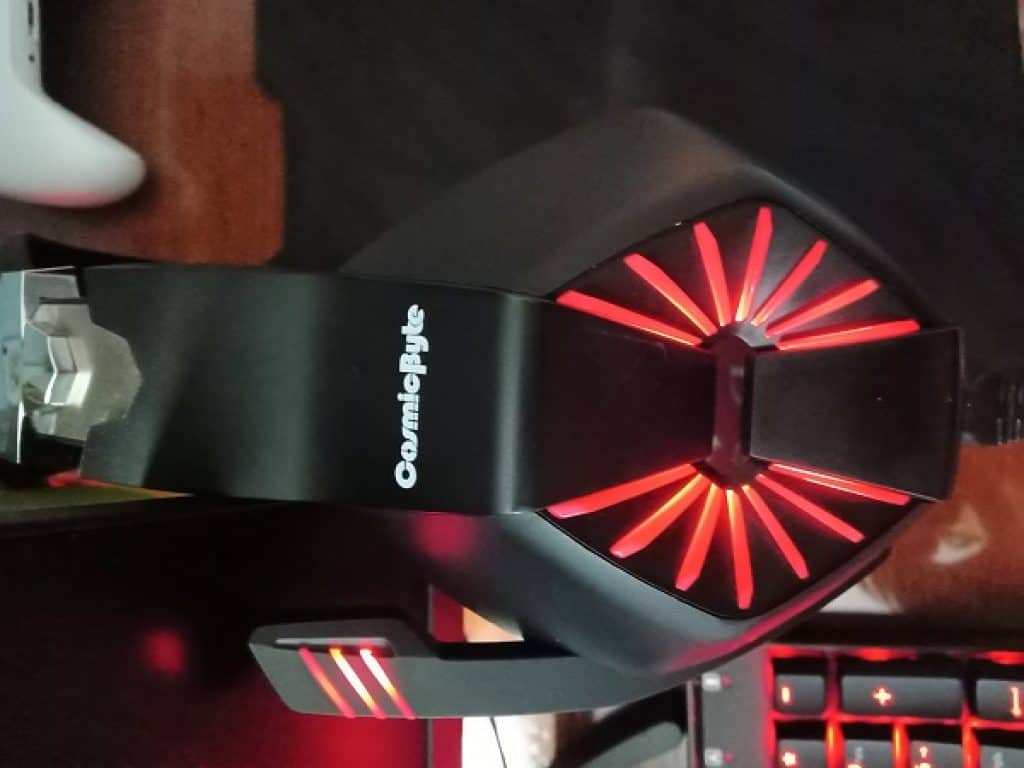 Pros
Here are all the pros compiled in a list:
Its extremely comfortable and sturdy (barring the mic), and I don't feel uncomfortable even after wearing it for 10 hours straight everyday.
The features and the specifications are great for a budget entry level gaming headset.
The mic is placed in a nice position and the angle is adjustable.
The noise cancellation is extremely good.
The sound quality is great and it has a balanced bass, and sharp and crisp trebles. You can make out each beat distinctly. Gunshots in gaming have an impact and feel, though that might be more to the game's credit than the headphone's.
The directionality is impeccable, and with these there's a very low chance you'll ever misinterpret the direction of an enemy while gaming.
Very long cable length for help in connectivity.
Braided cables.
The length of the earcups is adjustable and can be adjusted to fit a very large head, like mine.
Also Read : 10 Best Gaming Headphones Under Rs. 5,000
---
Final Verdict
The Cosmic Byte Spider Headset is a great one. Its design is great and will enhance the look of your workstation with its LEDs, especially if your workstation has a red or blue theme. It provides good sound quality and great directionality. But it is pretty clear that its aimed towards gamers. Console or PC gamers specifically. Mobile gaming will be tough with this one. If you want to get this for listening to songs, watching movies, then its good for the price too.
Although you probably can get a better pair if you fish out an extra 1k or 500 rupees, but if you are tight on a budget, this one is the choice. If you make or produce music though, its an entirely different matter. Making music requires great precision, the kind which this headset will not be able to provide, especially if you're counting on its mic which is passable, at best. I'd suggest investing more and getting more higher end headsets if you plan to make music.
However, for listening to music and playing games, this headset is the way to go. Its cheap, more or less durable, stylish and most of all, provides extremely good sound quality for the price. My rating for this would be 8.9/10.
---
This article is Written By – Aritra Mukhopadhyay
I have been playing games since I was 2, and my love for the medium has not dwindled once since. I enjoy single player games and delving into their stories and worlds, filled with intricate characters. As I consider games as an art form.
Instagram
---
Also Read :

Best Gaming Headphones With Mic Under Rs 10,000

Mechanical Gaming Keyboards in India