With the increasing number of waterborne diseases, it would be unwise to have that unpurified water. A water filter pitcher poses as an economical solution, especially for people living in rented places and don't want to have an entire RO system installed. You can even have one of these placed in every room of your house besides the kitchen and dining area to give your family access to clean drinking water all the time.
What are water filter pitchers and how do they work?
Providing an inexpensive solution for water contamination that is known to cause several diseases in humans, a water filter pitcher is probably the simplest form of water purification. Sometimes also known as purifier jugs, these pitchers provide your family with clean and odour-free drinking water without having to invest in an expensive RO system. In this process, you not only save a lot of cash but also benefit your family with easily and conveniently accessible clean water.
A water filter pitcher, as previously said, uses the simplest purification process and doesn't require electricity, or any external power source for that matter to operate. There is a reservoir in the top section that houses all the filtration mechanism. The unpurified water is poured in this section and it is then released in the bottom section while getting rid of any foreign object in the process. This is quite an uncomplicated process but is still totally effective.
Best Water Filter Pitchers in India
1) Brita Slim Water Filter Pitcher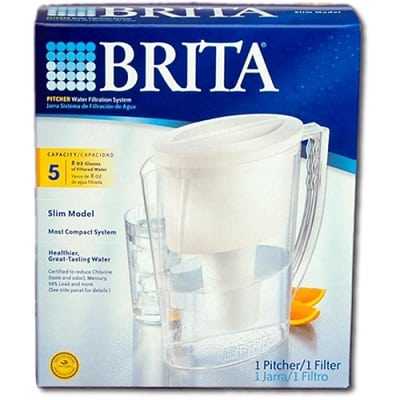 Pros:
1) Brita is a popular western brand and its water filter pitcher in India topped our list to be the best.
2) It can hold up to 5 cups of water in one go and filters your water to remove the chlorine taste and odour and other harmful metals found in tap water.
3) Sticker filter indicates when the filter needs to be replaced, which will be between 2-4 months, and the jug is made of BPA-free plastic to fit in fridge bottle holders.
Cons:
1) You may find its price a tad higher than its rivals. It is not known to give you alkaline water with its filters.
Check Price : Amazon
---
2) Kent Alkaline Water Filter Pitcher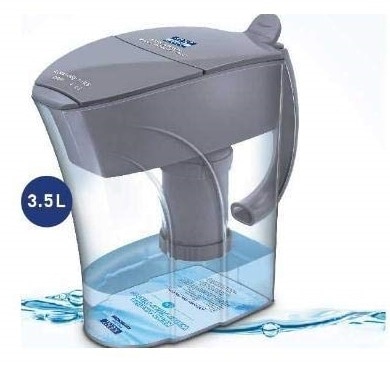 Pros:
1) Coming with more of a sophisticated look, this Kent pitcher will be a great addition to your kitchen which will help negate the acidic tendency of tap water and give you alkaline water with pH levels between 8.5 and 9.5 and also improves the anti-oxidation abilities.
Also Read : Best 1.5 Ton Split AC in India
2) The included sediment filter helps clear physical impurities and it can hold up to 3.5 litres of water its high-quality unbreakable body.
Cons:
3) The replacement filter can't be bought that easily from an online store, instead, you will have to contact Kent's support to obtain a replacement.
Check Price : Amazon
---
3) Waterdrop Extream Water Filter Pitcher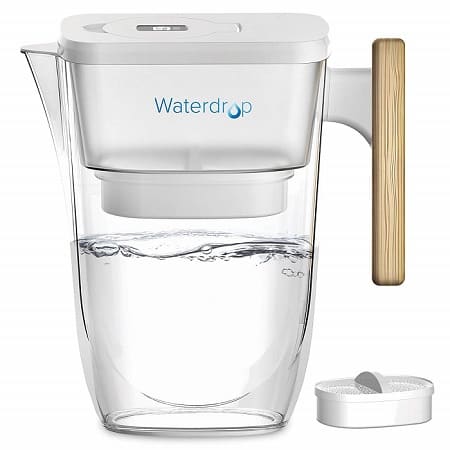 Pros:
1) Waterdrop has included a wooden handle for giving it a unique premium finish while the pitcher is capable of holding 2.5 litres of water in one go.
2) The plastic is made of BPA-free material for your safety and the filter has a total of 4 advanced layers with an activated carbon filter to offer 10-times better water purification.
Also Read : Best Refrigerators in India
3) The filter is required to be changed after every 760 litres and the jug will remind you for the same.
Cons:
1) The replacement filter may not be as easily available and you need to contact the company each time for receiving a filter.
Check Price : Amazon
---
4) ARG Alkaline Water Filter Pitcher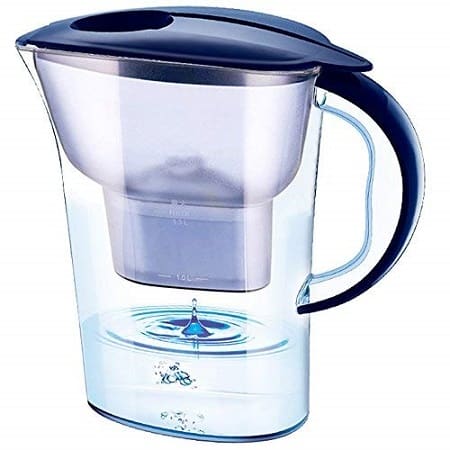 Pros:
1) ARG offers a fantastic purifying jug for all the people who might not want to invest a large sum but still should have access to clean drinking water.
2) The product comes with a capacity of 2.6 litres which should be good for a small family and the included indicator will let you know when to change the cartridge.
Also Read : Best Air Coolers in India
3) Ionizer and alkaline-like features make this pitcher one of the best products available at this price range.
Cons:
1) You will miss almost all the advanced feature given its entry-level pricing.
Check Price : Amazon
5) Well Blue Alkaline Water Filter Pitcher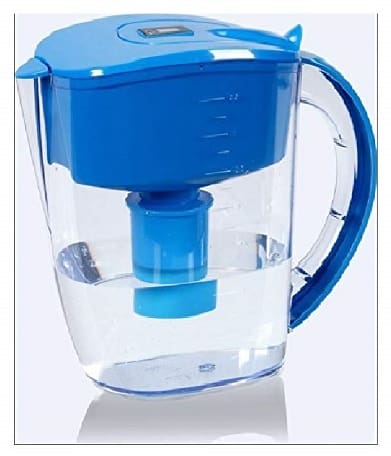 Pros:
1) At its reasonable price, you are getting a purifying jug that can give you up to 3.5 litres of clean drinking water.
2) Using its simple filter, the pitcher filters out chlorine and several other contaminants from your water to make it drinkable.
Also Read : Best Mixer Grinders
3) An indicator is included to remind you to change the cartridge, which works for about 2 months. You can order the replacements filters easily online.
Cons:
1) Its replacement filters are available in the set of three and you will have to spend a bigger sum to get them.
Check Price : Amazon
6) Peco Ph Alkaline Water Filter Pitcher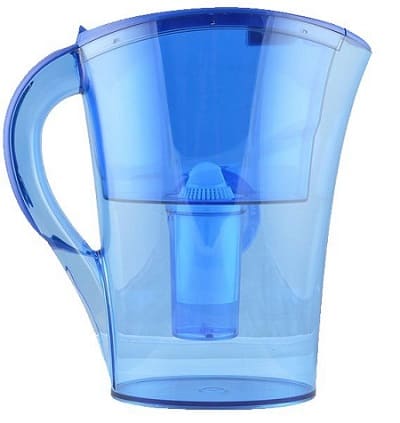 Pros:
1) Slightly pricier than other basic models, this pitcher offers loads of features to overcome that.
2) The jug can give you 3.5 litres of water each time and you can find its replacement filter available on Amazon for a quick purchase.
3) The jug has demonstrated to provide alkaline and ionised water after the filtration process of tap water.
Also Read : Best Fruit & Vegetable Juicers
4) The filter also helps remove the bad taste and odour of chlorine often found in water.
Cons:
1) The company doesn't clearly state the number of months each of its filter will last for.
Check Price : Amazon
7) Watamate Puro Alk Water Filter Pitcher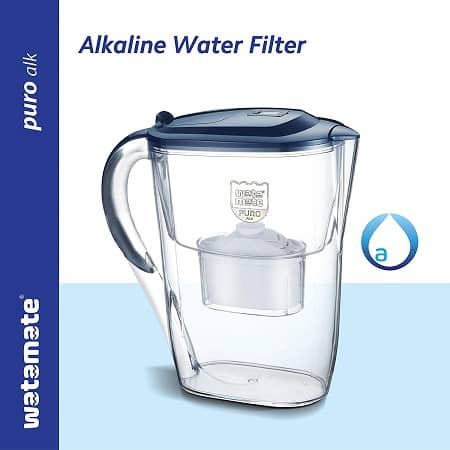 Pros:
1) For the ones looking for an economical product, this Watamate Puro Alk jug is a great product.
2) It is available in two colour options and its filter, which can last for 60 days, is readily available from online stores.
3) It uses a special Alk filter which purifies the water and also alkalinises it besides improving the overall taste.
Also Read : Best Kitchen Chimney in India
4) Its rated capacity is 2.5 litres and has an indicator to alert you for filter change.
Cons:
1) You need to be extra vigilant while fitting the filter as an improper placement can stop the pitcher from working properly, or even at all.
Check Price : Amazon
8) Brita 6-Cup Space Saver Water Filter Pitcher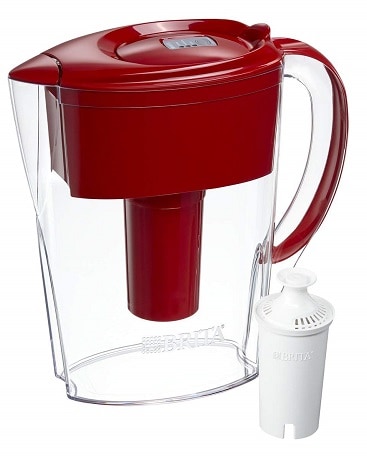 Pros:
1) Coming with the best-in-class electronic filter indicators, this Brita water filter pitcher is not only more advanced but also can give 6 cups (240ml each) of clean water.
2) It is designed to fit your fridge's bottle section and comes with an easy-to-use mechanism.
3) The standard filter can last for up to 2 months while you can get a long-lasting filter as well which has 6 months of life.
Cons:
1) Third-party filters can hinder in its lid fitting properly.
2) The asking price is much higher than other similar products.
Check Price : Amazon
9) Astrea Compact-Pure Bonus Pack Water Filter Pitcher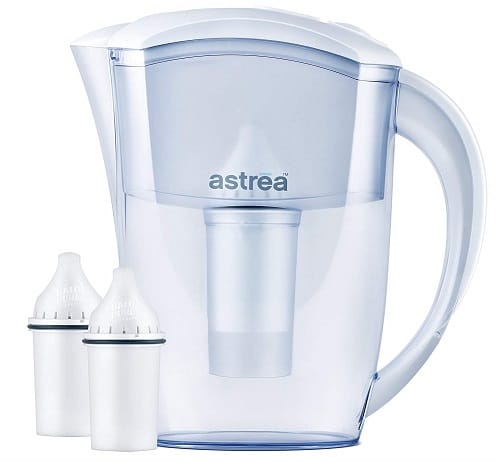 Pros:
1) The best part about this water filter pitcher is that the company ships not one but two filters with the product so that you are sorted many more months to come.
2) It comes with an ergonomic design which not only looks good but also makes it easier for the elderly to use this purifying jug.
Also Read : Best Table Top Wet Grinders
3) It uses HaloPure technology to get rid of 99.9% bacteria and viruses using its 3-stage purification system.
4) Each filter can last up to 100 days with a capacity of 375 litres.
Cons:
1) Its design may not be ideal for a few cases and the water might skip getting its bad taste removed while being filtered.
10) Hi-Tech Alkaline Water Filter Pitcher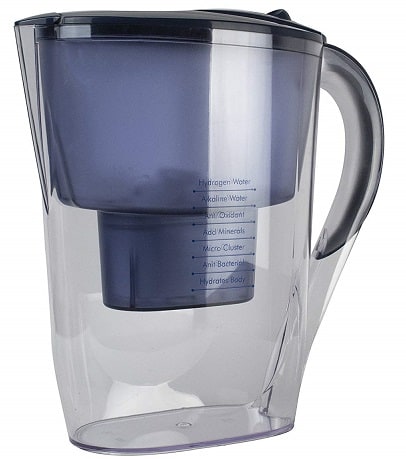 Pros:
1) Hi-Tech has made sure to make clean water accessible to all with this budget purifying jug which claims to add calcium, magnesium, potassium, and other minerals to the purified water.
2) It also supplies alkaline water between 7.5 and 8.5 pH level, besides making water anti-oxidant.
3) It has been designed for fitting in your refrigerator perfectly along with other bottles.
Cons:
1) Neither the company nor the seller has made clear from where you will have to buy replacement filters.
2) Getting a replacement filter will require some extra efforts.
Check Price : Amazon
---
How to pick the right one?
Just like a normal jug, a water filter pitcher cannot hold several litres of water and if you have a large family then it becomes even more crucial. It wouldn't be possible to wait for several minutes when your family is waiting to have a glass of water. In such cases, you will have to get a pitcher that filters the water in the least possible time.
While it is an established fact that a water filter pitcher is no rocket science when it comes to operating it but you should still ensure that the one you go for doesn't have any complicated mechanisms that might possibly confuse any member, especially the elderly, in your family. One must be able to refill the jug quickly and have access to clean water without any hassle.
As it goes with ease of use, filter replacement shouldn't be complicated at all. Moreover, the replacement filters should be readily available at a reasonable price. You should also look at the kind of performance a particular filter offers and it should be fit for the type of unpurified water that is supplied to your place.
Budgeting not only includes the cost of buying the water filter pitcher but also the cost that will be incurred through its entire life. Besides deciding a budget for the pitcher itself, you must also look for the number of times you will need to replace the filters and how much do they cost. The second part will entirely depend on your usage pattern and the number of members in your family.
What we looked for while selecting the best pitcher?
Water Filter Pitcher Type
Depending on the type of water being supplied to your house, the water filter pitchers vary on their function. A pitcher is designed to handle a particular kind of water contamination and it will be effective in removing it. You need to get the water supplied in your home tested to determine the right pitcher from the below-mentioned list.
You can find a purifier jug made out stainless steel, glass, or plastic, with plastic being one of the most commonly used base material. While glass and steel are known for their safe nature, the plastic needs to be checked and it must be 100% BPA-free to ensure the health of your family. Certain cheap pitchers compromise on this part of the product to cut their costs.
Like you might have guessed, a larger pitcher will be required for a larger family whereas a couple of people may be fine with a smaller jug. Besides this, the water filter pitchers vary heavily on the set of features they offer, like if they can be refrigerated or if they can add your desired flavour to the water.
Apart from the aforementioned points about the filter cost and availability, the pitcher shouldn't require any kind of complex installation process that needs an expert's supervision. Plus, dismantling the pitcher for cleaning or replacing the filter should be easy as well. After-sales support also plays an important role in the purchase decision along with the months or years of warranty offered by the manufacturer.
---
Also Read:
1) Top 10 Best Electric Storage Water Purifiers
3) Best Storage and Instant Geyser Water Heaters