For some woodworking is a profession. On the other hand, for some, it is a hobby. Whatever the case for you, you can't do your best work without the necessary tools. When it comes to woodworking, there are a lot of power and hand tools which can be very beneficial to have at your disposal.
And, a good quality wood router machine is one of them. This is not a must-have tool if you are just beginning your career on woodworking. But if you are a professional or someone who likes to do DIY projects occasionally, then a wood router machine could be of so much help. It will also save you a lot of precious time.
Now, as there is a huge collection of wood router/trimmer machine in the market. It gets pretty difficult to choose a great one for yourself. We know that. That is why we have written this article with information about some of the best wood router machine available in the Indian market. So, if you are searching for something like this article, then you are in the right place.
So, without spending more time, let's get to the good part…
Also Read:

Best Pressure Washers For Cars & Home

Laser Distance Meter Range Finder in India
Things to consider before buying a wood router machine:
If you want the perfect tool for you, then you can't go and buy one randomly. You need to research about it first. Then you can get one which is suitable for your needs. However, to make the process easier, we will share some tips regarding choosing a good wood router here down below. So, there we go…
Build Quality:
Get a wood router with string, rugged, robust build quality. You have to pay a good amount of money for a power tool like a wood router. So, you should always go for one which comes with the robust build quality. Otherwise, it might be damaged even from an accidental drop.
Power Consumption:
Simply put, if you want a powerful machine, then you will have to go for a powerful motor. And, when the motor is powerful, it will also consume more power to operate. As a result, you will have to pay more electricity bills at the end of the month. So, if you do normal light work, then you don't need to go for a heavy-duty machine and vice versa.
Cutting Diameter:
Different wood routers come with different cutting diameter. Let's say, your wood router has a maximum cutting diameter of 6.35mm. That means you can use a collet of 6.35 mm on your machine. Also, on a 6.35 mm collet, you can use a maximum of 6.35 mm (in diameter) router/trimmer bits.
If you want to use a larger bit, you simply can't. And, on the Indian market, the 6.35 mm collets and bits are the most prevalent. So, it is better to go for a wood router machine, which has a maximum cutting diameter of 6.35 mm.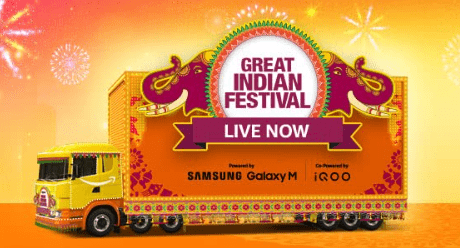 ---
Best of the Best
Bosch POF 1400 ACE Router: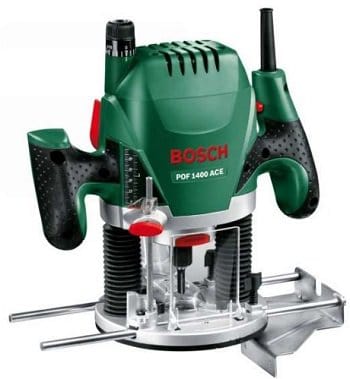 Bosch has been making power and tools for a long time. Now they are one of the best choices when it comes to buying power tools. They have a number of wood routers on the market. Among them, the Bosch POF 1400 ACE router is a very powerful tool. If you are looking for a feature-rich trimmer wood router then this is the best one available in the Indian market right now.
This is a heavy-duty power tool for wood routing. For instance, it comes with a 1400 watt motor. So you can be assured that it can be used with any type of wood. Also, you can adjust the speed of rotation of the bits with a built-in switch. Also, you can use pre-selected speed for particular types of wood as well. This makes it very user-friendly to the beginners.
Also Read: Best Cordless Drill In India
Then again, with its powerful features and specs, it can also be a perfect tool for professional woodworkers. Matter of fact, a lot of professional woodworkers actually are using this router. The weight of this product is about 3.5 Kg and it's made of Polyamide. So, you can be worry-free about the build quality. Let's know about the features of this wood router in great detail down below.
Key Features:
Comes with integrated spindle lock which makes it faster and easier to change bits on the go
Comes with a built-in light, which makes it easy to see the workplace
Comes with a plastic carry case
You can switch the bit rotation speed from 11,000 rpm to 28,000 rpm with a dedicated switch
The speed would always be constant based upon the setting
Comes with 3 spare collets, a router bit, an adapter for a vacuum cleaner, a centering pin, parallel guide, and a template guide
There's a lock-off switch which is integrated on the right-side handle for easy access
It comes with quick clamping lever for fast locking
We Liked:
It is accurate to 1/10 mm, which means it is good for fine cuts
Comes with the BOSCH SDS system, that makes it easy to insert a template guide without any tools
Comes with dust extraction port; helps to keep the workplace dust-free
Ergonomically designed
Has a transparent dust guard as well
Comes with two handles for both right and left-hand grip
Comes with rubberized soft grip handles
Perfect for DIYers and professionals
We Disliked:
A bit expensive
1400 watts of power consumption
It can get hot if you use it for a long time continuously
---
The Runner up
Bosch 06016A00F0 GKF 550 Palm Router: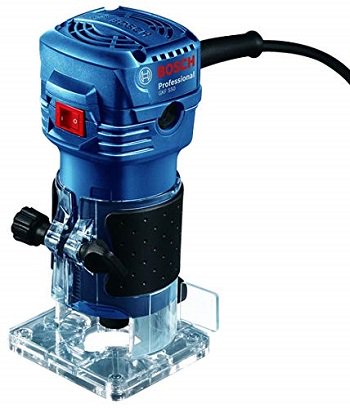 Now, we are talking about another Bosch product. The first one was on the expensive side. So, that might not be a good choice for all of us. Because some of us have some budget constraints. So, if you are in a tight budget yet want a wood router machine from Bosch. Then you have the Bosch 06016A00F0 GKF 550 Palm Router.
This might be a cheap option compared to other Bosch wood routers. But, don't let that fool you. In fact, it is a great wood router with some unique features. For instance, this wood palm router is only 1.4 Kg. So, you can use it comfortably for a long time continuously without tiring out.
Also Read: Best Demolition Hammer in India
Plus, this one comes with a 550-watt motor. That implies that it is a very powerful machine. But at the same time, it will not consume so much power as other wood routers from Bosch. So, if you want an affordable yet trustworthy wood router from a well-known brand, then this is a great choice.
Key Features:
Comes with robust and protective switch design
It requires 550 watts of power
It has optimized tool balance and the accuracy control feature as well
The base and the body is connected firmly which keeps a consistent routing height
We Liked:
Comes with a slim housing design, so you can operate this machine with one hand
Will not overheat after long use because of the optimized airflow design
Very good build quality

We Disliked:
Comes with a 6mm collet, you might need to buy a 6.35mm collet
---
A Good Option
Dongcheng 350W Wood Trimmer: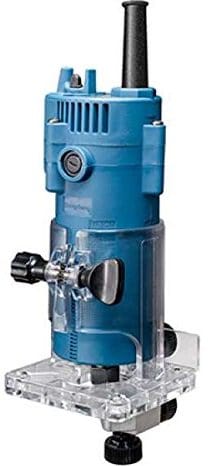 Are you looking for a lightweight wood router machine? Then we have got the Dongcheng 350 W Trimmer for you. It weighs only 1.8 Kg. So, it is perfect for normal woodworking. It has a maximum cutting diameter of 6.35 mm. You can use it for curve cutting, pattern processing, and surface finishing and so on.
Also Read : Best Electric Lawn Mower in India
Although this is a wood router machine, you can also use it for wood veneer, plastic sheeting and more. It has a maximum speed of about 30,000 rpm. So, your work will be faster than ever. It comes with a 6mm collet. So, if you want to use a 6.35mm bit, you will have to get a 6.35mm collet. Overall, if you work on DIY projects, it could be a great addition to your repository.
Key Features:
Comes with few additional accessories
It needs 350 watts of power
It weighs only 1.8 Kg
The very powerful motor can achieve a maximum speed of 30,000 rpm
We Liked:
No learning curve, easy to use even for beginners
Very lightweight makes it very easy to operate
lower power consumption
Very much affordable compared to other wood router machines

We Disliked:
The ON/OFF switch is placed in a somewhat inconvenient place
The Budget King
DCA AMP02-6 Trimmer 6.35mm 350W: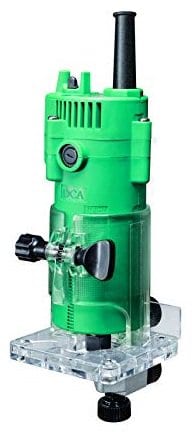 Now, we will be talking about another very cheap wood router machine available in India. This product comes from DCA. Yes, most of you might not be familiar with this company.
But, they have been offering a lot of power tools in the market for a while. And, most of their products have got positive feedback from the customers.
Also Read : Best Laser Distance Meter Range Finder in India
Similarly, the DCA AMP02-6 Trimmer also has a good reputation among professional woodworkers. It is a very lightweight router machine. Also, it needs only 350 watts of power.
So, if you are searching for a wood router for normal day to day use then this could be a great option. However, it can also handle heavy works occasionally.
Key Features:
The stator and the armature is made of 100% copper
The maximum cutting diameter of these wood router is 6.35mm
It needs only 350 watts of power to operate
We Liked:
Very easy to handle due to the low weight
Comes with a transparent base so you can easily see the work-piece

We Disliked:
No official warranty
Not suitable for heavy-duty work
Our Final Verdict:
In recent days, the usage of power tools has increased by a lot. It is because of their ease of use. Also, using an electrical tool can save a lot of time compared to using a manual hand tool. So, if you want to buy a wood router machine, then you have made a great decision really.
Also Read : 10 Best Air Blowers in India
However, the problem arises when you need to find out the best one for yourself. That is why we have jotted down this article after a thorough research session about different wood router/trimmer machine. And, here, we have included 4 machines in total. Yes, there are a lot of these machines are out there.
But, we can assure you that these are the most advanced and powerful wood router available in the Indian market right now. As a result, you can't go wrong with choosing either of them. So, go and get the one which meets your most demands from this list. And, if you have any questions or feedback, you can leave them in the comment section.
---
Also Read:

Best Pressure Washers For Cars & Home

Laser Distance Meter Range Finder in India