GF63 is a budget offering from MSI that tends to lean more on the portability side of things as its key selling point.
The budget gaming laptop space has been recently overcrowded unlike never before with a lot of good and great offerings from Lenovo, Asus and other brands alike.
But none of the brands seem to focus on bringing sub 2kg laptops instead the other brands focus on bringing best specs for the price. This strategy kind of works as you might see the TUF A15 is one of the best-selling gaming laptops ever as it tends to bring great specs for the price.
The GF63 on the other hand is considerably thinner and lighter than other laptops in this segment. But being thinner and lighter does not come without its caveats.

Let's take a look at what the GF63 brings to the table in this review.
Also Read :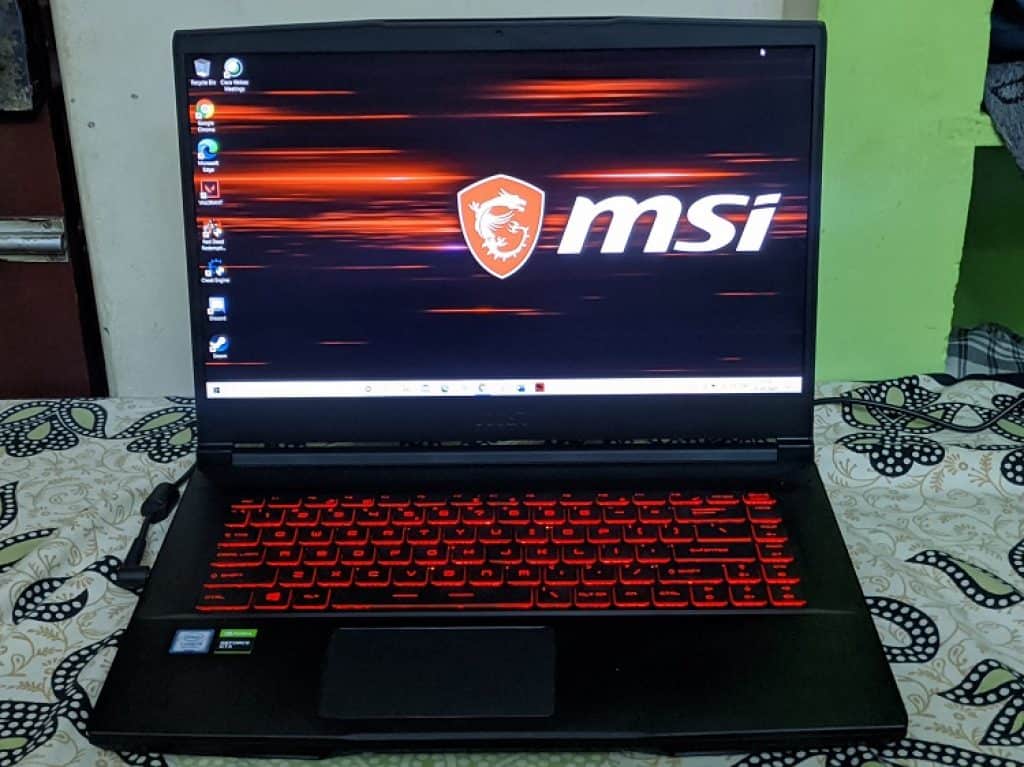 Specifications:
Here are the specifications of the variant I have reviewed.
| | | | | | |
| --- | --- | --- | --- | --- | --- |
| Screen size | 15.6 inch | | | | |
| CPU | i5 – 9300h (4 Cores, 8 threads) | | | | |
| GPU | GTX 1650 Max-q | | | | |
| Resolution | 1920 × 1080 (FHD) @ 60hz | | | | |
| Screen Type | IPS Level | | | | |
| Weight | 1.86 kg | | | | |
| Ram | 8GB DDR4 @ 2666MHz | | | | |
| SSD/HDD | 512 GB NVME SSD | | | | |
| Battery Size | 51-Watt hours | | | | |
The laptop comes in only one colour (Black) and comes with Windows 10 home pre-installed along with some MSI apps that you may or may not find useful.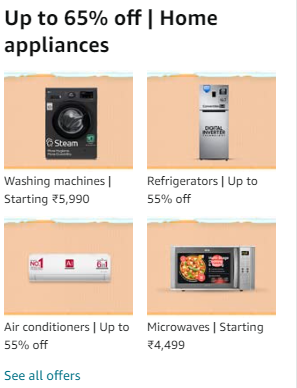 You can buy the exact same variant at Flipkart. At the time of purchase this variant has been priced at Rs 57,990.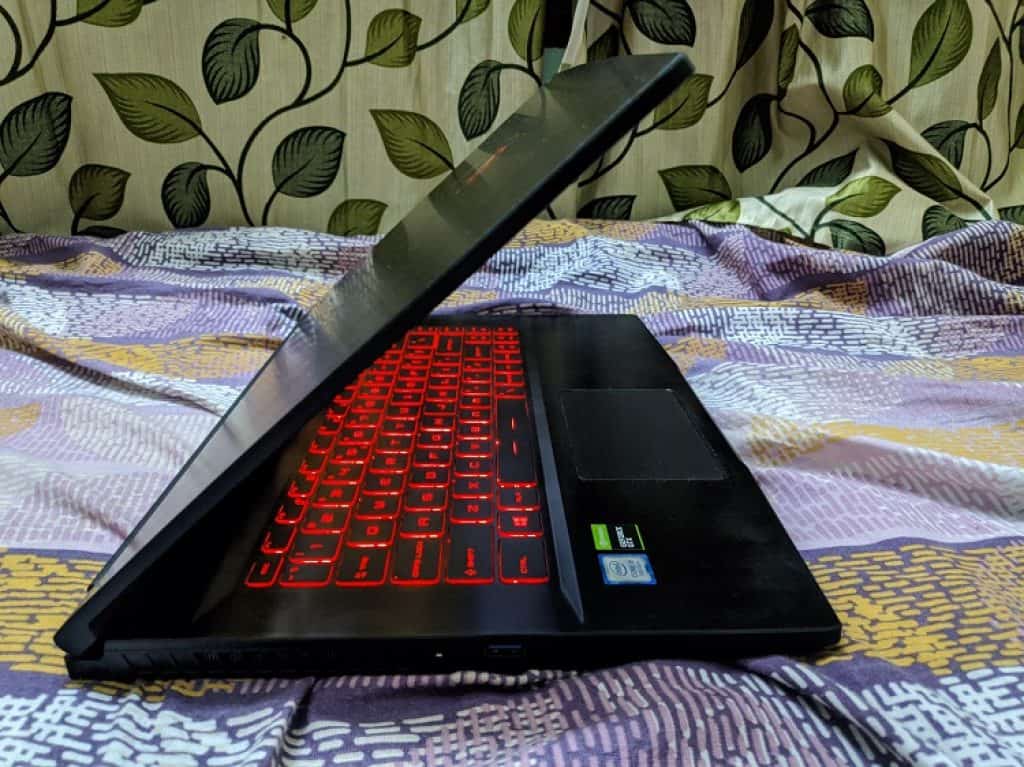 Preface:
As you know the deciding on a laptop is not just about the specs on paper. There is more to a laptop than the specs. Here are some of the most important aspects that the laptop is assessed on.
Build Quality and Design.
Display.
Keyboard and Trackpad.
Speakers.
Battery Life.
Performance and Thermals.
The closest competitor to this laptop is the TUF A15 and is used as a spot of context for the comparison.
Also Read :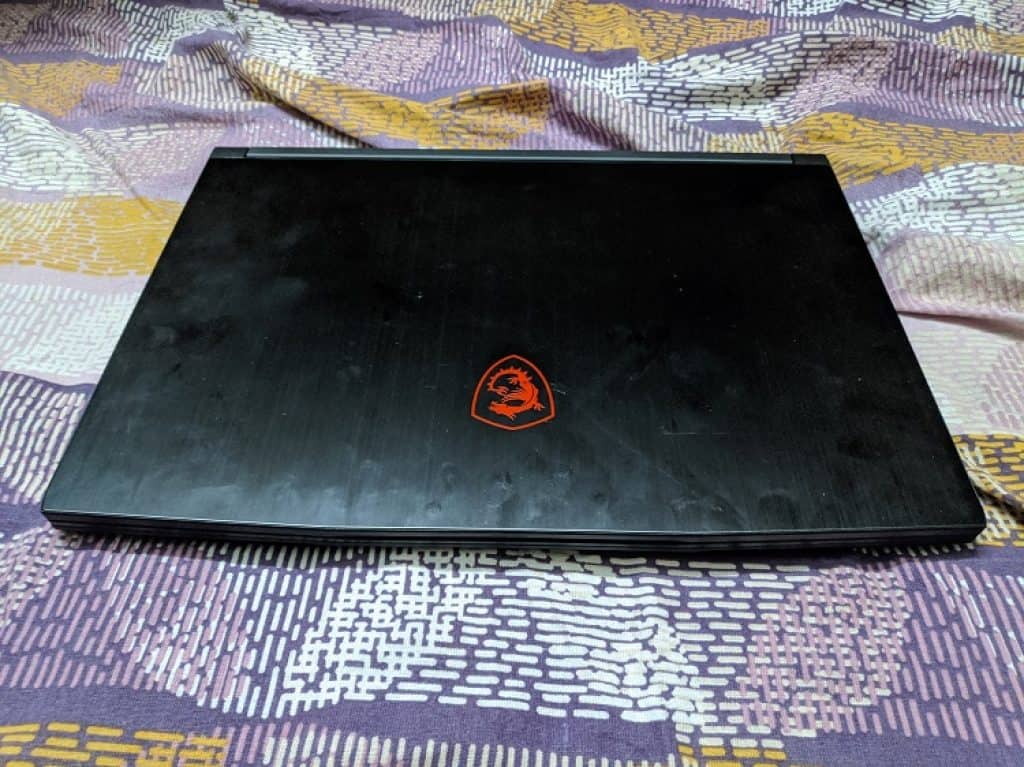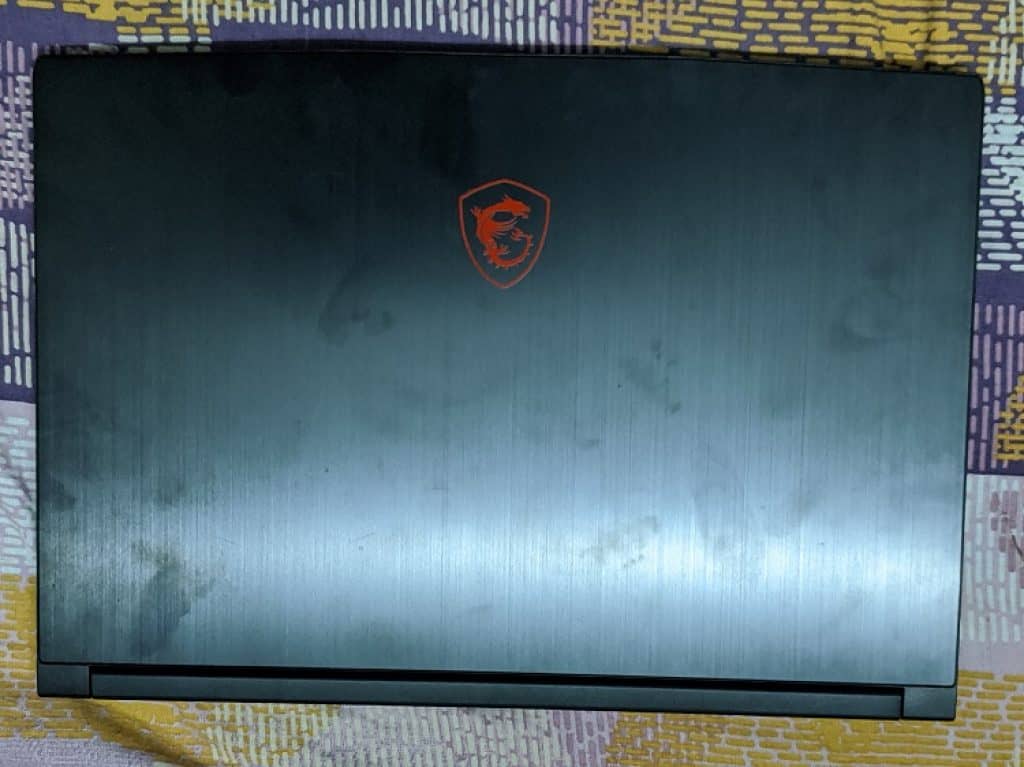 Build Quality and Design:
Build quality and design are one of the more important aspects of a laptop and is a primary concern for people who are always on the move.
Design : Rather Clean Looking
On the first glance GF63 is rather clean looking with just a logo on the centre. But on a closer inspection you would not mistake the GF63 for anything other than a gaming laptop.
It does not come with a lot of angles and lines rather it comes with the age old red and black colour accents that were used in laptops 3 years back.
Also, the vents are present only on one side making it a cleaner laptop all around. If you could come across the red and black colour scheme GF63 is a decent looking laptop. It certainly looks better than the TUF A15.
GF65 comes with an adequate number of ports including an ethernet port and will satisfy most users.
Also Read : Gaming Laptop Buying Guide: How To Choose the Right Laptop?
Build Quality : Plastic and Metal
GF63 is built with a mix of plastic and metal and the construction is pretty good without any creaks and cheap feeling parts. The lid and keyboard deck are metal whereas the bottom is plastic.
There is a noticeable amount of screen wobble and screen flex but nothing concerning. The keyboard deck also flexes in with application of some force again nothing to a concerning amount.
But the material used for the keyboard palm rests feels like an afterthought and doesn't feel like the brushed metal like MSI claims.
The weight distribution is also spot on and you can easily open the laptop with a single hand without having the base to lift up.
There is a certain advantage to the build- Weight. Due to the plastic and metal combination GF63 weighs significantly less at 1.86 kgs than its counterparts that weigh around 2.3 kgs. It is also pretty thin at around 21mm which is decent but nothing amazing when considered the laptop has thin on the name. Nonetheless all of this combined makes the laptop better for portability.
Despite lower weight the distribution is spot on and you can easily open the laptop with a single hand without having the base to lift up.
Overall, GF63 thin is a well-built laptop especially for the price.
Also Read : 10 Best Laptops Under Rs. 35,000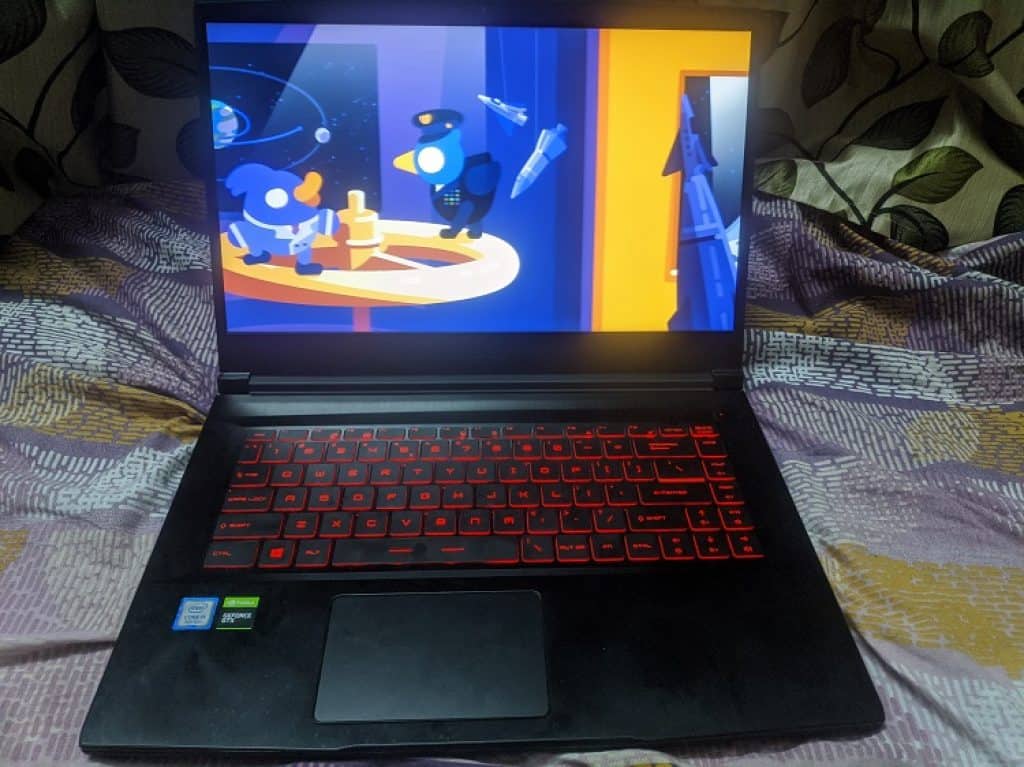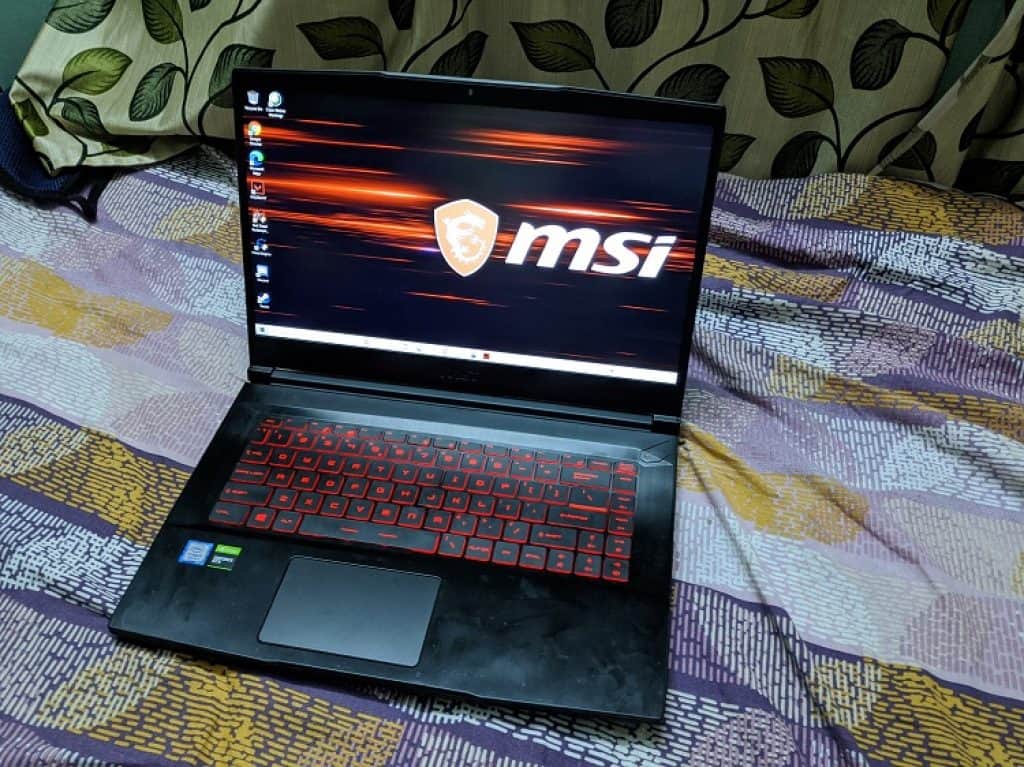 Display : Perfectly Average For The Price
GF63 comes with a sizable 15.6-inch display and a refresh rate of 60hz. The maximum brightness is also average at around 250 nits. So, it might be challenging to view outdoors but for indoor usage it should be fine.
The colour accuracy is also nothing to tout of as it has around 66% sRGB and 45% NTSC. It is acceptable as it is a budget gaming laptop and its competitors come with similar display specs.
Refresh rate is not that big of a concern as the GPU would not be able to push over 60 frames in most of the games but the response times are also not ideal for fast paced games
Bezels are thin on the sides and are pretty thick on the top and bottom but the bezels could have been thinner. Thankfully it comes with a webcam on the top though it is of poor quality.
Display of the GF63 is perfectly average for the price and does not come with any major issues.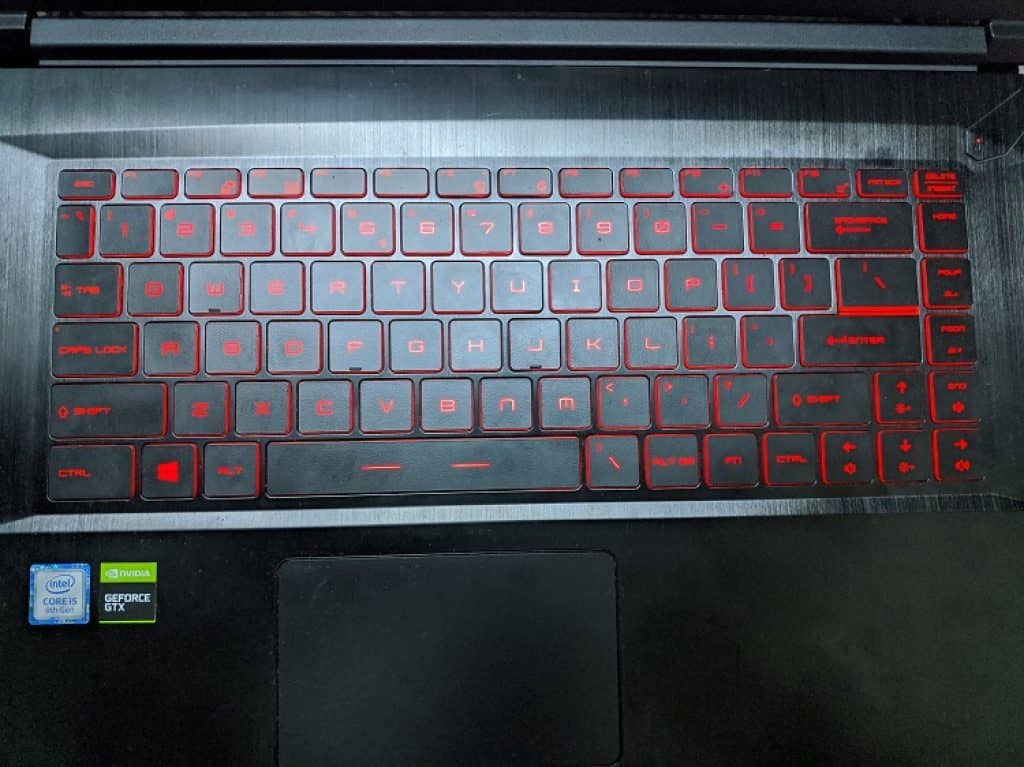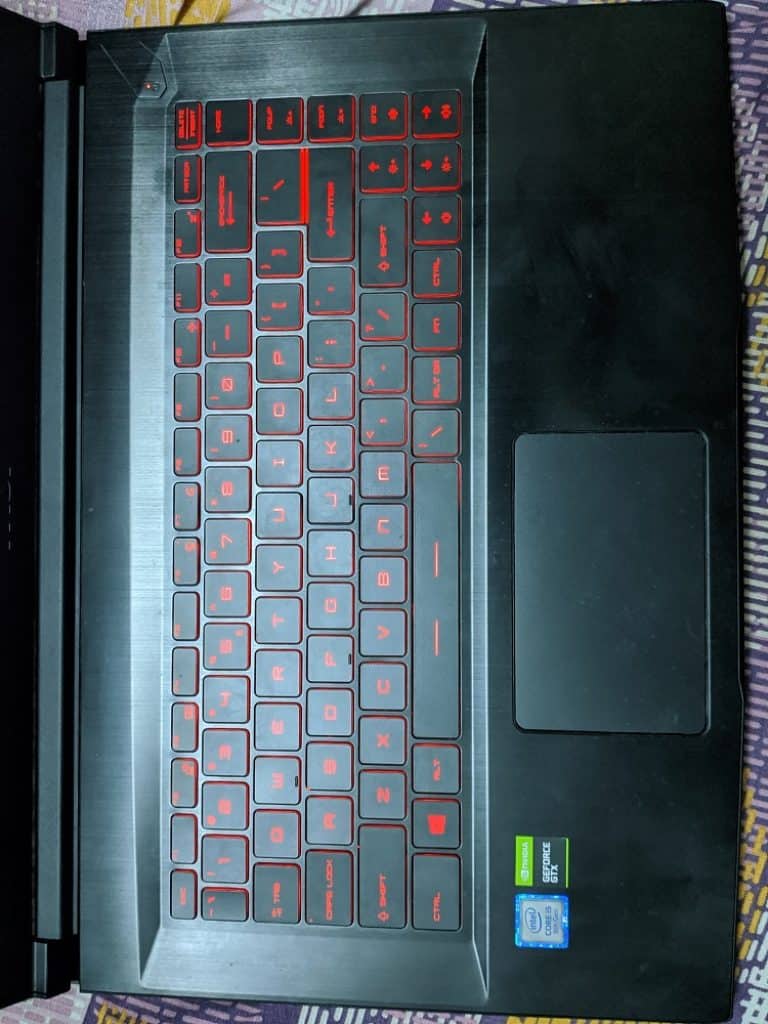 Keyboard and Trackpad
Keyboard and trackpad are essential for a good experience with the laptop and the GF63 does excel in one of the two.
Keyboard: Very Tactile
Keyboard is a strong point of the GF63. I did not have any expectations before using the keyboard but it is excellent. MSI says it has partnered with steel series for the keyboards and I must say it has worked quite well.
The keys feel very tactile without too much travel. To compare it with the TUF A15 which has much higher key travel and linear feeling keys the GF63 has a short throw with much better key feedback. The keys feel pretty much the same as my Zephyrus G14 but with much less key travel. Layout of the keyboard is 75% without a numpad.
Keys are coloured red which I'm not really a fan of and the backlighting is also red colour which you can turn on or off with a keyboard shortcut.
The palm rest area does not feel good and feels exactly like the TUF A15 despite the claims of brushed metal. It is definitely an area MSI could have done better.
Trackpad: Not Great
Trackpad in the GF63 is exactly the opposite to its good keyboard. It is bad. If the trackpad in the TUF A15 was bad the one on the GF63 is worse.
For starters the trackpad is quite small. Surface of the trackpad is plastic which could have been good if the surface was a bit different rather it feels sticky and rough.
The windows gestures don't work well and the accuracy is also awful. Adding to this the integrated left and right clicks feel bad and there is a considerable amount of trackpad wobble.
I would strongly recommend you using an external mouse for anything other than casual scrolling.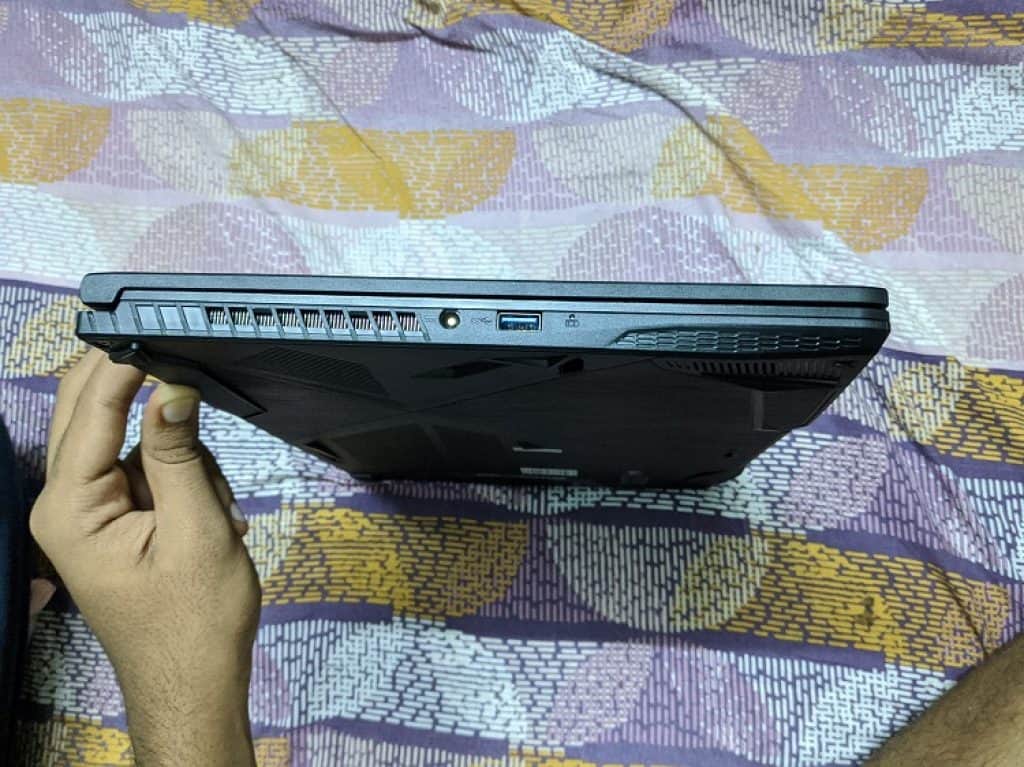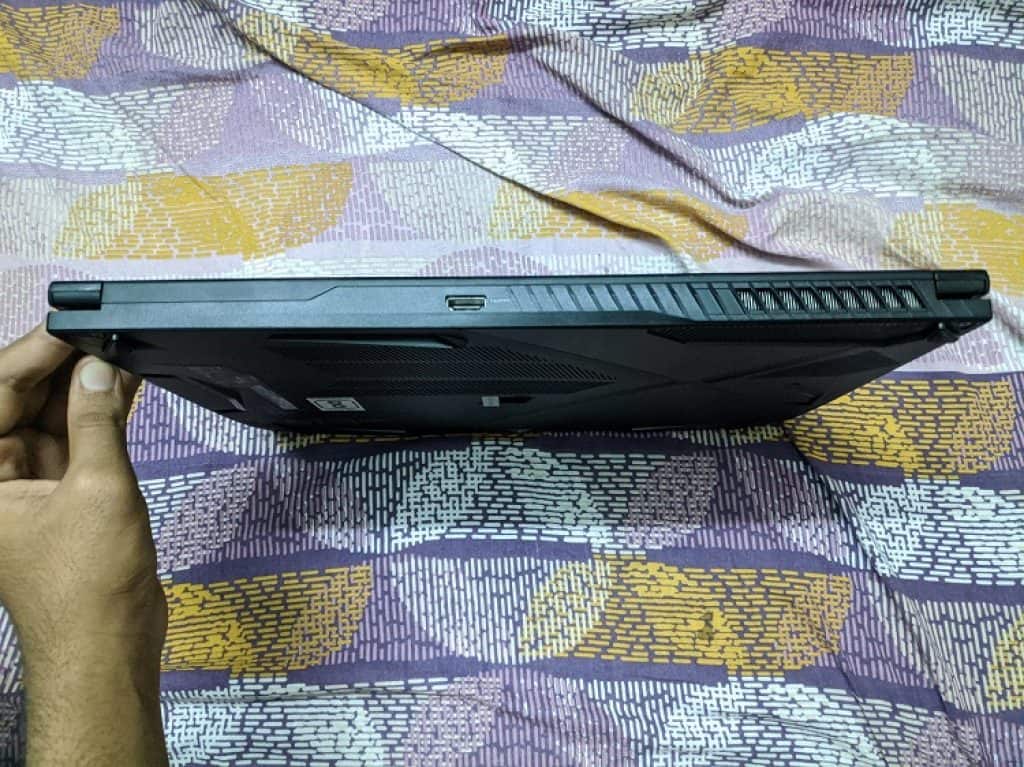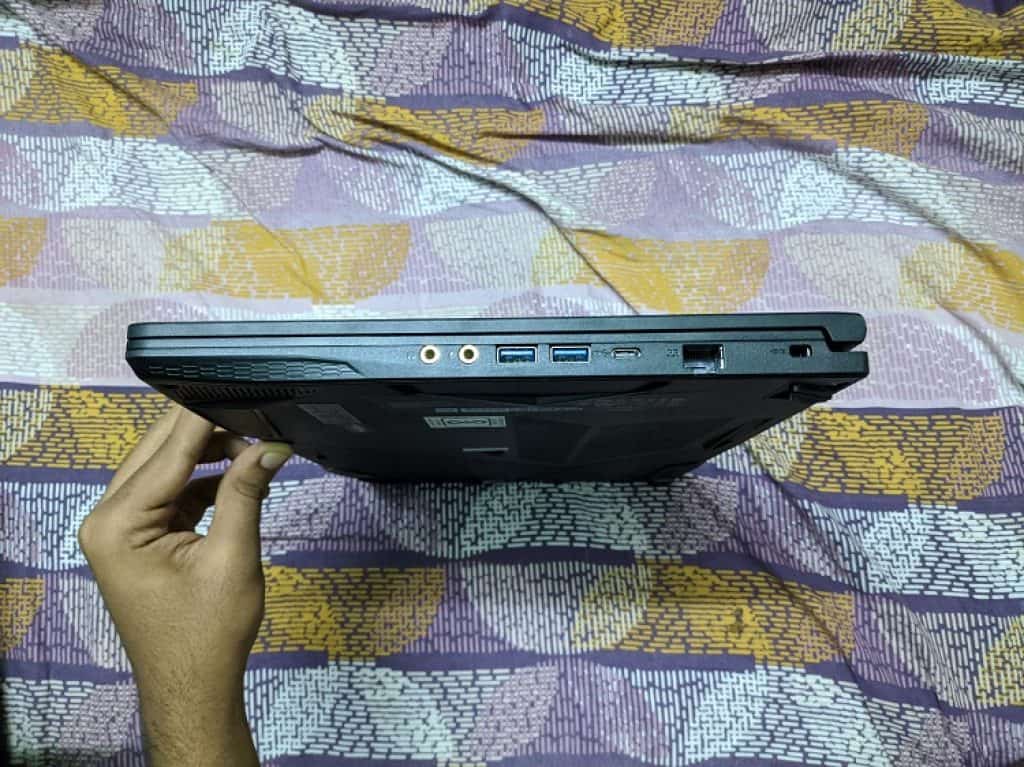 Speakers: Nothing Amazing
The GF63 comes with two 2W speakers. The speakers are nothing amazing. These 2W speakers fire downward providing decent levels of volume without any/low amounts of bass.
There are no outrageous claims like TUF A15 with their speakers and the GF63 performs like an average pair of gaming laptop speakers.
You could get away with casual listening but headphones are a must for longer sessions especially when you are gaming as you could find the volume a bit lacking.
MSI claims that it has audio boost with the build in AMP for headphones but to be frank I didn't notice that big of a difference and most of you won't unless you use higher grade studio headphones.
Battery Life: 4-5 Hours
GF63 comes with a 51-wh cell that MSI claims would last 7 hours. It is a bit of an optimistic measurement.
Under normal use you should easily get over 4 hours of battery life and can hit 5 if you are super conservative with the screen brightness and other power-hungry stuff.
Having an intel means it is not quite as power efficient as competing Ryzen 4000 series laptops which will have better battery life provided the same battery capacity.
If you plan to do gaming on battery it would last around 1 hour but the performance would be limited on the battery and you would not get the same performance as you would get when you plug into the wall.
Let me put it out as a public disclaimer and it applies to all the gaming laptops.
You should not do gaming on battery.
For first the performance will be seriously limited and the max frame rate you would be able to hit is just around 30.
Second, gaming on batteries puts a serious amount of strain on the battery for an extended period of time making it degrade faster.
This is due to the result of excessive heat produced in the process. Extensive strain on the battery for long periods of time is not good for the health of the battery in the longer run.
Just make sure that you game while you are connected to a power outlet.
Also Read :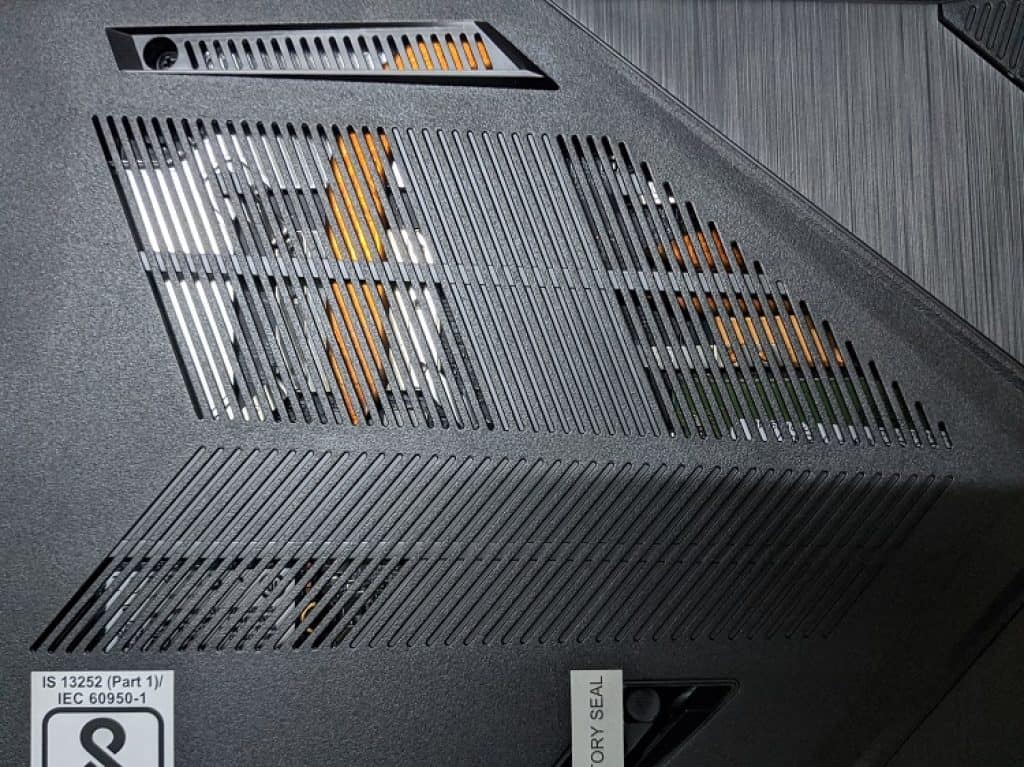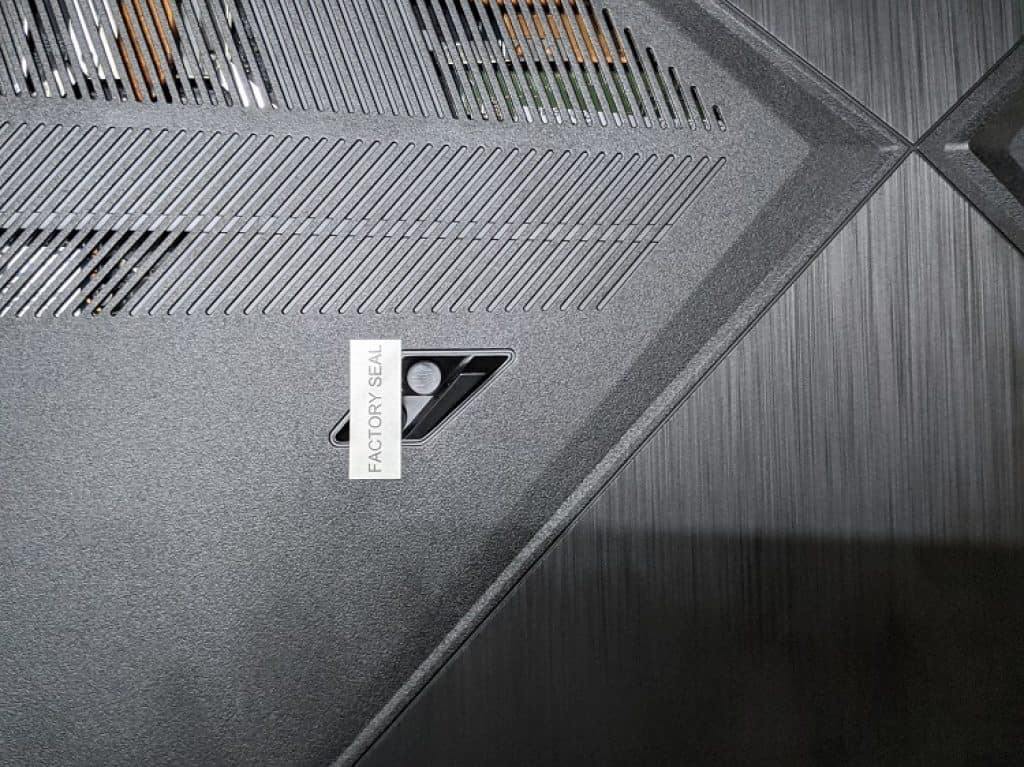 Performance and Thermals:
The specs on paper are not that impressive as the competing laptops tend to have better specs. As the GF63 is considerably lighter and thinner laptop than the competition compromises had to be made in fact to bring the weight and thickness down.
Performance:
GF63 comes powered with a 9th generation core i5 processor with 4-cores and a GTX 1650 Max-Q with 4GB VRAM that operates at a rated maximum of 35W compared to the regular GTX 1650 which operates at 50W.
The performance is nothing to run home about but performs decently under circumstances. 4-core processors in 2021 can be a bit underwhelming when the competition comes with better 6-core processors. i5-9300h performs more than well enough for the regular day to day tasks and has good single threaded performance.
Multi-threaded performance is the area where it lacks just due to its lack of cores. It can sure be felt in areas like heavy video rendering and exporting.
Gaming performance remains unaffected and there might even be a ever so slight advantage in games over the AMD 4000 series processors.
The Max-Q variant of the GTX1650 is around 20-25% less powerful under worst case scenarios. Generally, expect 5-15fps difference in games across different settings between this and the vanilla GTX1650. You might have to drop a few settings to medium and low to hit consistent frame rates in the more demanding titles.
This model of GF63 comes with 8GB single channel RAM clocked in at 2666Mhz. So, expect better framerates with dual channel RAM configuration.
I have tested its gaming performance with 3 titles. Red Dead Redemption 2, Valorant and Horizon Zero Dawn.
Valorant runs flawlessly mostly hovering around the 100fps mark as it is a less demanding title. RDR 2 ran around 30fps with noticeable dips below 30fps occasionally. HZD did run better than RDR 2 at around 40fps with no major frame rate dips.
Esports titles will run even over the screen refresh rate but you might struggle to get good framerates with games such as RDR 2.
You could easily get its lack of performance in newer AAA titles such as cyberpunk by customising the settings and choosing lower graphical fidelity.
The 512GB SSD is decently fast and provides around 1500mbs of read speed and takes around 7 seconds to boot. There is also a 2.5-inch hard drive bay to add additional storage. The Wi-Fi chip doesn't support newer 6Ghz bands but comes with Bluetooth 5.0 support.
Thermals:
Thermals on the GF63 are kind of a miss but it is not that concerning. For starters it has only one fan unlike most other gaming laptops that have two. But for a laptop with a single fan, it does good. Thanks to the extensive vents for intake. You could clearly see the heat pipes and fans from the openings in the bottom panel.
The fan can get loud during an extensive gaming session so using headphones will help. There is almost no heat felt on the keys as the fan is located in the corner and the heat is felt only above the WASD keys.
The CPU temps usually hover over 80 degree Celsius and easily hit 90s over extended sessions or with warmer ambient room temperature. GPU temps are sometimes over 80 degree Celsius which is also not that good for longevity. But there are no reports of failed laptops and MSI is known for making some reliable thermal management so it should not be that big of a concern.
I would generally not recommend anyone to buy single fan gaming laptops but MSI seems to have done a pretty good job and performs almost similar to the dual fan gaming laptops like the TUF A15.
Also Read: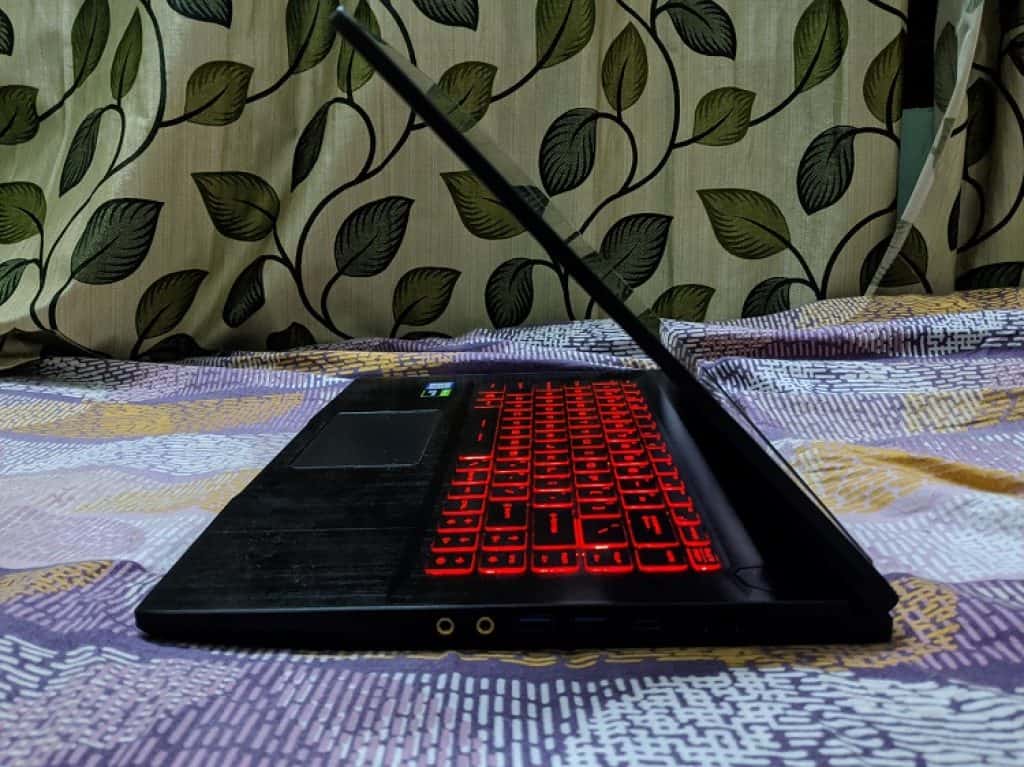 Miscellaneous Stuff:
MSI has a lot of inbuilt apps which some might find useful and some might find useless. You can customise the fan profiles and performance in the dragon centre app which is pretty easy to use.
MSI app player that is inbuilt can be used to run android apps and games as it is developed with bluestacks emulator and is optimised for MSI laptops.
Unlike other laptops with 1 year of warranty as default MSI provides 2 years of warranty. Weirdly enough there is a factory seal on the bottom to discourage user upgrades. There are no statements on if removing or breaking the sticker might void the warranty but it is definitely a thing to keep your eyes on.
MSI is known to have subpar after sales service. So, make sure that you have a MSI service centre near the area you live to avoid any further hassle.
Also Read : Best Gaming Laptops in India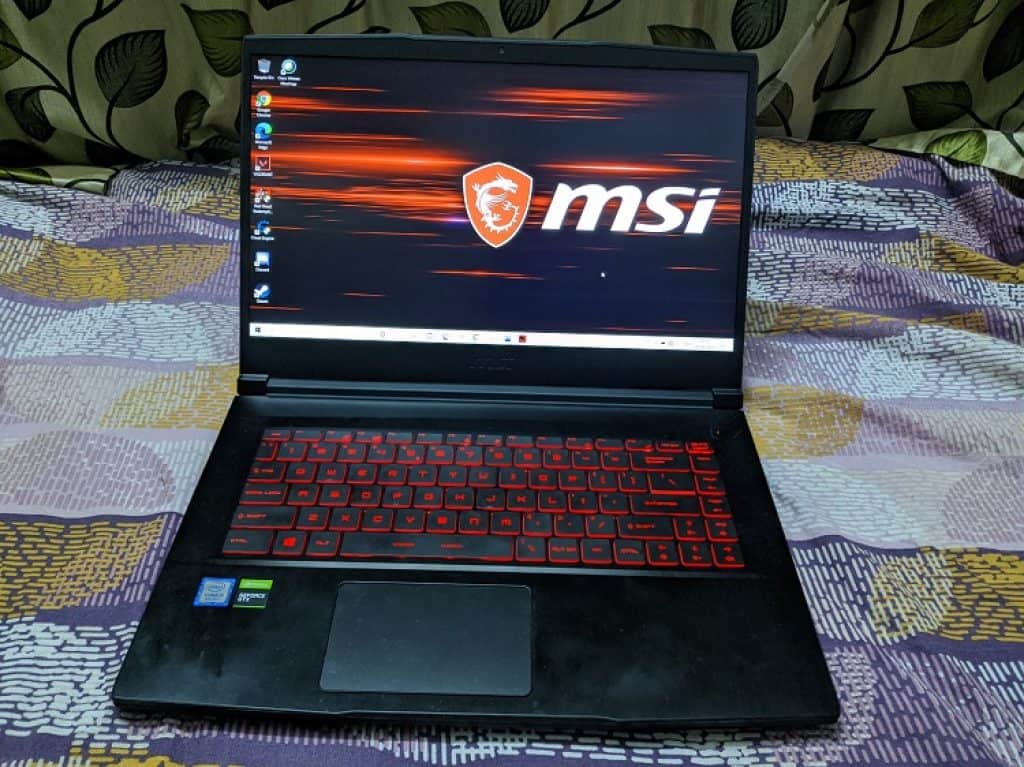 Verdict:
The ultimate question is- Should you buy the GF63?
To make the decision simple, If you are someone looking for a 15.6-inch gaming laptop and want something that is considerably lighter than the competition to travel within a reasonable budget the GF63 thin is a great choice.
For others, you can find a better performing laptop for a similar or bit more price but MSI is known to give some crazy discounts during the sales.
This means that you could have an even better deal for this laptop if you wish to wait for the sales.
Also Read :
Best Power Supply Units For PC in India
Budget PC built Under Rs 25,000
10 Best Gaming Headphones Under Rs. 5,000
Best Gaming Laptops Under Rs 50,000
Best Gaming Desks Tables In India
7 Best Flight Game Controllers in India
Gaming Monitors Under Rs 20,000 in India
Best Internal SSD for Laptop/PC in India
---
Written By – Nirunjan Kumar
Infinite monkey theorem. I love how things work.
Tryna make things work! Instagram