Recently updated on May 21st, 2023 at 06:55 pm
Bathing a baby can often present a source of stress for parents, as there are numerous concerns to address, such as maintaining appropriate water temperature, preventing accidental drowning, and ensuring overall safety. Fortunately, there exists a simple and effective solution to alleviate these worries.
By utilizing a reliable and secure baby bathtub, parents can streamline the bathing process while mitigating potential mishaps. The market offers a wide array of bathtub options, ranging from cutting-edge, technologically advanced models to straightforward yet spacious designs, catering to diverse preferences and needs. With such a diverse selection available, parents can confidently choose a bathtub that suits their requirements, providing a safe and enjoyable bathing experience for their baby.
Precautions To Take For Baby Safety While Using Bathtub
Here are a few things to keep in mind to ensure the safety of your baby when using a bathtub:
Always check the water with your forearm to ensure that it is not hot for your baby's skin.
Don't leave your baby in the bathtub alone, without any supervision.
Make sure that you clean the bathtub properly after every use and dry it thoroughly as well.
Sanitize the bathtub before bathing your baby every time.
One of the most important things to keep in mind when bathing your baby is to choose a good baby soap. Johnson's Baby Soap is one of the best products in the market that is chemical-free and enriched with Vitamin E as well. This baby soap forms a rich, creamy lather that cleanses your baby's skin and keeps it soft and supple. It is mild and will maintain the moisture of your baby's skin after every wash.
---
Best Baby Bathtubs in India
To make it easier for you to choose the right bathtub for your baby, we have prepared this guide and listed down the top 10 baby bathtubs that you can purchase in India.
1. ODELEE Baby Anti Slip Big Plastic Bathtub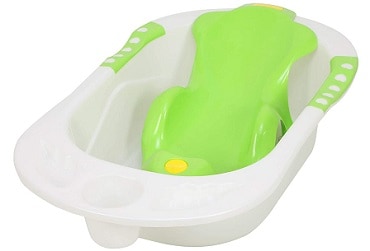 ODELEE Baby Bathtub is a small yet stylish product that offers comfort and safety for bathing your baby. This bathtub comes with a soap case and an anti-slip grip that makes taking baths a lot of fun for your baby. Moreover, this bathtub with a sling can be placed in an adult tub or a bathtub and is quite easy to carry around with you.
With the two anti-slip armrests and a non-slip surface, it is easy to bathe your baby and you don't have to worry about them slipping inside the bathtub as well.
Read : Best Diapers For Baby
It also includes a water level indicator to prepare the bath and a simple drainer to let the water out and clean it effectively.
---
2. R For Rabbit Smart Baby Bathtub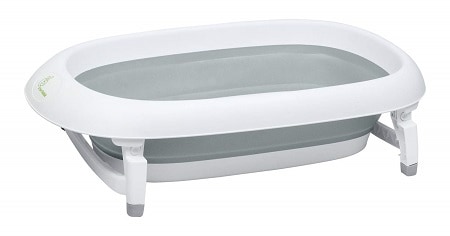 If you are looking for a high-tech baby bathtub then R for Rabbit Baby Bathtub is the perfect choice for you. This product has been made from the best plastic material that is strong and follows the safety design as well. And one of the best things about this bathtub is that it can be adjusted to meet the growing needs of your baby. So, you can easily use it for a baby that is in 0-3 years of the age range.
It can easily be folded to store in small spaces as well and is a great choice for traveling too. This bathtub has strong, anti-skid legs so you don't have to worry about the bathtub slipping as well.
Also Read : Best Baby Carrier in India
Most importantly, the bathtub comes with a temperature sensitive plug to let you know whether the water is too hot for the baby or not.
---
3. Sunbaby Spacesaver Foldable Baby Bathtub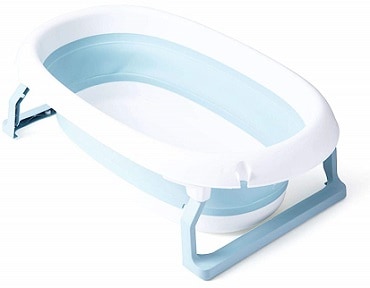 A great foldable baby bathtub, Sunbaby Spacesaver Bathtub is EN71 certified and made from strong and durable material which is lead-free and BPA-free. As a result, this bathtub is safe for your baby's use and can be used for the ages 0 – 12 months. Easy to expand, the product is collapsible so it can be stored in thin gaps when not in use as well.
Due to its small, folding design, the bathtub is easily portable and is ideal for small apartments as well. Another great thing is that this bathtub can be expanded on one side so that the baby's body is fully supported during the growing years.
Read: 10 Best Baby Strollers
And with the anti-slid stands, the bathtub is properly supported and you can drain the water using the drain plug to clean it quickly as well.
---
4. Baybee Megatub Baby Bathtub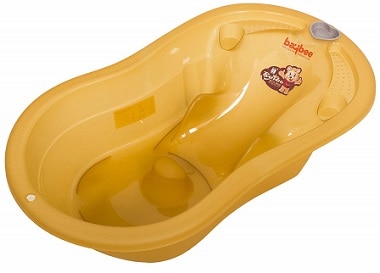 Baybee Megatub Baby Bathtub is a basic model that has been specially designed keeping the safety of your baby in mind. This bathtub can be used up to 2 years as it offers both reclining and sitting position to suit your baby's needs.
Furthermore, the bathtub has a unique anatomical shape to support the legs and the forearms and ensure that your baby stays in the position and doesn't slip when bathing in it.
This is a spacious bathtub that offers two bathing positions and will keep your baby safe and warm during a bath.
Also Read : Best Tricycle for Kids in India
There is also a drain plug that makes it easy to drain the water and clean the bathtub after every use.
---
5. Anokhichaabi Combo-Intex 6 Ft Inflatable Bathtub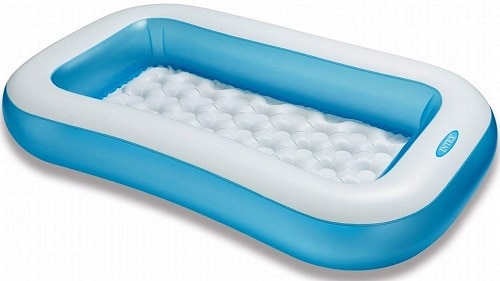 Anokichaabi Intex Inflatable Bathtub is perfect for kids between 0 and 7 years and is a great way to bathe your baby. This bathtub is safe and durable and has a smooth base that will ensure your baby is comfortable when enjoying a bath in it. It is extremely easy to clean as well, you just need to wipe it with a cloth.
And the best part is that you can deflate this bathtub and store it in a small, compact space when not needed.
Also Read : Best Baby Bottle Sterilizers in India
It also includes an Intex pump that makes the task of inflating the bathtub easier for you.
---
6. Stokke Flexi-Bathtub Set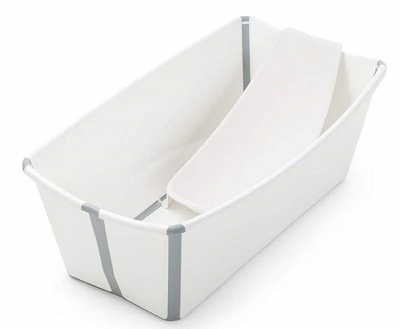 Stokke Flexi-Bathtub Set is a uniquely designed bathtub that is suitable for newborns and kids up to 3 years of age. This bathtub set is lightweight and foldable so it is easy to carry around and store in small spaces as well. Moreover, the bathtub perfectly accommodates your baby's body and offers separate new-born support as well.
The bathtub comes with an anti-slip surface to ensure that your baby stays safe while bathing in it.
And the best thing is that it includes a heat sensitive plug that changes color according to the water temperature to let you know whether the water is hot for your baby or not.
---
7. Safe-O-Kid Premium Quality Bathtub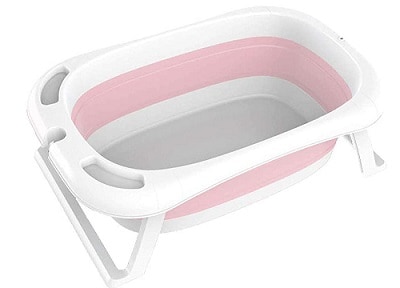 Are you looking for a premium bathtub? If yes, then Safe-O-Kid Premium Bathtub is the perfect product for you. Made from TPE and PP material, this bathtub is completely safe for your baby's skin and is BPA-free as well. It is durable and has an anti-slip design on the bottom along with 4-point support that ensures that the tub doesn't slip or collapse.
There are also storage grooves on both the sides to keep your baby's toiletries. And once you are done with the bath, you can hang this bathtub using the attached hook to hang it to dry as well. The bathtub is foldable and can be taken on trips as well.
Also Read : Best Convertible Baby Car Seats
Finally, with the smart temperature sensor, you will be alerted if the water is too hot and the sensor can also be used as a clock or a timer.
---
8. Intex Inflatable Kids Bathtub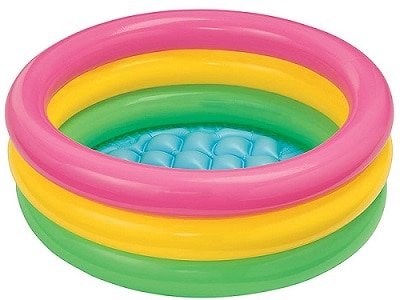 If you are looking for a budget-friendly product, then Intex Inflatable Kids Bathtub is a great choice for your home. This baby pool features three colorful air rings and a soft inflatable floor that ensures your kid's comfort while enjoying a bath in it.
Perfect for kids up to 2 years old, this baby pool can be easily folded and stored in a small space as well. So, if you want an effective, space-saving baby bathtub then this is the perfect choice for you.
---
Things To Consider While Buying Baby Bathtub?
Here are a few things that you should look out for when planning to buy the right bathtub for your baby:
Types of Baby Bathtubs
The first thing that you need to do is decide on the type of baby bathtub that you wish to purchase for your home. There are several types of bathtubs available such as standard bathtubs, convertible bathtubs, inflatable bathtubs, foldable bathtubs, and so on.
A standard bath is inexpensive and is a good option for babies. The smaller bathtubs usually have a contoured design and can be placed inside a sink to bathe your baby. A few bathtubs are larger in size and are perfect to be placed in an adult-sized bathtub to bathe your baby.
Also Read : 10 Best Baby Walker in India
On the other hand, a convertible bathtub comes with adjustable positions and is perfect for a growing baby. So, you can use the same bathtub for your newborn and toddler.
Another good option is a foldable bathtub that is easy to collapse and store in small spaces. This type of bathtub is perfect for parents who live in smaller homes and apartments.
An inflatable bathtub is a convenient and portable bathtub that can be deflated and carried with you on your trips as well. Such types of bathtubs often include an attached hook, suction cup, etc. to make it easier for you to dry the bathtub. The only drawback is that you need to inflate these bathtubs before every bath of your baby.
Finally, there is also a Spa or Luxury tub that will ensure a spa-like bathing experience for your baby. This type of bathtub comes with a lot of fancy features such as motorized water jets, a mini-shower nozzle, calming vibrations, and so on. These types of bathtubs are expensive, slightly heavy, and battery-operated.
Consider the Bathtub Size
The next important thing that you need to consider is the size of the bathtub. Make sure that you choose a bathtub of the right size and the one that isn't too huge for your baby. If there is a lot of space to slide around, then there are chances that your baby can drown in the water. However, a bathtub that is too small can be uncomfortable and slightly hard to clean up.
Look for a Temperature Indicator
Another important feature to consider in your bathtub is a temperature indicator to know if the water is too hot or too cold. This type of indicator comes in the form of a color-changing drain plug or a sticker. A few temperature indicators are digital as well that can be easier to use.
Make sure that the water is around 100 degrees Fahrenheit and do test the water once with your forearm as well.
Choose a Bathtub with Anti-Skid Surface
Once you soap up your baby, it becomes quite slippery inside the bathtub which is why it is important to opt for an anti-skid surface. This will keep your baby in place and prevent any accidents as well.
Select an Overhanging Rim
Also, choose a bathtub with an overhanging rim as it will be easier to carry the bathtub filled with water. It will also ensure that your baby doesn't get scraped when you put him in the bathtub or take him out.
Easy to Clean
Another important thing to consider is the ease of cleaning of the bathtub. Choose a bathtub with fewer crevices as it will be easier and quicker to clean. Also, try to opt for a bathtub that will easily dry and clean and reduce the chances of mildew or mold forming on it.
Also Read :