It is crucial to emphasize the significance of maintaining proper hygiene and fostering a bond with your baby through daily bathing. Nevertheless, bathing a baby is not as simple as it may seem. Care must be taken to ensure that the bath does not overly dry the baby's delicate skin while simultaneously providing a fun and refreshing experience.
Selecting the appropriate baby soap with suitable ingredients tailored to your baby's skin is paramount. With the multitude of options available in the market, it can be overwhelming to make the right choice among baby soaps.
But fret not! We have compiled a comprehensive guide to assist you in selecting the best baby soap for your precious bundle of joy. This article encompasses detailed insights on how to make an informed decision when choosing a baby soap, accompanied by a curated list of the finest baby soaps available for purchase in India.
.

Best Baby Soaps in India
1. Johnson's Baby Soap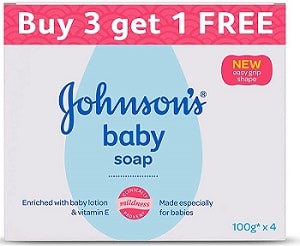 One of the most trusted baby soaps in the market, Johnson's Baby Soap is being used by parents for a long time now. This brand focuses on producing products that suit the sensitivity of babies and is extremely gentle and soothing on baby's skin. Since it is made up of 1/4th body lotion along with vitamins, it is moisturizing and good for your baby.
And it contains several natural ingredients as well that help in keeping the skin soft and smooth. One of the best things about this baby soap is that it contains no chemicals or preservatives and has been dermatologically tested so it is safe for the baby's skin.
Moreover, it produces a medium amount of lather and is enriched with Vitamin E so it keeps the skin moisturized and hydrated properly.
---
2. Himalaya Gentle Baby Soap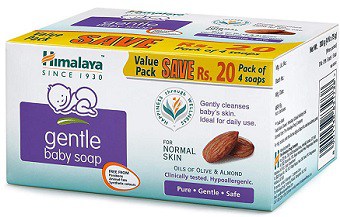 Another popular baby soap is the Himalaya Gentle Baby Soap that uses limited or no chemicals in the products. This baby soap is made up of olive oil and almond oil which help in gently cleansing the skin and keeping it soft and hydrated. Perfect for babies with normal skin, this baby soap is free from parabens, animal fats, and artificial colors that are usually the cause of skin rashes and allergies.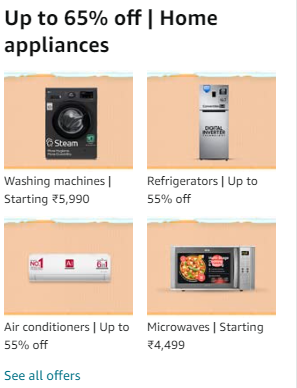 The olive oil used in this soap is full of Vitamin E so it prevents chafing and leaves your baby's skin soft and nourished. It also has soothing properties and the almond oil helps in moisturizing the baby's skin, leaving it softened.
---
3. Sebamed Baby Cleansing Bar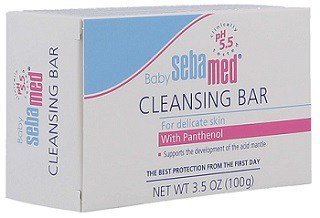 One of the best bathing soap choices for babies, Sebamed Baby Cleansing Bar is mild and gentle and is perfect for babies with sensitive skin. This cleansing bar works well on babies with skin problems and pimples as it has skin tolerance property. Also, the ingredients like amino acids and sodium cocoyl glutamate maintain the softness and health of the baby's skin.
While this bar is effective in cleansing the baby's skin, it doesn't leave the sky dry and retains the moisture after every wash. Vitamin E also soothes the skin and makes your baby's skin supper while the pH 5.5 of the soap ensures that the baby's skin doesn't dry out. So, you can easily use this bar regularly to bathe or wash the face of your baby and not worry about skin dryness or other issues.
---
Also Read:

10 Best Tricycle for Kids in India
4. Mother Sparsh Plant Powered Natural Baby Soap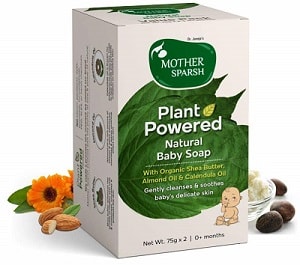 We have tested this Soap at our work place , Mother Sparsh was kind enough to send us a unit. We loved the fragrance and the soothing effect of this baby soap.
This soap does leaves the skin smooth , being gentle on the skin so we can preserve most of the natural oils of skin. I will definitely recommend this product to mom's for babies as the soap is enriched with Shea Butter , Calendula Oil , Almond Oil and various vitamins. These oils and ingredients also provide antifungal , anti-inflammatory and antibacterial properties to the baby soap.
Check Cheapest Price : Amazon
---
5. Mamaearth Moisturizing Baby Bathing Soap Bar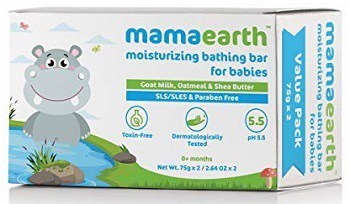 Made from natural ingredients, Mamaearth Moisturizing Baby Bathing Soap Bar is 100% toxin-free and soap-free so it is perfect for the delicate skin of babies. Using a tear-free formula, this bathing soap bar makes bathing fun for your baby as it doesn't irritate the eyes during the bath.
The soap contains ingredients such as goat milk, shea butter, oatmeal, and coconut-based cleaners that keep the skin moisturized and cleansed. Goat milk is effective in moisturizing dry skin while shea butter takes care of skin conditions like eczema to leave behind healthy skin. Oatmeal is a natural cleanser so it removes dirt, oil, and dead skin cells and treats the dry skin.
With a pH of 5.5, this soap is gentle on the skin and perfect for regular use.
---
6. Mee Mee Nourishing Baby Soap with Almond & Milk Extracts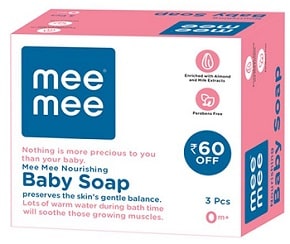 Mee Mee Nourishing Baby Soap is an organic product that is safe for regular use on newborn babies. This soap is free from harmful chemicals and preservatives so you can easily use it regularly. Made from the richness of aloe vera, almond, and milk extracts, this soap keeps your baby's skin moisturized and healthy.
Aloe vera improves the elasticity of the skin while the milk extracts and almond moisturize and hydrate the skin. As a result, this soap is quite gentle on the skin and has a lot of benefits. It also has a mild fragrance so it doesn't cause any irritation and the tear-free formula used in the soap ensures that your baby doesn't end up crying during the bath.
---
7. Santoor Baby Soap with Milk Cream, Saffron and Almond Oil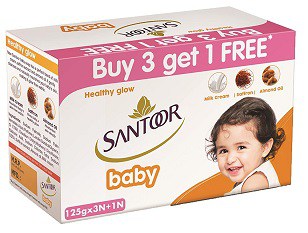 Santoor is a popular Indian brand which is known for its amazing, natural products that are safe to use. And Santoor Baby Soap is one such product which is mild and made up of natural ingredients. The main ingredient used in this soap is the milk cream that keeps the skin of your baby adequately moist and nourished from within.
It also uses almond oil which works well on all skin types and deeply moisturizes the skin. Saffron, which is rich in calcium and vitamins, is also used in the soap to keep the skin of the baby clean and healthy. Also, it has a mild fragrance that doesn't cause any irritation and is free from chemicals or preservatives. So, this soap is perfect for babies.
---
8. Chicco Baby Soap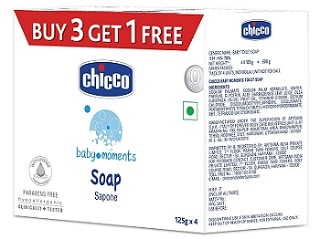 Chicco Baby Soap is a nourishing baby soap that is enriched with glycerin that keeps your baby's skin properly moisturized. It also contains aloe vera and olive fruit oil that help in cleansing the skin while keeping it soft and smooth. The hydrating property of this soap is effective in treating dry skin while getting rid of the dirt from deep within the skin.
Also, aloe vera has soothing property so it not only hydrates your baby's skin but protects it from outside damage as well. A 100% vegetarian product, this soap is free from parabens, alcohol, dyes, SLS, artificial colors, etc. which makes it completely safe for use on the delicate skin of a baby.
---
Also Read:
9. Pigeon Baby Milky Soap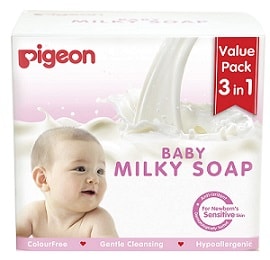 If you are looking for a bathing soap that works well for super sensitive baby skin then Pigeon Baby Milk Soap is the perfect product for you. Free from chemicals, this soap has been designed to protect your baby's skin and keep it as soft as possible. The soap contains milk that softens the skin, moisturizes it, and improves the complexion as well.
This soap is also made up of shea butter, Vitamin A, and Vitamin E that treats dry skin and skin irritations, leaving your baby with soft and supple skin. The soap is free from sulfates, detergents, etc. so it is safe for regular use as well.
---
10. Mom & World Natural Baby Soap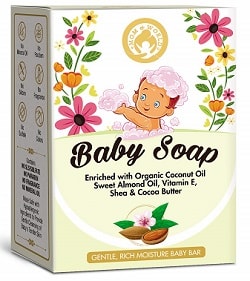 Mom & World Natural Baby Soap is a chemical-free soap that is made from natural plant oil and plant butter that can effectively cleanse the skin and keep it healthy. This baby soap is a handmade product that is enriched with coconut oil, sweet almond oil, Vitamin E, and shea plus cocoa butter. Shea and coconut butter are effective in regenerating skin cells to protect the delicate skin and offer relief from dry skin.
Vitamin E protects the skin from outside damage while the organic virgin coconut oil, sweet almond oil, and castor oil moisturize the skin and prevent chaffing, dryness, or irritation. This is a toxin-free soap so it is gentle on your baby's skin and will ensure that your baby has a relaxing and comfortable bath.
---
11. Softsens Baby Natural Bar Soap with Honey, Orange & Natural Almond Oil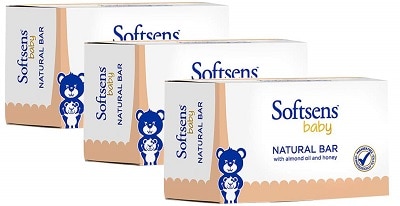 Softsens Baby Natural Bar is another product made from mostly natural ingredients that will leave your baby's skin soft and supple. Formed using ingredients such as natural almond oil and pure honey, this soap bar cleanses and nourishes the skin and retains the moisture in your baby's skin. So, the skin of your baby is soft, smooth, and hydrated.
This soap is also lightly fragranced so it doesn't cause irritation and is well-suited for all skin types. It also has a rich, creamy lather that helps get rid of the grime and dirt but is free of harmful chemicals and alkali so it is safe to use.
---
Also Read:

Best Baby Bottle Sterilizers in India
Factors to Consider when Choosing a Baby Soap
Here are a few top factors that you should consider when looking for the right baby soap.
Consider Existing Skin Conditions of your Baby
One of the most important things to consider is the condition of your baby's skin. While most babies are born with healthy skin, their skin is usually sensitive which is why you should purchase products with natural ingredients.
On the other hand, there can be a few babies with skin problems such as rashes, eczema, etc. so for them, you need to choose baby soaps carefully. Look for soothing ingredients that will moisturize the baby's skin and will reduce the skin troubles.
For babies with sensitive skin who have skin problems such as eczema or suffer from allergies, it is best to purchase hypoallergenic baby soaps.
Choose a Soap with Safe Ingredients
An important thing to remember is that always choose soaps with safe and natural ingredients. Natural ingredients are gentle and mild on your baby's skin and reduce the chances of dryness, irritation, and so on.
A few safe ingredients to consider in baby soap are glycerin, honey, oatmeal, butter, etc. Apart from that, you can also choose baby soaps that are made from oils such as coconut oil, jojoba oil, sweet almond oil, olive oil, and so on.
These ingredients can help in moisturizing your baby's skin to keep it soft and healthy for a long time.
Avoid Soaps with Too Many Chemicals
Apart from looking for safe ingredients in a soap, you also should make sure that the product uses a limited amount of chemicals in it. Check the ingredients list for fewer chemicals and no added preservatives.
Make sure that you buy a soap that is free of parabens, sulfates, and artificial fragrance and will won't cause any harm to your baby's skin. Also, avoid soaps with too much lather as they tend to have lots of chemicals that can be harmful to your baby's skin.
Check the pH of the Soap
Another important thing to keep in mind is to always choose baby soaps with pH neutral ingredients. A pH-balanced soap will be gentle on your baby's skin and will not cause any irritations that normal soaps will. As they grow, their skin will develop an acidic layer to protect them from bacteria but you should always use pH-balanced soaps on their skin.
Choose Fragrance-free Baby Soaps
While it might be tempting to purchase a baby soap that smells heavenly, it is not advisable for babies. Most baby soaps have fragrances made from essential chemicals which can cause skin irritation for your baby.
Moreover, babies have sensitive skin that absorbs all ingredients. So, prolonged exposure of these chemicals can affect their central nervous system and lead to a lot of complications later in life.
Go for a Tear-Free Soap
Finally, make sure that you buy a soap that uses the tear-free formula as this will make your baby enjoy the bath instead of crying during it. Check the label of the soap as most products have the tear-free formula mentioned over there to help you choose.
Also Read:

Best Baby Massage Oils in India

Best Convertible Baby Car Seats