Load shedding is a daily occurrence in India. You can't escape from this in reality. We know how hard it is to deal with this thing on a daily basis. However, even if you can't resolve the issue entirely, you can try to improve the situation partially.
To do that, you can take advantage of different power backup technologies. There are a lot of technologies which can help you in this dire situation. And, in our opinion, inverters can be a great solution in terms of usability and affordability.
Also Read : Best Inverter Battery in India
Now there are a plethora of inverters available in the Indian market. Some are great while others are terrible in quality. So, it is very hard to find the sweet spot when you are searching for an inverter for your home or office. That is why we have done the research on your behalf.
From that research, we have selected a few high-quality inverters for you. In this post, we will talk about their features, positives, and negatives. In short, we will be reviewing the best inverters in India.
Comprehensive reviews of the best inverter in India:
So, if you are ready, then let's proceed…
---
1. Luminous Zelio+ 1100/1700 Home Pure Sine wave UPS Inverter: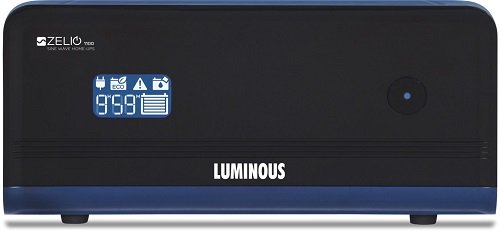 For Indians, Luminous is a familiar brand. They are popular for offering various power appliances. This is also an inverter from Luminous. If you like this brand, then you will love this inverter as well.
First of all, there are two variations of this inverter. The first variation comes with a rated power of 756 watts (model 1100) and the second version comes with a rated power of 1200 watts (model 1700). The price of the Luminous Zelio 1700 is a bit higher than the Zelio 1100 model.
Also Read: Best Pressure Washers For Cars & Home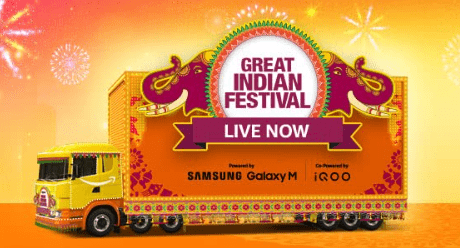 However, both of these models come with a lot of similar useful features. For instance, you will get short-circuit, overload, deep discharge protection and more.
This inverter can be used with a single battery. It can support various types of batteries such as tall tubular, VRLA, and even Flat Plate ones.
However, you will need a battery with 12V capacity. Otherwise, it won't work.
This inverter can be used to power up multiple electric appliances at once. For instance, you can power up 3 tube lights, 4 CFL lights, 1 LED TV, 3 ceiling fans, and 1 air cooler, etc. simultaneously with this inverter. This is just an estimated example.
Also Read: Best Demolition Hammer in India
In reality, you can use it for more appliances at once. Again, with the Zelio 1700 model, the capacity would increase as usual. That is why, if you want an inverter from a reputed company with great features and functions, the Luminous Zelio+ 1100 would be a great choice.
Key Features:
Comes with 32 bit DSP processor which makes the transition from DC to AC faster than usual
Comes with a LED display which shows the battery backup time in hours and minutes
Comes with an electrolyte level indicator, it will glow when it needs battery water
The input mains are protected through MCB
Comes with bypass switch as well
It is a sine wave inverter which means it is almost noiseless
Pros:
Comes with various protection system in place; which are deep discharge, overload, reverse polarity, short-circuit protection
No humming sound from sensitive appliances because of the sine wave output
Comes with 2 years of warranty and 10 days of refund offer available
It weighs only 10 kgs
Nice looking and sturdy build quality
Cons:
The bypass switch is manual
---
2. APC Home UPS 850VA Sine Wave BI850SINE: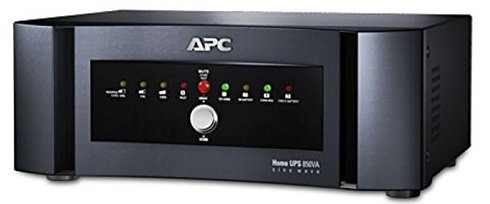 APC is renowned for its affordable electrical appliances. The APC 850VA Sine Wave inverter is a great example of that. With this inverter, you are getting a lot of helpful features.
It is designed especially for the Indian weather and power conditions. On top of this, it is short-circuit proof, child-proof and even shockproof.
This is pure sine wave inverter. So, it would be perfect for any sensitive electrical appliances.
Also Read: Best Cordless Drill In India
You can use it to power up demanding appliances like TVs, home theater, gaming equipment, stereo sets, and air cooler, etc. At the same time, it can be used as a backup for normal things like lights, and fans.
But, using it to back up your computer would be the best use for this one. It can easily handle appliances which require power up to 500 watts. It comes with LED indicators which show the power status of the inverter.
You can use this inverter with tall tubular or flat plate batteries which have 80 Ah to 180 AH rating. Remember you can only use one battery at a time with this. So, if you want a cheap yet trustworthy inverter then you can go with this one.
Key Features:
It is suitable for single 12V inverter battery
Perfect for Indian harsh climatic condition
The output power capacity is 850V/500 watts
Battery recharge is extremely fast and backup is longer
Shock-proof, child-proof, and perfect for using as a PC UPS
Comes with LED indicators for battery level and so on
Pros:
Very easy to setup
Supports almost all the popular types of batteries
Very lightweight and slim; won't take much space
Comes with 2 years of warranty
Pure Sine wave inverter decreases the humming noise from particular appliances
Comes with a trip switch at the back
Cons:
500 watts output might not be enough for big houses
---
3. Exide 850Va Pure Sine wave Home Ups Inverter – Digital Display: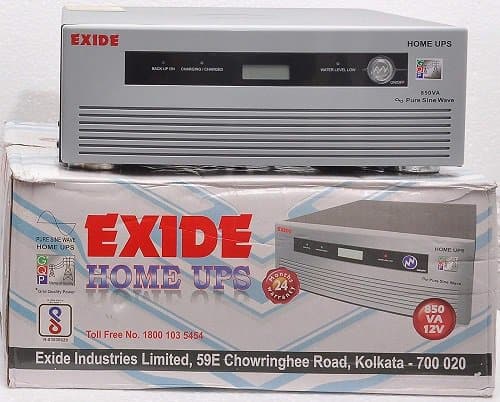 Exide is another famous company in India. They produce products, especially for the Indian market. Matter of fact, they know all the ins and outs of the Indian market. So, their products are very popular among Indian people. For example, the Exide Pure Sine Wave inverter (850Va) is manufactured keeping the challenging power condition of India in mind.
Also Read : Best Laser Distance Meter Range Finder in India
This is a UPS inverter. That means it will start as soon as the main electricity is cut off. So, it is perfect for backing up PCs. That way, you will not lose any important task at hand.
This one comes with an LCD display which displays the state of the charge and voltage of the battery. Along with that, it also shows the input voltage and the actual load connected in percentage. Plus, it also shows warnings if there is an overload or if the fuse is blown.
This inverter comes with DSP technology. That implies that it has a fast microprocessor which ensures that you are getting grid quality power even when there is a power outage.
Also Read : Best Electric Lawn Mower in India
The Auto Sense Intelligent Control or ASIC technology can automatically understand the battery power condition. And, it can also adjust the charging current according to that. Overall, if you want a versatile UPS inverter in India, then the Exide 850Va Pure Sine wave Home Ups Inverter can be a top pick.
Key Features:
Comes with necessary protections
Comes with copper transformer
Digital LCD display for showing all the necessary information about the inverter and the battery state
Built-in cooling fan, which operates automatically when needed
Comes with a bypass switch
Digital signal microprocessor
Pros:
Shock-proof, short-circuit proof and robust build quality
Very cheap price for the value
Comes with 2 years of warranty
The change over time is less than 10 ms
Has 3 indicators for understanding the mode and battery water level from distance with just a look
Compatible with almost all types of tall tubular and flat plate batteries
Cons:
The bypass switch is not automatic
---
4. Microtek Ups Sebz 1100 VA Pure Sine wave Inverter: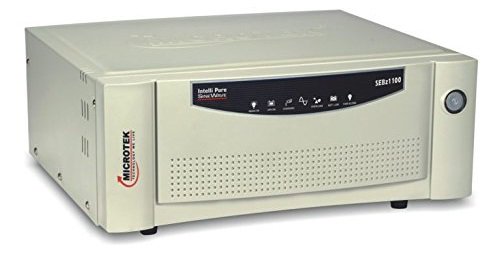 Microtek has been a household name in the power appliance industry in India. So, it is very likely that you have heard their name once in a while. Microtek has a lot of quality electrical appliances in the market. However, the best thing about their product is affordability.
They don't put a high price tag on their products like some other big names in the industry.
Also Read : Best Orbit Sander in India
The Microtek 1100Va pure sine wave UPS inverter is also a very reasonably priced inverter.
Even though the inverter is cheap, it has some attractive features. For example, it can output power of 760 watts. And, it comes with a smart overload sensing technology.
So, there will be no problem during high voltage fluctuation. It supports almost all kinds of batteries which has a power rating of 100Ah to 180 Ah. You can use only one battery with this one at once. It is a pure sine wave inverter, which means it will not create any annoying noise while powering up fans and other sensitive appliances.
Key Features:
Comes with a voltage selection switch, you can operate it either in a standard voltage range of 100V~300V or narrow voltage range of 180Volts to 260 Volts
Comes with built-in protection for deep discharging or overcharging batteries
Comes with overload and short circuit protection
The output power is 760 watts
Rated capacity is 960Va
The display
Pros:
Comes with 2 years of official warranty
Can operate in multiple voltage ranges
Energy efficacy is > 80%
Supports a wide range of batteries from the Indian market
Pure sin wave technology makes it noiseless
Cheap price yet high-quality product
Cons:
No bypass switch
There is no indicator for showing battery percentage
They put the wrong VA rating in the name. The capacity is actually 950Va, not 1100 VA
Our Last Words:
If you want a great inverter for your particular demands, we believe you can find one from the list above. We have included some of the best inverters in India in this list. All these options are different from one another based upon the features and specifications. We have chosen them in this way so that everyone with a peculiar demand can get their best fit from here.
Also Read : Best trimmer wood router machine in India
Choosing the perfect inverters depends on the requirements of yours. So, we can't recommend just one of these inverters to you.
However, if we had to do that, then we would recommend the Luminous Zelio+ 1100/1700 Pure Sine Wave UPS inverter for sure. We hope this review article will make it easier to choose your preferred inverter.
And, don't forget to leave a comment in the comment section if you have any further suggestions or queries.