Autumn season has just arrived and it is that time of the year when your backyard is filled with fallen leaves from the tree. To get rid of this shower, you must invest in an air blower that will make it much easier to clean those leaves that would've been using manual means.
Not only for this season, but you can also make use of air blowers in places like workshops or garages where dust and debris are a common sight and they require to be dealt with almost immediately.
Also Read : 10 Best Tyre Inflators in India
Plus, in house settings, you can use air blowers to clean certain corners that can't be reached using a mop or other similar cleaning solutions.
Things like computers cannot be cleaned using liquids, making air blowing the only option for cleaning dust off of them. Many modern air blowers also support vacuuming feature which makes them much more versatile.
Here are the top 10 best air blowers that you can buy in all price brackets.
1. Bosch GBL 620W Air Blower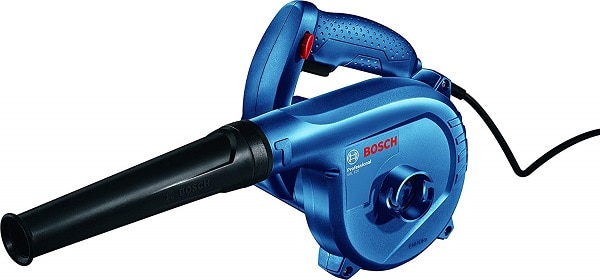 1) When it comes to mechanical tools, it is hard to find any better products than the ones offered by Bosch which are probably the best in their respective categories.
2) This Bosch air blower is a sturdy product that weighs about 1.7 Kg and combines its 620W power to provide an air flow of 3.5 cubic metre per minute.
3) The included cord measures 2 metres which makes it easier to move around with while it is tethered to a wall socket.
Also Read : 10 Best Top Load Washing Machines in India
4) This versatile, light-weight product can be used for multiple tasks including cleaning an air conditioner, ventilation grills, and leaves or dust.
5) Its ergonomic handle allows for its use for an extended duration without fatigue. Above all, the company has ensured an easier serviceability for this blower.
Best Buy : Amazon 
---
2. Black + Decker 530W Air Blower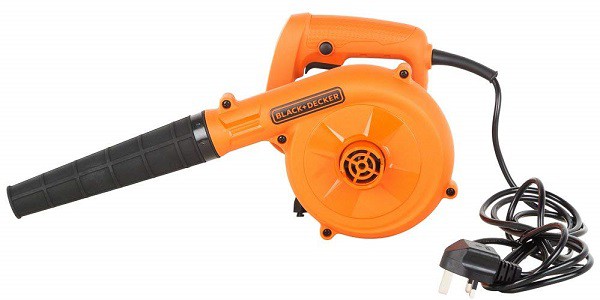 1) One of the most versatile air blowers in this list, this product is capable of doing multiple things – blow and suck air.
2) For the suction function, the company has included a bag attachment that can fit on the blower's side to collect the dirt.
3) Both the functions are aided by its powerful 530W motor that is designed to last much longer than one'd expect.
Also Read : Bosch GSR120-Li Cordless Drill Driver Review India
4) With the inclusion of a 3-metre-long wire, you can easily move the blower around. Moreover, the blower has built-in features that allow for continued usage causing minimal fatigue to the user.
5) Fatigue is also reduced as the product has a well-balanced weight. The front nozzle is detachable, giving it much better portability. It comes with a 6-month warranty.
Best Buy : Amazon 
---
3. Stanley 600W Air Blower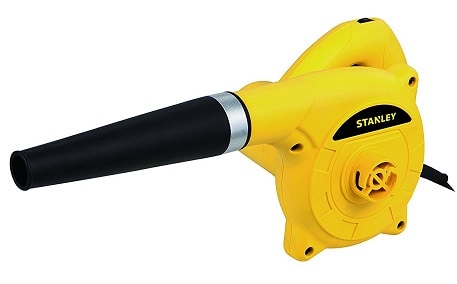 1) The dual-purpose air blower from Stanley can act as both blower and a vacuum cleaner packed inside a compact body that is much easier to handle than some conventional dedicated vacuum cleaners.
2) Its motor supports variable speed, meaning you can choose the air flow speed as per your need and according to what you're doing.
Also Read : Best Angle Grinder In India
3) Using the lock-on button, you can use it singlehandedly and it also enhances your safety.
4) The included nozzle is made out of rubber that allows it to enter even the tightest corners without any hassle.
5) It comes with a sturdy 600W motor that is optimised to offer a better airflow that ultimately increases the blower's efficiency. You can get this product with a warranty of 1 year.
Best Buy : Amazon 
---
4. Cheston 700W Air Blower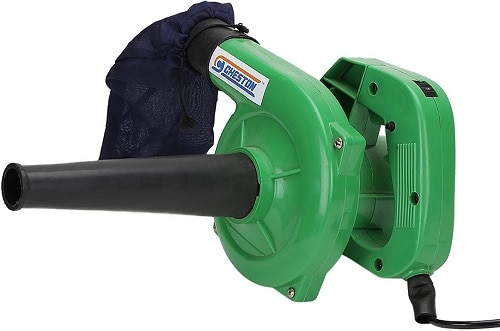 1) Made out of plastic, this air blowers offers a very lightweight making it easy to carry around and operate with a single hand.
2) A pair of outlets is included in this blower, of which, you need to attach the main nozzle on one end and a collection bag on the other.
3) Variable speed trigger has also been provided which you can use when needed.
Also Read : Best Electric Lawn Mower in India
4) A significantly more powerful motor of 700 watts has been included in this blower that aids in faster cleaning of the area.
5) The motor offers a 16,000 RPM, which is just incredible for a blower of this size.
6) A lock on the switch comes included helping in one-hand usage. On its purchase, you will be given a 6-month warranty.
Best Buy : Amazon 
---
5. Planet Power 650W Air Blower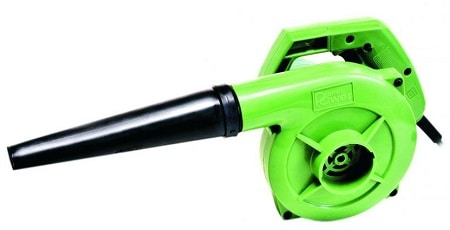 1) For a more budget-friendly option, Planet Power offers all the required features that you want in an air blower.
2) The company has minimised its weigh to measure just 1.5Kg which is ideal for all kinds of usage, including with a single hand.
3) The air pressure capacity of 400mm and the motor is designed to support 1300 RPM.
Also Read : Best Demolition Hammer in India
4) The 650W motor included with this blower is powerful enough for most of the tasks for day-to-day usage.
5) The versatility of this blower can be expanded even to the work department besides being ideal for home use.
6) You will get a warranty of 6 months with the purchase of this blower and you'll get some optional accessories with this product.
Best Buy : Amazon 
---
6. Ferm Bakelite Air Blower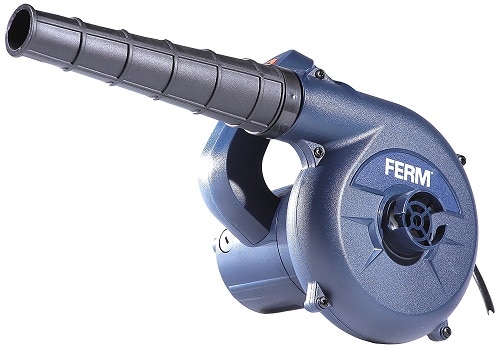 1) Possibly one of the most high-quality air blowers in this list, this Ferm product is made out of bakelite material that should last for a really long time.
2) The blue base housing also has a quality nozzle attached which should last you as long as the main unit itself.
3) It has an ergonomic design which will allow you to use the product for an extended duration.
Also Read : Best Cordless Drill In India
4) Toward the handle, a switch has been included to adjust the blower speed and it is accessible comfortably while holding the handle.
5) The motor supports a maximum of 14,000 RPM depending on the speed chosen. It is a 400-watt motor that supports variable speed.
6) Moreover, you can use it as a reverse blower to function as a mini vacuum cleaner that should solve multiple purposes.
Best Buy : Amazon
---
7. Cheston CHB-20 Air Blower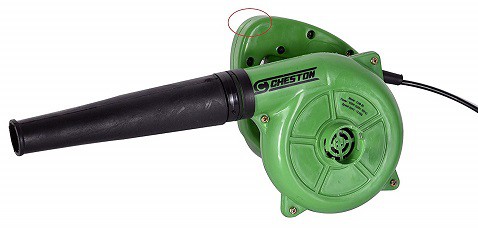 1) The ones looking for a basic air blower need not look further than this low-cost Cheston blower that should address all your versatile needs.
2) It is a compact blower that is made using lightweight plastic that not only last longer but also makes the product's usage significantly easier. Its overall design is meant to make it last longer.
Also Read : Best Electric Lawn Mower in India
3) With an ease of use, the company has allowed an easy access to the included carbon filter which you must clean on a regular basis to ensure its long life.
4) Inside the package, the blower is accompanied by a nozzle that is used to direct the air flow toward the desired location. The product comes with a warranty of 6 months.
Best Buy : Amazon
---
8. Junkyard 550W Air Blower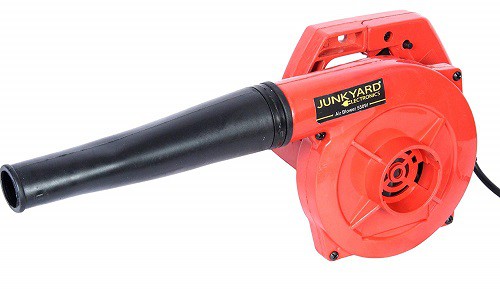 1) Again a reasonable product doesn't compromise on the performance in any regard.
2) Its sturdy 550-watt motor can spin at a maximum 14,000 RPM and is capable of a significant airflow that is more than enough for your household use.
Also Read : Best trimmer wood router machine in India
3) This is a simple product that is made to do a single task and it does it with ease.
4) This blower is considered great for cleaning in the corners and other areas where mopping isn't possible quite easily.
5) The strong airflow from this blower can handle any kind of dirt and will have the space clean within minutes. The company bundles a warranty of 6 months with this item.
Best Buy : Amazon 
---
9. iBell 600W Air Blower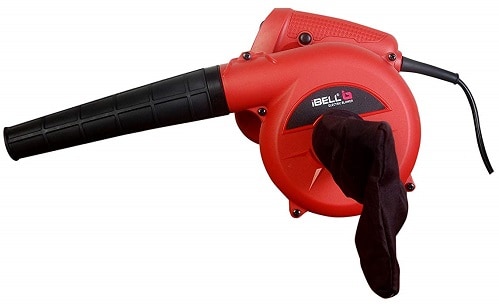 1) Ideal for both home and work settings, this air blower is a multi-purpose device and can even work at places like showrooms, workshops, garages, etc.
2) The company has packed in a powerful 600-watt motor that has a maximum spinning speed of 14,000 RPM offering a blow rate of 3.3m/min, you can choose for variable speeds for the motor that helps better clean the area.
Also Read : Best Orbit Sander in India
3) With its efficient blowing power and speed, its overall size has been reduced to stay comfortable.
4) Besides blowing air, this product also supports vacuuming feature that lets its suck dust to trap inside an included pouch.
5) It makes for a great mini vacuum cleaner and you can even store it anywhere, given its small footprint.
Best Buy : Amazon 
---
10. Technotech 500W Air Blower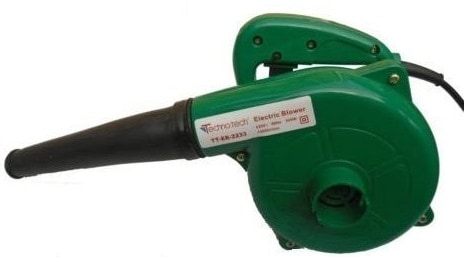 1) If you have any small appliances and even computers, you can use this blower to periodically clean them using this blower.
2) It is quite easy to operate and is perfect for cleaning such small items that might need some sort of precision.
3) This is a single-speed motor that is of 500W capacity and throws 3.3 cubic metre of air per minute.
Also Read : Best Laser Distance Meter Range Finder in India
4) Coming with an ergonomic design, you can use the blower continuously without any fatigue or pressure on your hand. Being made out of plastic, the blower doesn't heat up at all even after usage of several minutes.
5) The included wire measures 1 metre, which should be more than enough for most types of usage.
6) Plus point of this blower is that you can also use its vacuum feature to clean stuff.
Best Buy : Amazon 
---
Also Read:
1) Top 10 Best Mosquito Safety Nets
3) Best Running Shoes for Women
4) Top 10 Best Bluetooth Audio Receiver