Electrician or not, a non-contact voltage tester adds a layer of simplicity to check the wires or outlets from a safe distance without having to actually touch the wires. At this fast-paced time when everyone is in a hurry, a non-contact voltage tester is a must-have device in an electrician's toolkit.
These new testers cost just a few hundred rupees but offer a value which stays unmatched. You can choose some of the best voltage testers from the specially-curated list of top 10 best non-contact voltage testers.
1) HABOTEST HT100 Non-Contact Voltage Tester

Pros:

1) For its price and otherwise, this model from HABOTEST is the best non-contact voltage tester you can invest in.
2) Powered by a pair of AAA batteries, there are a number of features including an LED light that will come handy especially in the night.
3) You can manually adjust the tester's sensitivity and LED display is present to show the changes.
Also Read: Best Angle Grinder In India
4) The tester offers voice feedback to denote different voltage levels and it is loud enough to be heard when in loud noise.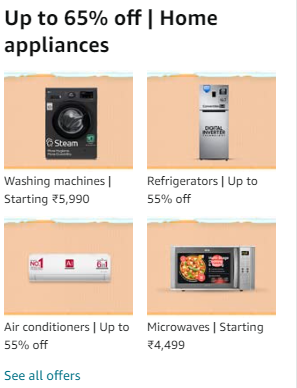 5) It can measure the voltage between 12V and 1000V depending on the sensitivity setting chosen.
6) When its battery is about to die, it will automatically alert you to change them on time to avoid any disruption.
Cons:
Having to import the product (which is handled end-to-end by Amazon) will result in longer wait times. The imported items also won't have any brand warranty offered locally.
Check Price : Amazon
---
2) Zibuyu Peakmeter Pm8908C Non-Contact Digital Voltage Tester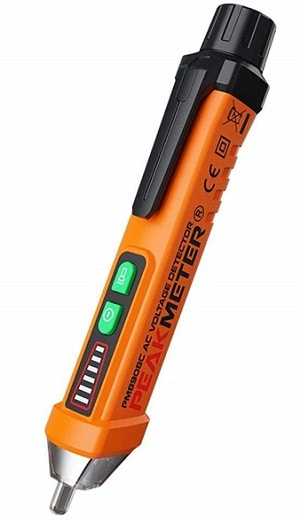 Pros:
1) With support for voltage ranging between 12V and 1000V, this contactless tester from Zibuyu offers almost all the features that you can ask for.
2) Operating the unit is pretty easy since it has just two buttons—one to power on the device which is also used to change the sensitivity.
Also Read : Best Demolition Hammer in India
3) The change in sensitivity is shown via LED indicators.
4) It has a pen-like shape to make it easier to use and carry around in your tool kit or pocket.
5) An LED light has been included on the front with its own button to help you work even in dark.
Cons:
This product will be imported to India for being delivered to you and this entire process can take several weeks. Plus, you will have to lose on the warranty since imported units aren't eligible for any kind of warranty.
Check Price : Amazon
---
3) Zibuyu Non-Contact Voltage Tester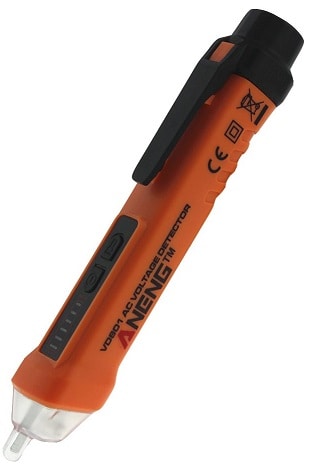 Pros:
1) Zibuyu is a global brand that makes some of the best and internationally recognised products including this contactless voltage tester.
2) Powered by a couple of AAA batteries, the tester is packed with features like a flashlight for using it in dark; this also allows it to be used as a standalone torch.
Also Read: Best Cordless Drill In India
3) For the design, this voltage tester is one of the best-built products on this list with the use of superior base materials and points to grip.
4) It can test voltage between 12 and 1000 volts at 50-60Hz. Using an onboard button, you can set the signal intensity as per your need.
Cons:
Being an imported product made by an international brand, you will have to wait for a little longer to get your hands on the product.
Check Price : Amazon
---
4) Mastech MS8902A Non-Contact Voltage Tester

Pros:
1) For a non-contact voltage tester, this unit comes with an ergonomic cylindrical design which helps in getting a better grip.
2) Besides great build quality, the product is also made to work in extreme conditions—cold, hot, humid, or even in high-altitude locations.
3) The company has ensured your safety with its several safety ratings and it supports auto power off to conserve its two AAA batteries.
Also Read: Best Electric Lawn Mower in India
4) Though you can manually set the sensitivity each time you use the tester, there is also an option to set a default sensitivity.
Cons:
Some people might find its price a little high especially when compared to other generic products available in the market. The product lacks an LED torch which can be helpful when working in dark.
Check Price : Amazon
---
5) MUSTOOL MT812 Multifunctional AC 12-1000V Non-Contact Voltage Tester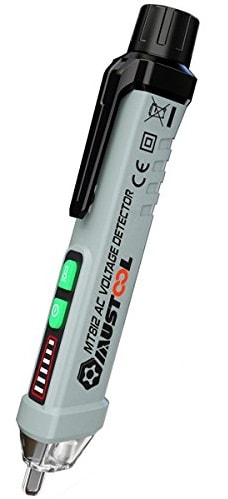 Pros:
1) On the premium side of the spectrum, you will find this MUSTOOL MT812 con-contact voltage tester which is a great product to pick.
2) Like its peers, the tester offers an LED torch for working in dark and can set the sensitivity as per your choice.
3) It comes packed with a sound alarm which changes its intensity according to the voltage.
Also Read: Best Orbit Sander in India
4) With its range of 12V to 1000V, one can vouch for its accuracy.
Cons:
For the set of features it offers, the pricing is a bit too high as you can get similar performance and quality from a lower-priced voltage tester. It is an imported product and takes more than a couple of weeks to arrive and that too without any warranty.
Check Price : Amazon
---
6) Fancyku Non-Contact Voltage Tester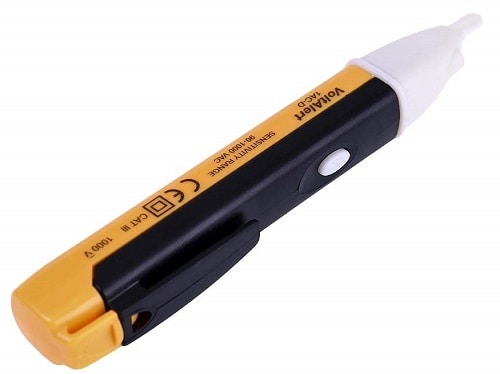 Pros:
1) Priced moderately, this non-contact voltage tester is meant to suit the needs of most users while still being very affordable.
2) You will be able to get a pretty accurate set of results while testing the voltage of a live current.
3) To make it work, you only need a pair of AAA batteries, which will last for long, owing to the product's low power consumption.
4) Professionals and household users can benefit from this product alike mainly because of its affordability and feature set.
5) The included clip lets you tuck in your pocket or your toolbox and it has a unique shape to provide a good hold.
Cons:
The lower limit of the voltage testing ability of this product is limited to 90V, while anything lower than that can go undetected.
Check Price : Amazon
---
7) HTC AC-II Non-Contact Voltage Tester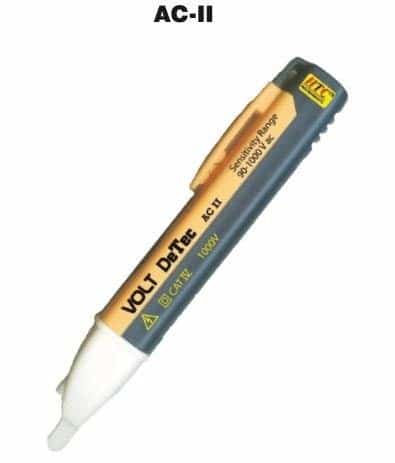 Pros:
1) Coming with the trust of HTC which is a reputed brand in the space, you can blindly go for this contactless voltage tester that will make your life easier, particularly if you are an electrician.
2) Running off of two AAA batteries, this tester will be always ready to work.
3) It is capable of measuring the high voltage of maximum 1000V and offers IP40 protection, which is unique to this product only.
Also Read: Best Pressure Washers For Cars & Home
4) This HTC voltage tester is available in India at quite a reasonable price.
Cons:
1) This one too has its lower voltage point limited to 90V which may not be ideal for some use cases.
2) Being a reputed brand, there are a lot of fake HTC lookalike products available in the market which may confuse you.
Check Price : Amazon
---
8) Twisted Non-Contact Voltage Tester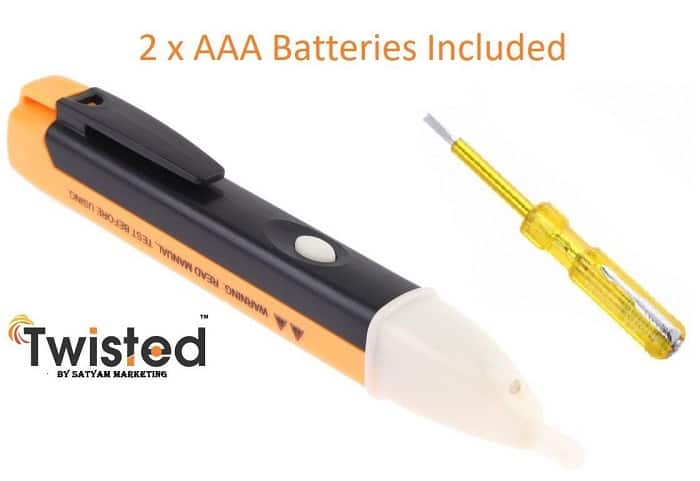 Pros:
1) For its price, this tester from Twisted is one of the best ones available in the market.
2) As an added benefit, the product comes with an additional screwdriver-like touch-based voltage tester that you can use when the batteries run out and you don't have a spare set.
Also Read: Best Cordless Drill In India
3) The electrical frequency of 50 to 500Hz is supported with voltage ranging from 90V to 1000V.
4) Operating the unit is quite simple with just one push button to use it.
5) The use of pen shape gives it an ergonomic design allowing for a less cumbersome experience.
Cons:
It needs a minimum 90V line to show you the test results. Batteries don't come included and you will have to invest in a pair to get started.
Check Price : Amazon
---
9) Magicdeal Non-Contact Voltage Tester
Pros:
1) With the two AAA batteries installed, you can use this product continuously for more than 6 hours, while the standby time is of about 1.5 years.
2) The voltage between 90 and 1000V can be tested using this device and its pricing is minimal to ensure affordability.
Also Read : Best Laser Distance Meter Range Finder in India

3) From where you hold, its side is quite thin for getting an easier grip when using it in tricky situations.
4) The product is completely insulated to ensure your safety and it IP54 rated for additional benefits.
5) Using the tester and replacing its batteries are both easy tasks.
Cons:
The buzzer sound is usually quite low to be adequately audible in loud situations. Some people have reported about receiving a defective product, so make sure to take note of the seller.
Check Price : Amazon
---
10) Inditrust Non-Contact Voltage Tester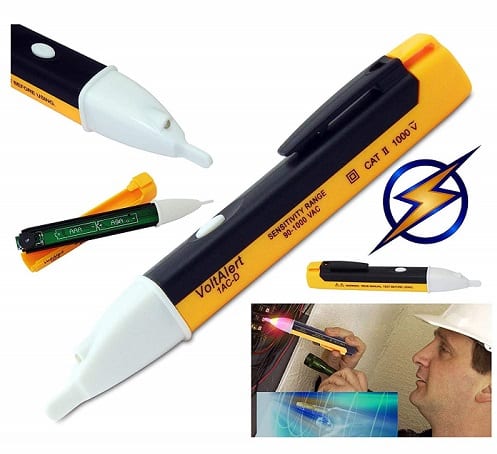 Pros:
1) If you are looking for something basic that gets the job done in your household and doesn't offer anything extra, then Inditrust has the right product from you.
2) It is quite affordable and offers a completely insulated exterior so that you stay safe when handling live electrical wires to test their voltage.
3) It can test voltage from 90V to 1000V at 50 to 500Hz.
Also Read : Electric Lawn Mower
4) There is an indicator LED inside its tip that lights up to convey that status.
5) You can power it in using two AAA batteries which are usually used in TV remotes.
Cons:
There are some users reporting about its over sensitivity, which may not be helpful in certain use cases. Being a basic product, one cannot guarantee its long life.
Check Price : Amazon
---
Also Read:
Also Read:
1) Best Laser Distance Meter Range Finder in India
4) Best trimmer wood router machine in India